Negara Beralih Ke Fasa 2 Pelan Pemulihan Negara Pada Awal Bulan Ogos – Timbalan Perdana Menteri
Auto News Meskipun negara mencatatkan kes positif COVID-19 harian tertinggi sehingga mencapai angka 13 ribu kes hari ini, namun Timbalan Perdana Menteri, Datuk Seri Ismail Sabri Yaakob berkata seluruh negara mampu beralih ke Fasa 2 Pelan Pemulihan Negara (PPN) pada awal bulan Ogos susulan jumlah vaksinasi lengkap dos kedua vaksin Covid-19 sudah melepasi nilai ambang 10 peratus populasi negara.
---
Menurut data yang dikeluarkan oleh Jawatankuasa Khas Jaminan Akses Vaksin (JKJAV), kadar dos kedua semalam ialah 4,003,266 penerima iaitu 17.1 peratus. Sementara itu, suntikan dos pertama pula merekodkan 8,644,292 penerima iaitu 36.9% peratus dengan jumlah kumulatif kedua-dua dos itu adalah 12,647,558 orang di seluruh negara.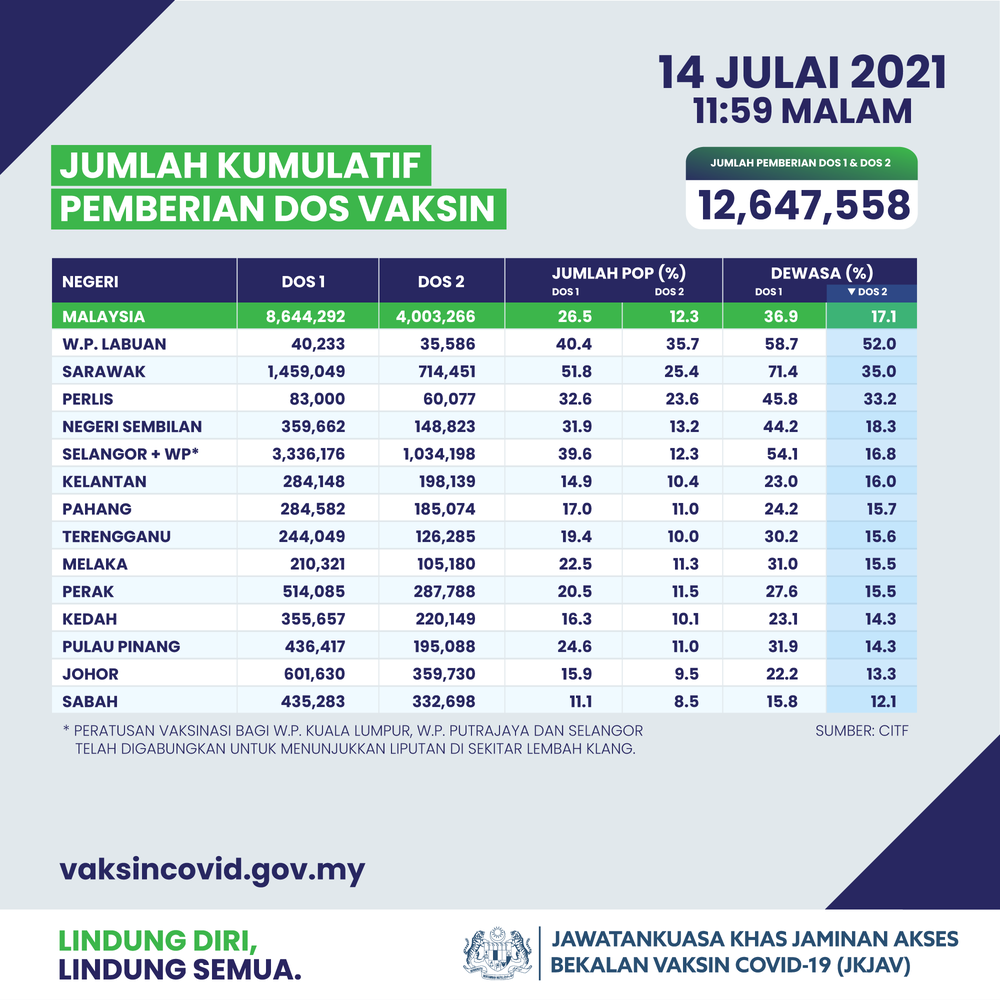 Timbalan Perdana Menteri berkata, ini menunjukkan prestasi Program Imunisasi COVID-19 Kebangsaan (PICK) berada di landasan yang betul dan seterusnya membolehkan negara beralih ke Fasa 2 dalam Pelan Pemulihan Negara (PPN). Perkembangan ini memberi gambaran bahawa negara sedang serius dalam usaha mencapai imuniti kelompok.
Indikator ini juga sejajar dengan perancangan PPN yang menjangkakan kadar vaksinasi akan mencapai unjuran 10 peratus daripada populasi Malaysia menjelang akhir Julai. Jika perkembangan ini berterusan secara konsisten, satu Malaysia (termasuk KL dan Selangor yang kini berada dalam PKPD) boleh beralih ke fasa kedua PPN pada awal bulan depan, kata TPM.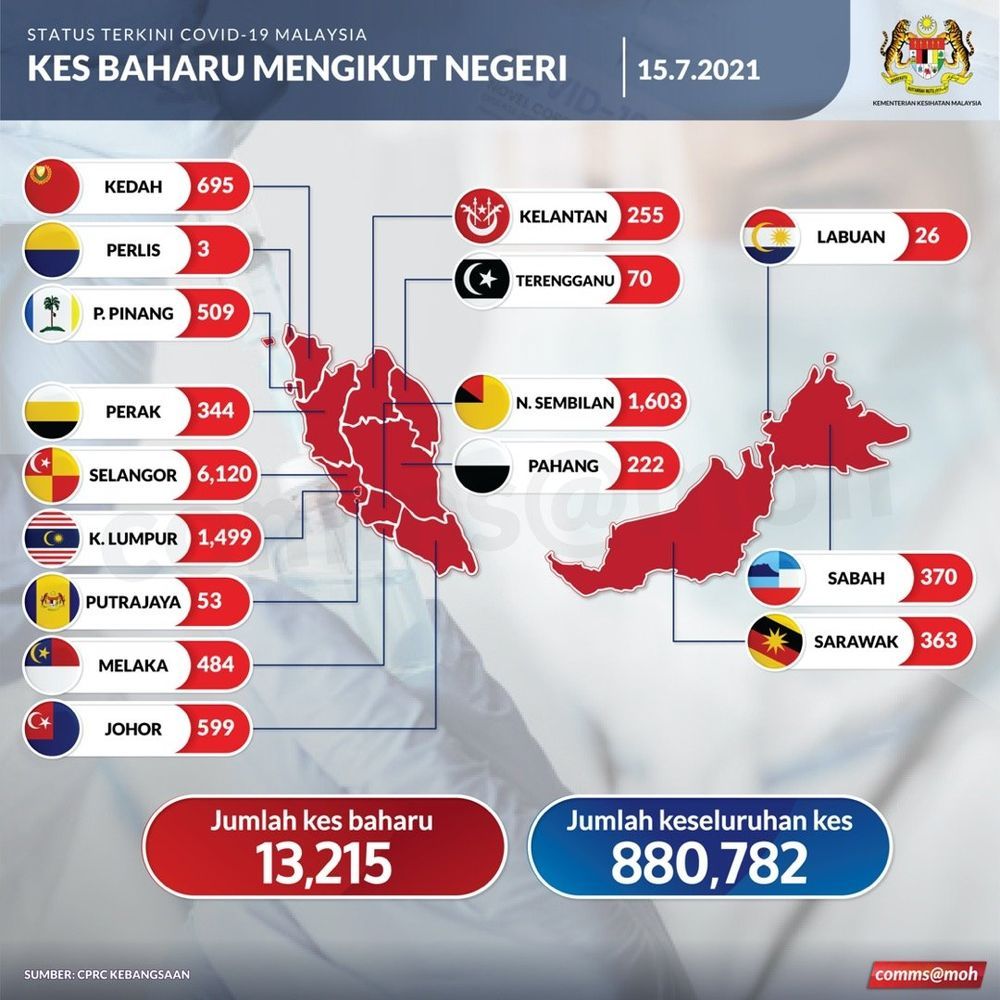 Ketika ini, Selangor mencatatkan kes harian baharu sehingga lebih 6,000 kes sehari. Sementara itu KL dan Negeri Sembilan pula masing-masing mencatatkan kes sekitar 1,500 kes sehari. Hanya Perlis, Perak, Kelantan, Terengganu, Pahang, Pulau Pinang, Sabah dan Sarawak yang telah beralih ke Fasa 2 PPN buat masa ini. 8 buah negeri ini berjaya melepasi nilai ambang ketiga-tiga indikator utama yang ditetapkan kerajaan di bawah PPN sejak dilaksanakan Fasa 1 pada 29 Jun lepas.
Dalam pada itu, pasukan khas operasi pematuhan SOP telah menjalankan pemeriksaan ke atas 2,257 kilang, 15,256 premis perniagaan, 1,148 tapak pembinaan dan 286 asrama penempatan pekerja baru-baru ini. Daripada jumlah itu, 68 premis meliputi kilang (23), premis perniagaan (43) dan tapak pembinaan (2) telah diarahkan tutup kerana gagal mematuhi SOP yang ditetapkan kerajaan.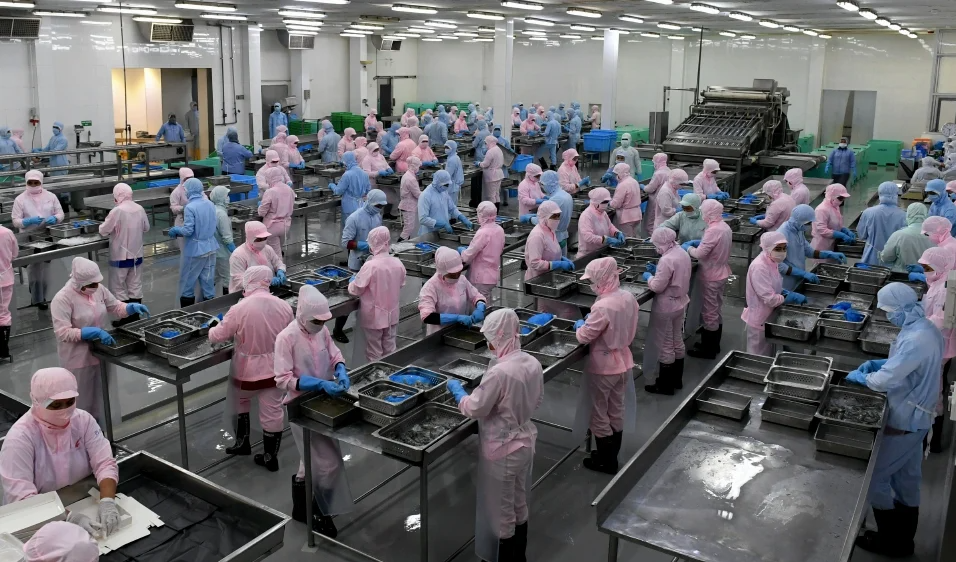 Baru-baru ini, MITI telah memberi kebenaran kepada lebih banyak sektor untuk beroperasi di kawasan PKPD di Selangor meskipun negeri tersebut mempunyai nilai kes harian tertinggi. Keputusan tersebut dibuat setelah perbincangan dilakukan menerusi mesyuarat Kabinet yang dipengerusikan Perdana Menteri, Tan Sri Muhyiddin Yassin, bersama MITI, Menteri Kewangan dan Menteri di Jabatan Perdana Menteri (Ekonomi). Langkah tersebut diambil kerana kerajaan berpendapat bahawa sektor-sektor berkenaan dilihat sebagai sektor penting dalam rantaian bekalan antarabangsa dan tempatan.
Ekoran desakan orang ramai supaya kilang-kilang di Selangor ditutup untuk meredakan jumlah kes, Kerajaan Selangor menerusi satu kenyataan media telah menjelaskan bahawa pihak berkuasa tempatan (PBT) di Selangor tidak mempunyai kuasa dalam penutupan kilang membendung penularan COVID-19, sebaliknya kuasa itu masih di bawah Kerajaan Persekutuan.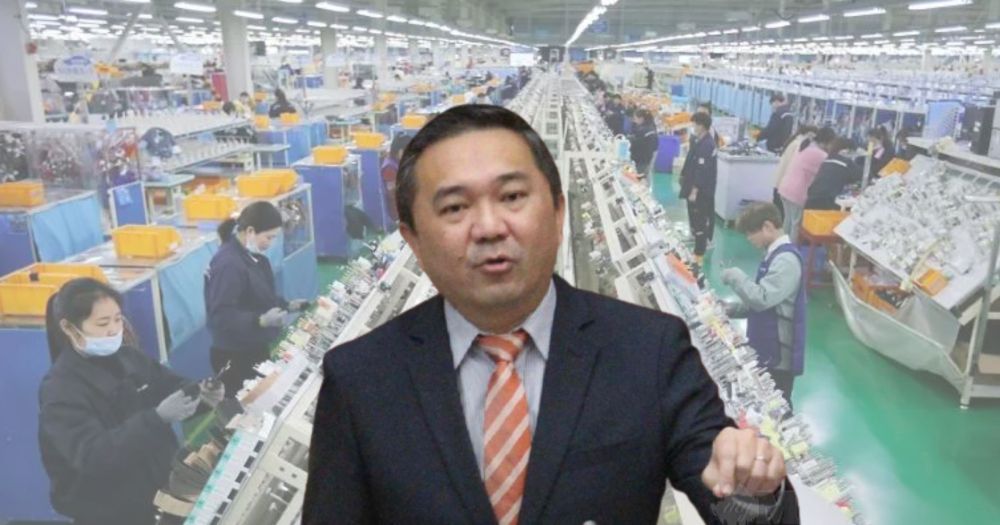 Pengerusi Jawatankuasa Tetap Kerajaan Tempatan dan Pengangkutan Awam Negeri Selangor, Ng Sze Han berkata, lesen pengoperasian kilang yang dikeluarkan oleh PBT adalah sebagaimana yang tertakluk di bawah Akta 171 sahaja. Ia tidak melibatkan hal ehwal kesihatan berkenaan pencegahan dan kawalan penyakit berjangkit. Undang-undang kesihatan berkenaan hal itu dikuatkuasakan oleh Kerajaan Persekutuan sahaja melalui Akta Pencegahan dan Pengawalan Penyakit Berjangkit 1988 iaitu Akta 342.
Terdahulu, Perdana Menteri telah mengumumkan pelaksanaan PPN sebagai strategi peralihan keluar menerusi 4 fasa daripada krisis wabak COVID-19. Tiga kriteria yang perlu dipenuhi bagi beralih dari Fasa 1 ke Fasa 2 ialah:
kadar vaksinasi sudah melebihi 10 peratus populasi rakyat - kemungkinan besar kriteria ini boleh dicapai menjelang awal bulan Ogos namun kita masih perlu...
mencatatkan purata kes harian COVID-19 di bawah 4,000 kes
memastikan kadar penggunaan katil di wad ICU perlu berada pada paras sederhana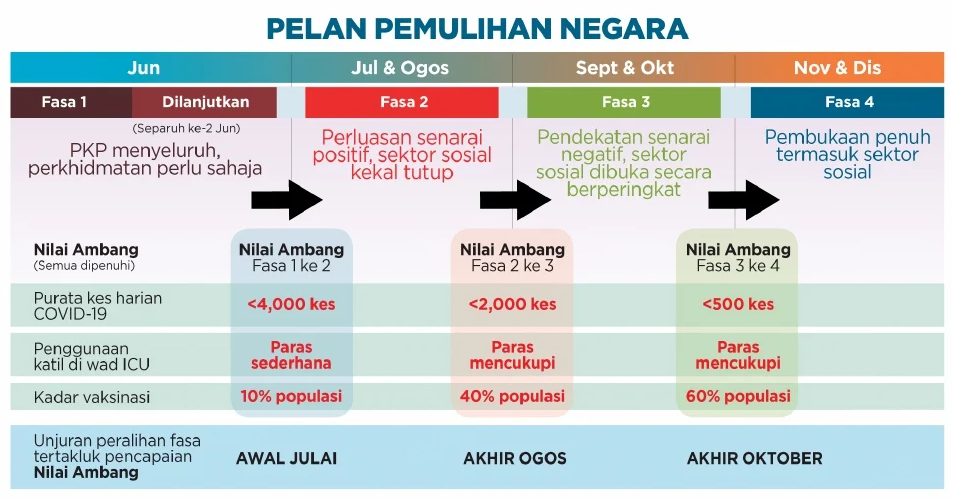 Berdasarkan jumlah kes harian yang mencanak sehingga mencapai lebih 13,000 kes dan kebanyakan hospital yang semakin sesak dihujani dengan pesakit COVID-19, adakah negara kita bakal berjaya menurunkan bilangan kes dan bilangan penggunaan katil di wad ICU dalam masa singkat ini?
Berdasarkan PPN, kerajaan menjangkakan seluruh negara akan beralih sepenuhnya kepada Fasa 4 PPN menjelang akhir tahun ini dan rakyat bakal kembali menjalani kehidupan normal seperti sebelum kehadiran wabak tersebut.


For more latest car news, reviews, car buying guides and videos visit us at Carlist.my Auto News.
Check out all the best new & used car deals in Malaysia at Carlist.my.
Sell your car fast with the best offer? Visit us at CarlistBid.my.
Get your latest new car promotion here also.
---
---
---
Comments