Cheap JDM Cars To Modify In Malaysia - From RM5,000
Insights While many JDM classics these days will cost you an arm, a leg, and a kidney, we managed to find 5 cheap JDM cars in Malaysia that will make a good base for modifications.
---
It is quite ironic how old JDM cars have turned from the thing we love most about them, which is fun and engaging motoring on the cheap into toys and equity for the rich.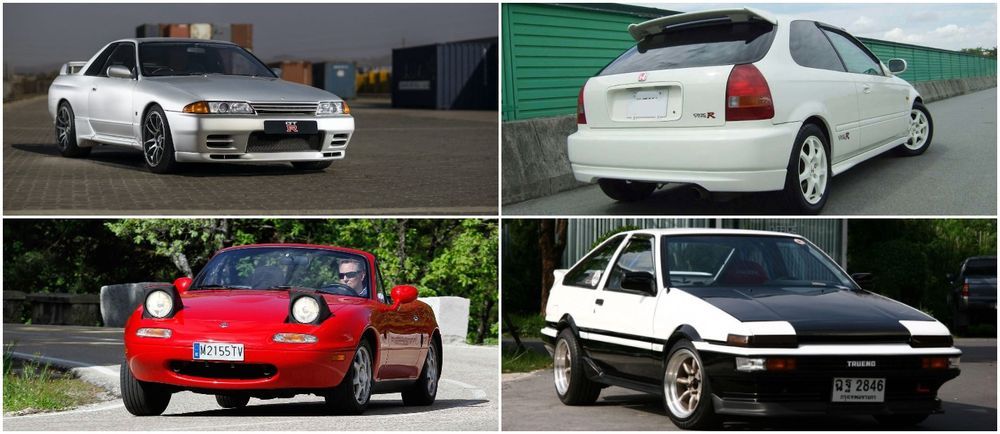 While old JDM cars are akin to cryptocurrencies these days, there are some that are still relatively affordable, which allows gearheads a lot of modification space. After all, these old JDM cars need some customisation before they turn into monsters because they can be pretty timid out of the box.
We take a look at 5 of the most affordable Japanese project cars in Malaysia.


1. Honda Accord SM4
Priced at more than RM120,000 when it was first launched, the 4th generation Accord, despite having aged so well, costs less than RM10,000 today, mainly due to its age and the number of successive generations that have emerged later on.
Finding parts for this car is not a problem as almost every workshop will have the items needed. However, the only catch is that a lot of these parts are reconditioned and not brand new. New parts can still be purchased, but you will probably have to order them from Japan and that might will be expensive.
One way to go around this, which many owners have done, is by either upgrading to a newer engine like the H22A or F20B DOHC VTEC engines or purchasing a unit that has already gone through the conversion process.


2. Suzuki Jimny SJ30/ SJ40
For those interested in going everywhere and not be bound by the blacktop, the second generation Suzuki Jimny is one of the most affordable JDM 4x4s out there.
Some might say it's still costly, with prices hovering around the RM20k mark, but if you compare it to iconic four-wheelers like the Toyota Land Cruiser or Land Rover Defender, then the Suzuki Jimny is a bargain.
Affectionately known as the Zook to many, the Suzuki Jimny is loved due to its compact body, tuneable engine, and agility, making it easy to overcome obstacles out on the trail.
Surprisingly parts are still widely available and relatively cheap, and if you mod it, it will reward you with many unforgettable moments as well as adventures. The Jimny was always about being light and agile, which is why it came with a 1.3-litre 16 valve engine, but if you want to give it a bit more muscle, your could always plonk in the Vitara's venerable 1.6-litre G16B engine.


3. Nissan Sentra B13
If you want a car that can hit the Genting route day in day out, then there's nothing like the Nissan Sentra B13, as it has been doing it for years, albeit as a taxi.
Nicknamed the Uncle Genting Taxi, The Nissan Sentra B13 in Malaysia will always be remembered as the Nissan that pretty much lived on the Genting route. Taxi drivers loved it because it was reliable and agile enough to carry the driver, passengers, and luggage swiftly to the top of Genting.
These cars can easily accept the 1.6-litre SR16 NEO VVL engine, which can reach northwards of 200hp if tuned correctly. Moreover, the prices of Nissan Sentras these days range from RM3.5k to RM7k, so you can practically say the shell is a bargain. Paired with the SR16 NEO VVL, and you pretty much have a Honda hunter.


4. Toyota Corolla SEG
If you're a fan of the famed 4AGE 20 Valve 1.6-litre engine but want a sleeper shell to hide in, then turn your attention to the Toyota Corolla AE101, more commonly known as the Toyota SEG.
With prices hovering around the RM6k mark, you can save money on the actual car itself and spend more on the engine. In fact, you can probably pass the car off as a reliable small family sedan if your exterior stays classy before chasing down the competition.
The SEG was initially designed to be a compact family carrier which is why we like this combo. Get the balance right, and we're pretty sure your wife won't recognise that you've got a souped-up car parked outside. With parts widely available, the modifications to this car are pretty much limited by your imagination.


5. Daihatsu Charade G100
The third generation Daihatsu Charade is one of the most underrated cars out there. With a kerb weight of around 800kg, it is one of the lightest cars ever to be produced, which instantly gives it a lot of potential.
While it is uncommon for people to mod it here in Malaysia, many motorheads around the globe have successfully given the Charade an engine transplant, which instantly gives them a bit more bark.
The engine of choice is the Toyota 4E-FTE engine found on the Toyota Starlet GT Turbo, which can push out around 180hp if tuned correctly, which should give the Charade a greater than 100 kilowatt per tonne power-to-weight ratio.
G100 Charades can be found in Malaysia for around RM5k, which makes it one of the cheapest project cars money can buy.
5 JDM vehicles that will serve as a good base for you to build out from. Parts are aplenty for most of them on this list, they still look current, you'll have a mature car culture or club to learn or seek advice from, and best of all, you will be able to keep your kidney whilst doing it. Win-win!
---
---
---
---
Comments