Pemilik Supercar Daftar Kereta Di Langkawi – Kenapa dan Bagaimana?
Insights Sebagai sebuah pulau bebas cukai, Langkawi sememangnya menjadi tempat ideal bagi ramai pemilik supercar di negara ini untuk mendaftar kereta mewah mereka di sana bagi mengelakkan kadar cukai yang lebih tinggi.
---
Pernahkah anda terlihat kereta mewah yang ditinggalkan tanpa penghuni di gudang yang dikawal rapi di sekitar Langkawi? Lebih menyedihkan, ada supercar yang hanya beratapkan zink sahaja dan diletakkan di sebuah rumah kampung di sana. Bagi orang luar, pasti mereka merasakan bahawa penduduk Langkawi kaya-kaya belaka. Walau bagaimanapun, kebanyakan daripada kereta mewah yang ditinggalkan itu sedang menanti tuannya yang berada di Semenanjung yang mengelak daripada membayar ratusan ribu cukai sekiranya mendaftarkan kereta tersebut di Semenanjung Malaysia.

*Kredit foto: Langkawi Supercars
Dengan mendaftarkan kereta mewah di kawasan bebas cukai, pemilik dikecualikan daripada membayar cukai. Sebagai contoh, jika anda membeli sebuah Aston Martin DB11 di Semenanjung yang dilengkapi dengan beberapa penambahan, ianya bernilai dalam anggaran RM900,000. Ini baru harga kereta, belum tambah harga cukai. Jika anda mendaftar kereta ini di Semenanjung, kadar cukar yang dikenakan terhadap kereta ini bernilai hampir satu juta ringgit. Pendek kata, harga atas jalan (OTR) bagi kenderaan ini mencecah hampir RM2 juta.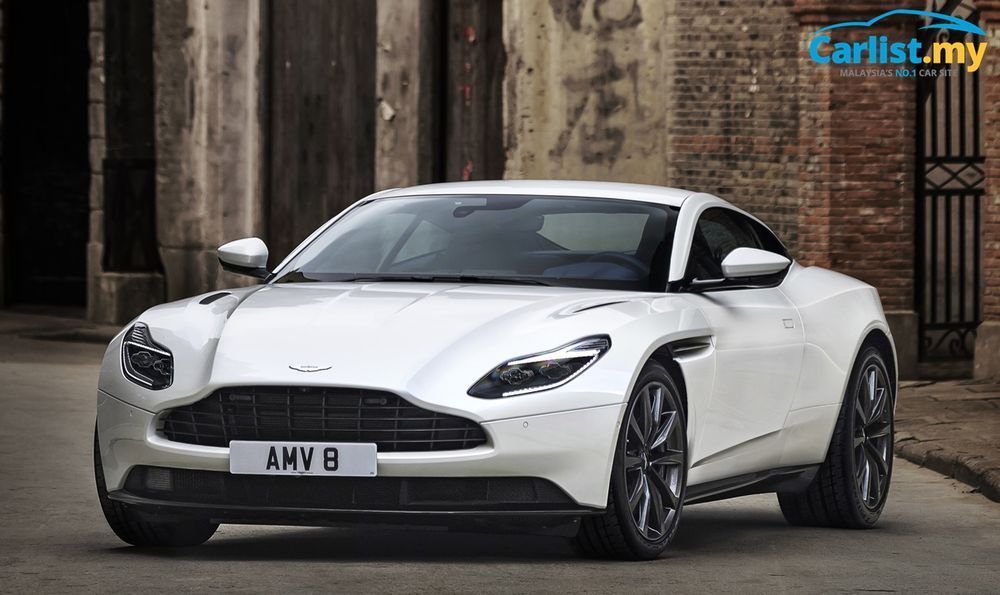 Bagi mengelakkan daripada membayar hampir RM1 juta kadar cukai untuk memiliki kereta tersebut, sesetangah pemilik memilih untuk membeli dan mendaftar kereta ini di Langkawi. Cara ini telah digunakan oleh ramai golongan kayangan di Malaysia. Buktinya, banyak kereta mewah yang ditinggalkan di Langkawi merupakan milik mereka yang bukan menetap di sana.
Oleh kerana kereta didaftarkan di Langkawi, pemilik bebas untuk memandu kereta berkenaan di sekitar pulau tersebut pada bila-bila masa. Persoalannya, bolehkah kereta tersebut dibawa keluar ke kawasan lain selain daripada Langkawi? Jawapannya boleh, tapi hanya terhad kepada 90 hari atau 3 bulan sahaja bagi tempoh setahun. Pendek kata, anda dibenarkan untuk membawa keluar kereta ini daripada Langkawi sebanyak 90 kali dalam setahun bagi tempoh sehari (24 jam) ataupun anda boleh membawa kereta tersebut keluar bagi tempoh 3 bulan terus sebelum memulangkan ia semula ke Langkawi.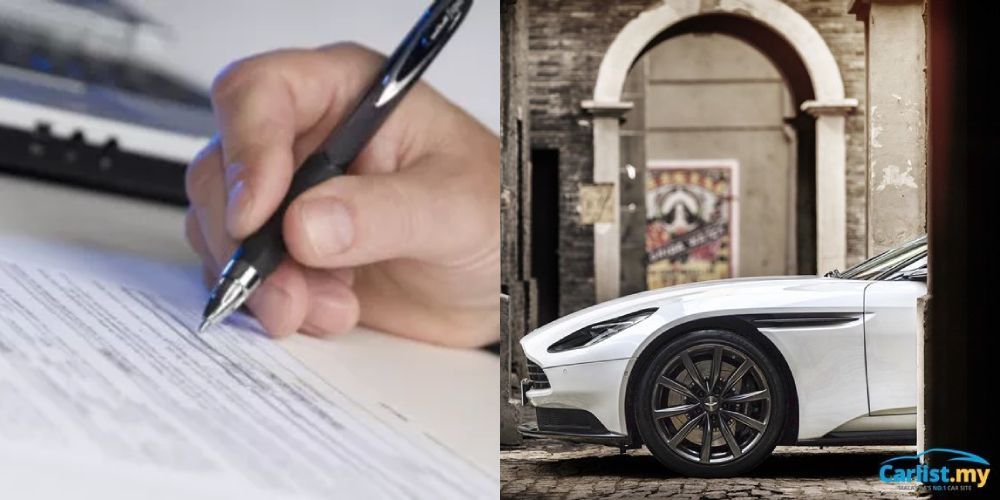 Tetapi, untuk membawa keluar kereta tersebut dari Langkawi, pemilik berkenaan dikehendaki untuk menyediakan jaminan bank bernilai 70% daripada harga cukai keseluruhan kereta terbabit kepada pihak Kastam. Sebagai contoh, untuk model Aston Martin DB11, cukai yang dikenakan berada pada tahap RM1 juta jadi pemilik perlu menyediakan dalam RM700,000 jaminan bank untuk diberikan pada Kastam. Selepas tamat tempoh 3 bulan yang diberikan, pemilik dikehendaki untuk memulangkan semula kereta terbabit ke Langkawi.
Malah, ada pengeluar kenderaan mewah yang menyediakan perkhidmatan bagi pendaftaran kereta di Langkawi ini. Anda hanya perlu membayar dalam RM8,000 dan segalanya akan diuruskan bagi pihak anda. Kereta terbabit akan dihantar dari Kuala Lumpur ke jeti untuk dibawa masuk ke dalam feri sebelum dihantar ke Langkawi. Di sana, kereta tersebut akan menjalani pemeriksaan JPJ, Puspakom sebelum didaftarkan. Menariknya, ada servis yang menawarkan penghantaran kereta dari Langkawi terus ke depan pintu rumah anda. Tak perlu lagi pergi ke Langkawi untuk ambil kereta.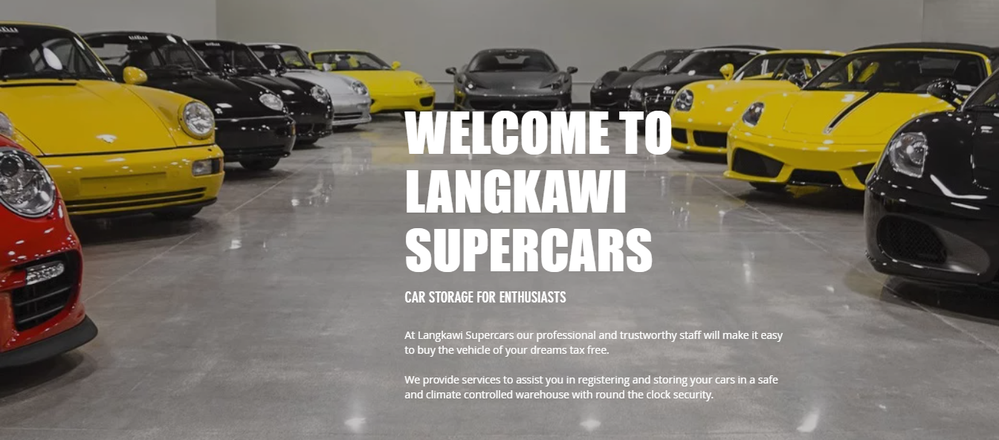 *Kredit foto: Langkawi Supercars
Persoalan seterusnya, jika kereta itu hanya dibenarkan untuk dibawa keluar selama 30 hari, apa pula yang terjadi pada kereta tersebut pada baki 335 hari ia ditinggalkan di Langkawi? Kebiasaannya, kereta mewah yang ditinggalkan di Langkawi ini dijaga rapi beberapa syarikat yang menawarkan perkhidmatan membersihkan, menjaga, membaiki, dan membawa kereta pemilik jalan-jalan bagi memastikan kereta tersebut sentiasa dalam keadaan baik dan mengelakkan flat-tire. Dengan cara ini, pemilik tidak perlu lagi risau dengan keadaan keretanya jika ditinggalkan selama 9 bulan di Langkawi.

*Kredit foto: Langkawi Supercars
Jika pemilik ingin membawa keluar kereta dari Langkawi secara kekal, pemilik dikehendaki untuk pergi ke Kastam dan membayar cukai yang sepatutnya dikenakan keatas kereta terbabit. Ramai pemilik yang membawa kereta keluar dari Langkawi selepas tempoh 3 tahun. Mengapa? Ini kerana kadar cukai akan menurun mengikut umur kereta tersebut. Selepas 3 tahun, kadar cukai akan menurun lebih daripada separuh (55%) daripada kadar cukai yang sepatutnya dibayar. Kalau harga cukai RM1 juta, pemilik hanya perlu membayar cukai sebanyak RM550,000 sahaja selepas 3 tahun untuk membawa keluar kereta dari Langkawi. Dengan cara ini, pemilik dapat jimat RM450,000.
Ini merupakan cara sesetengah golongan kayangan untuk mendapatkan kereta mewah berkuasa tinggi dengan harga yang jauh lebih murah berbanding harga yang ditawarkan di Semenanjung. Sekurang-kurangnya, dapatlah menikmati kereta tersebut selama 270 hari dalam tempoh tiga tahun sebelum membawa ia keluar dari Langkawi dengan harga cukai yang lebih rendah.
Namun jika anda mempunyai empat supercar atau kereta mewah didaftarkan dan ditinggalkan di Langkawi, anda boleh menukar jenis kenderaan anda untuk dibawa keluar dari Langkawi selama tiga bulan untuk setiap model bagi tempoh setahun! Tiga bulan pertama guna kereta pertama, 3 bulan kedua guna kereta kedua dan seterusnya. Indahnya hidup bila kaya!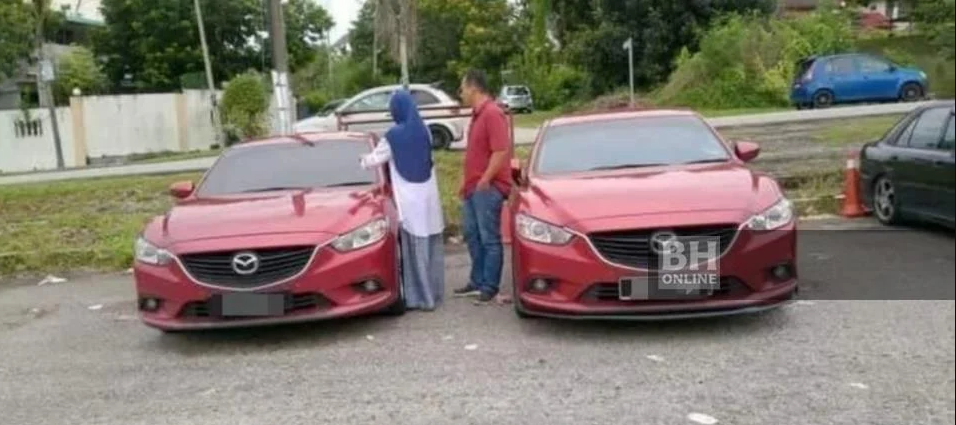 *Kredit foto: Berita Harian
Sekiranya anda sedang mencari kereta mewah yang murah, elakkan daripada membeli model kereta mewah dengan harga yang tidak masuk akal. berhati-hatilah dalam memilih kerana ia berkemungkinan kereta klon! Pastikan anda tidak tertipu.



For more latest car news, reviews, car buying guides and videos visit us at Carlist.my Auto News.
Check out all the best new & used car deals in Malaysia at Carlist.my.
Sell your car fast with the best offer? Visit us at CarlistBid.my.
Get the latest new car promotions at New Car website now.
---
---
---
Comments