Purata 2 Remaja Bawah Umur, Tiada Lesen Maut Setiap Hari – PDRM
Auto News Data PDRM bagi tiga bulan pertama tahun ini sahaja menunjukkan sekurang-kurangnya dua remaja bawah umur maut atau cedera parah setiap hari ketika memandu kereta atau menunggang motosikal tanpa lesen.
---
Data tersebut telah didedahkan oleh Jabatan Siasatan dan Penguatkuasaan Trafik Bukit Aman, berdasarkan laporan The Star.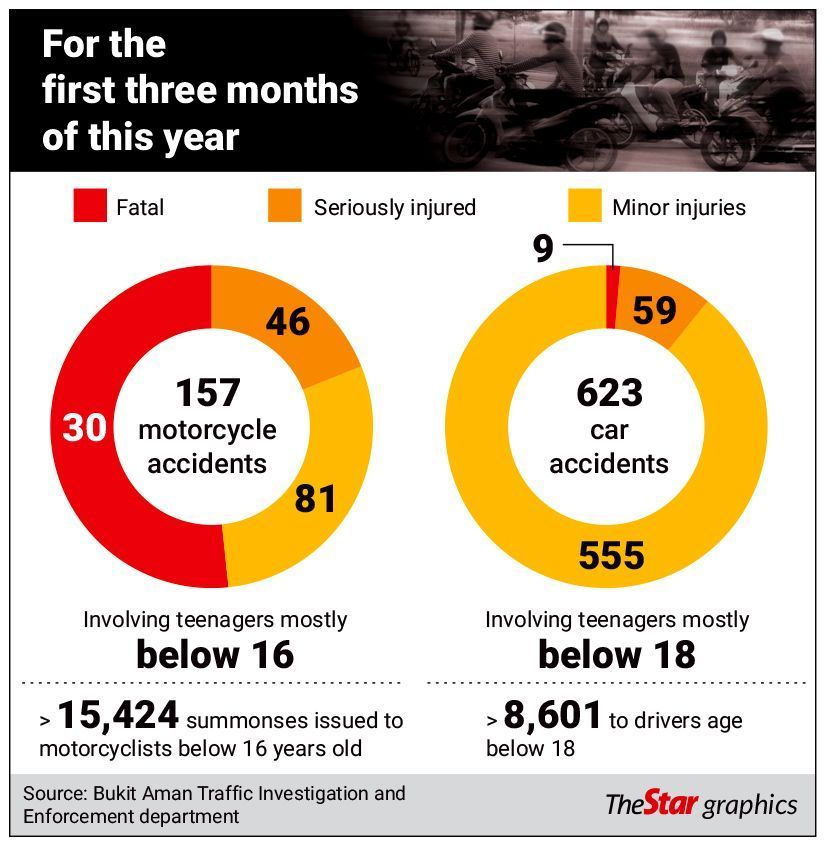 *Kredit infografik: The Star
2 Remaja Bawah Umur Maut Setiap Hari
Data itu menunjukkan 30 daripada mereka yang meninggal dunia dalam tiga bulan pertama tahun ini adalah mereka di bawah umur 16 tahun, manakala sembilan lagi berada di bawah umur 18 tahun.
Rekod antara Januari dan Mac tahun ini menunjukkan daripada jumlah 157 penunggang motosikal tanpa lesen di bawah umur 16 tahun yang terlibat dalam kemalangan, seramai 46 didapati cedera parah. Manakala seramai 81 remaja mengalami kecederaan ringan.
Bagi kemalangan yang membabitkan pemandu tidak berlesen di bawah umur 18 tahun, seramai 59 cedera parah, manakala 555 kes lagi membawa kepada kecederaan ringan.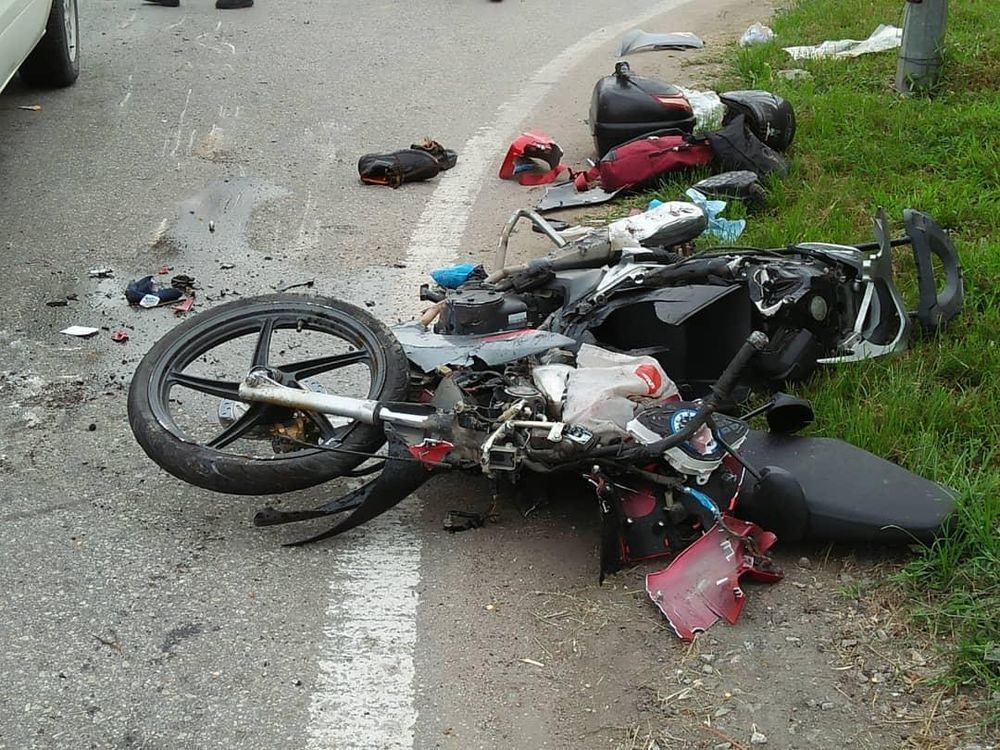 *Kredit foto: Kosmo
Berdasarkan data, Malaysia merekodkan sebanyak 8,484 kemalangan membabitkan pemandu remaja dan penunggang motosikal tidak berlesen dari 2018 hingga Mac tahun ini.
Daripada jumlah itu, 2,617 kes mengakibatkan kemalangan maut atau kecederaan serius. Data itu juga menunjukkan sejumlah 444,922 saman telah dikeluarkan kepada pemandu bawah umur dalam tempoh kurang lima tahun antara 2018 hingga Mac tahun ini.
Tiga bulan pertama tahun ini menyaksikan sejumlah 15,424 saman dikeluarkan kepada penunggang motosikal tanpa lesen di bawah umur 16 tahun dan kepada pemilik yang membenarkan mereka di bawah umur menggunakan kenderaan mereka. Sebanyak 8,601 saman telah dikeluarkan kepada pemandu di bawah umur 18 tahun.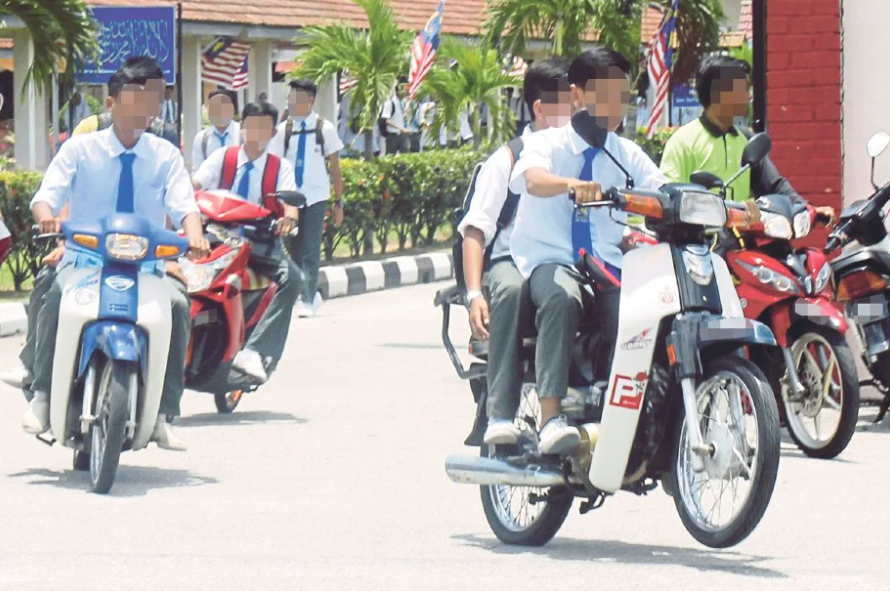 *Kredit foto: Harian Metro
Salah Ibu Bapa?
Pengerusi Institut Penyelidikan Keselamatan Jalan Raya Malaysia Prof Madya Dr Wong Shaw Voon mengingatkan bahawa angka-angka ini mungkin tidak menggambarkan gambaran yang tepat, sambil menambah bahawa banyak kes mungkin tidak dilaporkan.
Tegasnya, ibu bapa berperanan memantau dan mendidik anak-anak tentang bahaya pemanduan bawah umur.
"Ada ibu bapa merasakan ini bukan isu besar kerana anak mereka hanya memandu di kawasan kecil atau sekitar jalan kampung, jadi tiada apa yang perlu dirisaukan. Tetapi apa yang mereka tidak fikirkan ialah suatu hari nanti, anak-anak mereka mungkin menyelinap keluar pada waktu malam ketika ibu bapa tidur dan memandu," katanya.
Menjelaskan sebab had umur ditetapkan, Wong berkata seseorang itu bukan sahaja perlu bersedia secara fizikal tetapi juga cergas dari segi mental untuk memandu di jalan awam.
Baginya, besar dari segi fizikal untuk mengendalikan kenderaan tidak bermakna mereka bersedia dari segi mental untuk menguruskan kenderaan yang berpotensi membunuh diri mereka atau pengguna jalan raya lain yang tidak bersalah.
"Bersedia dari segi mental bermakna anda boleh membuat pertimbangan yang betul, bertindak balas dengan pantas, dan bertanggungjawab atas tindakan anda," katanya.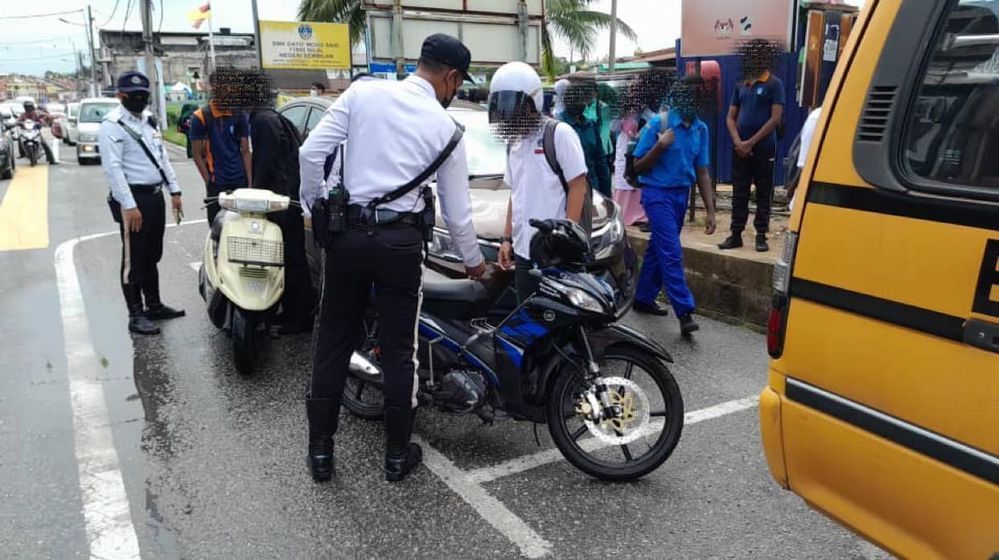 Ibu Bapa Wajar Dihukum?
Wong berkata, ramai pelajar juga memandu atau menunggang motosikal ke sekolah tanpa lesen. Beliau turut menyeru semua pihak berkepentingan yang berkaitan seperti ibu bapa, guru dan polis supaya melakukan sesuatu mengenai perkara ini.
"Pihak pentadbir sekolah berpendapat pelajar meletak kenderaan di luar kawasan sekolah, jadi tiada apa yang boleh mereka lakukan selain memperbetulkan mereka (pelajar). Polis mesti datang ke sekolah sekali-sekala. Selain daripada ibu bapa, masyarakat juga perlu memainkan peranan." tambahnya.
Sementara itu, Ketua Penolong Pengarah Bahagian Siasatan Seksual, Wanita dan Kanak-Kanak Bukit Aman, Asisten Komisioner Siti Kamsiah Hassan berkata beliau percaya ibu bapa yang cuai sekurang-kurangnya harus berdepan dengan beberapa bentuk hukuman.
Berdasarkan statistik, sebanyak 163 kematian melibatkan kanak-kanak mungkin sebahagiannya disebabkan oleh kecuaian ibu bapa. Jumlah itu tidak termasuk yang melibatkan kemalangan maut oleh pemandu bawah umur tanpa lesen.
---
---
---
Comments