Yamaha RXZ Dijual RM60k Dalam Masa 24 Jam – Betul Ke Bohong?
Insights Dalam masa sehari sahaja Yamaha RXZ terpakai ini diiklankan di media sosial, ia telah dibeli oleh pembeli dari Kedah pada harga RM60k. Tetapi sejauh mana kesahihan cerita ini?
---
Baru-baru ini, media sosial telah digemparkan dengan sebuah iklan jualan sebuah motosikal Yamaha RXZ biru berharga RM62k berserta helmet Bell berwarna oren yang berharga RM65k. Menurut Joe Shaari (broker yang membantu menjual motor tersebut), pembeli ditawarkan diskaun sekiranya membeli kedua-dua barang tersebut sebagai kombo pada harga RM122k.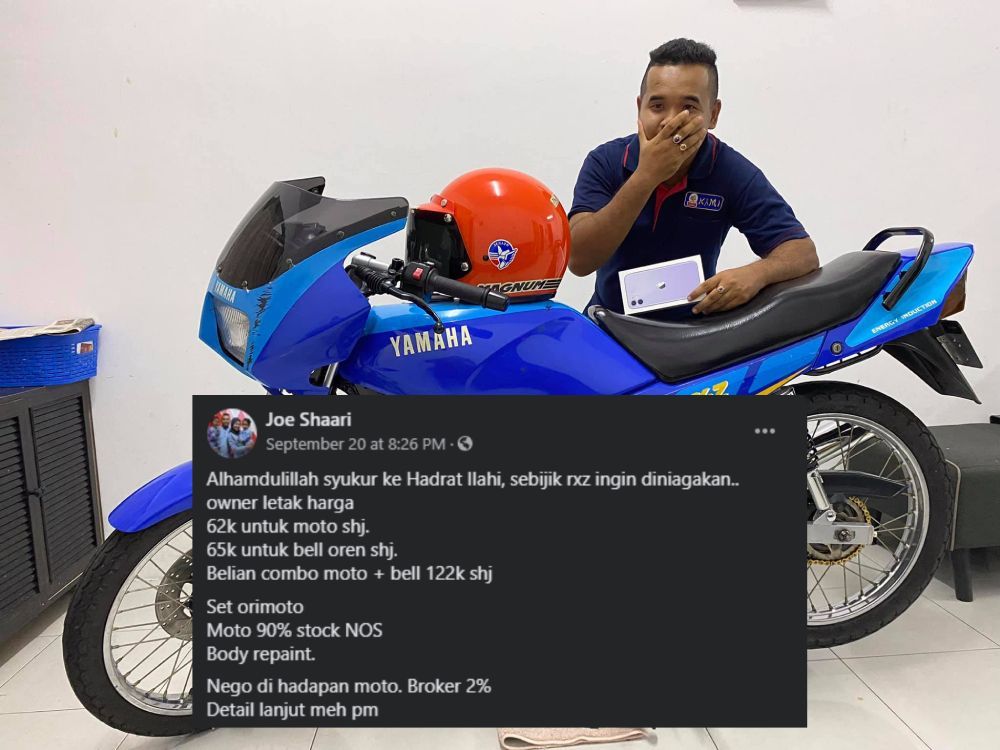 RXZ kayangan ini berada dalam keadaan 90% New Old Stock (NOS). Bagi yang tidak tahu, Yamaha RXZ ini mula dilancarkan pada pertengahan tahun 80-an dan sudah ditamatkan pengeluarannya sejak 2011 lagi. Memandangkan model ini masih ada ramai peminat, jadi mungkin sebab itu harganya naik melambung. Maklumlah, barang rare!
Susulan harga yang tidak masuk akal itu, posting iklan tersebut telah menerima banyak kecaman netizen. Tanpa diduga, dalam sehari sahaja iklan itu dikongsikan di laman Facebook Joe, RXZ itu telah dibeli oleh pembeli yang berasal dari Kedah dengan harga RM60k. Menerusi perkongsian Joe di Facebook, beliau telah memuat naik gambar bukti resit pembayaran yang berharga RM60k.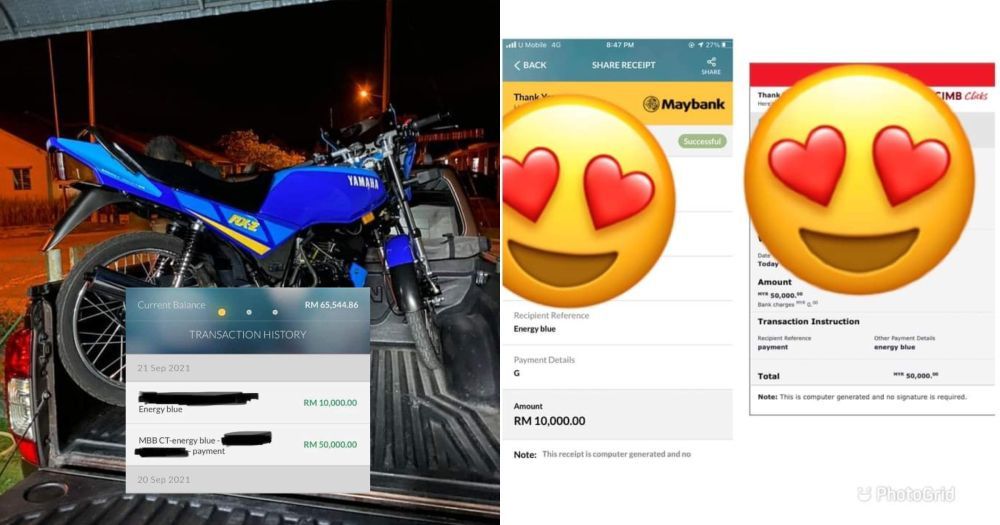 Dengan bukti pembelian ini, maka terbuktilah Yamaha RXZ ini begitu dipandang tinggi oleh peminat-peminatnya sehingga ada yang sanggup membelanjakan RM60k untuk motor terpakai seperti ini. Bak kata orang, setiap orang ada minat yang tersendiri. Ada yang sanggup beli kereta Hot Wheels sampai ribu-ribu, ada yang sanggup beli kasut berharga puluhan ribu dan macam macam lagi. Tetapi sejauh mana kesahihan cerita ini?
Seperti yang dijangka, posting kedua Joe itu lebih banyak mengundang cemuhan dan kecaman. Ramai yang meminta broker itu untuk kongsikan gambar pembeli baharu sebagai bukti memandangkan resit boleh disunting atau edit. Bila ada orang sanggup beli dengan harga yang tinggi, pasti ramai yang tertarik nak tahu siapa pembeli tersebut, kan? Malah ada yang turut meminta Joe untuk menunjukkan geran motor tersebut yang telah siap ditukar nama.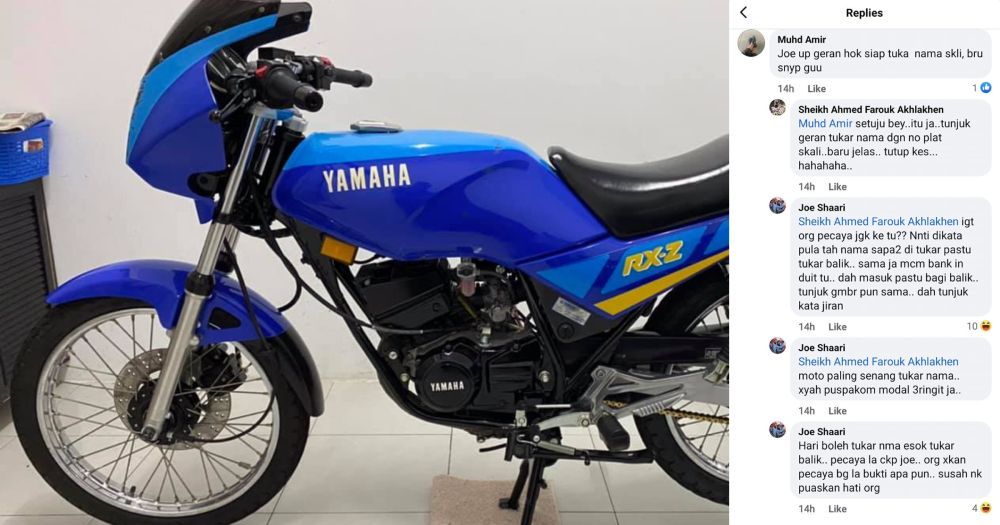 Walau bagaimanapun, Joe telah menjelaskan bahawa tiada motif untuk dia menunjukkan muka pembeli atau pun geran motor kerana orang tetap tidak akan percaya. Berilah apa-apa bukti sekalipun, pasti akan ada benda yang dipersoalkan.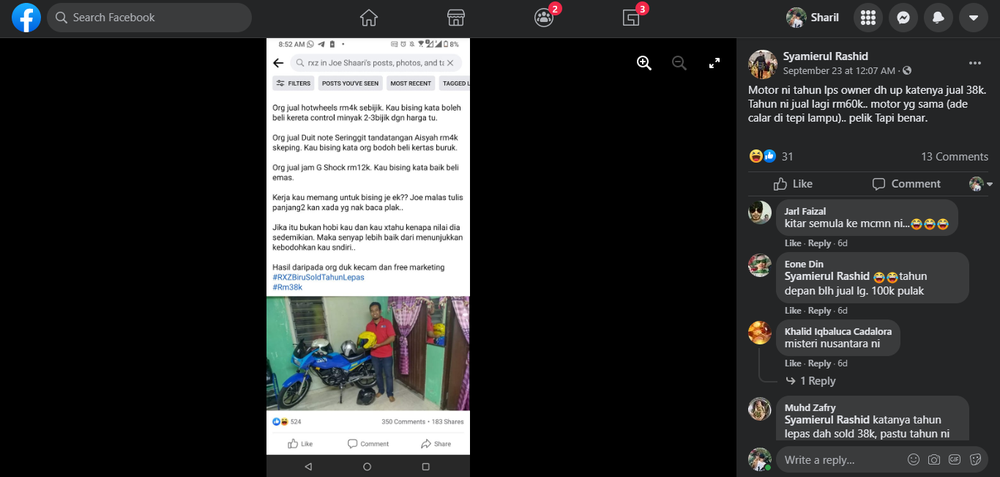 Sementara itu, ada netizen yang telah memuat naik gambar yang menunjukkan broker tersebut pernah menjual motor yang sama pada tahun lalu pada harga RM38k. Jadi adakah aktiviti jual beli RXZ yang sama ini hanyalah wayang tahunan broker tersebut?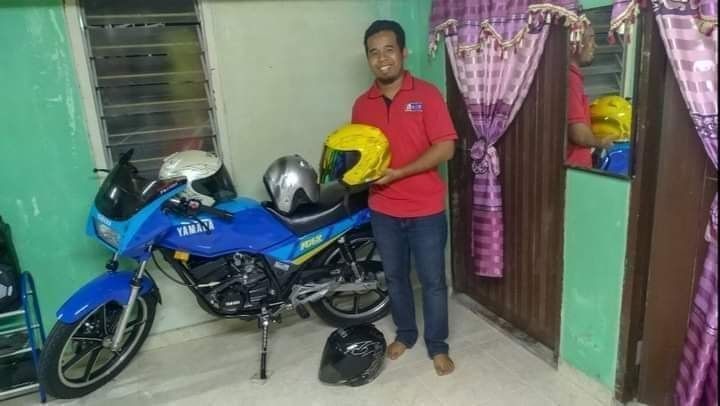 Bagi menjawab tuduhan terbabit, Joe menjelaskan bahawa penggunaan hashtag (#RXZBiruSoldTahunLepas dan #RM38k) tersebut hanyalah bertujuan untuk menyedapkan posting itu. Tambahnya, jika RXZ ini terjual pada harga RM38k tahun lalu, pasti cerita ini akan tular seperti sekarang. Menurutnya, yang paling penting RXZ itu telah terjual.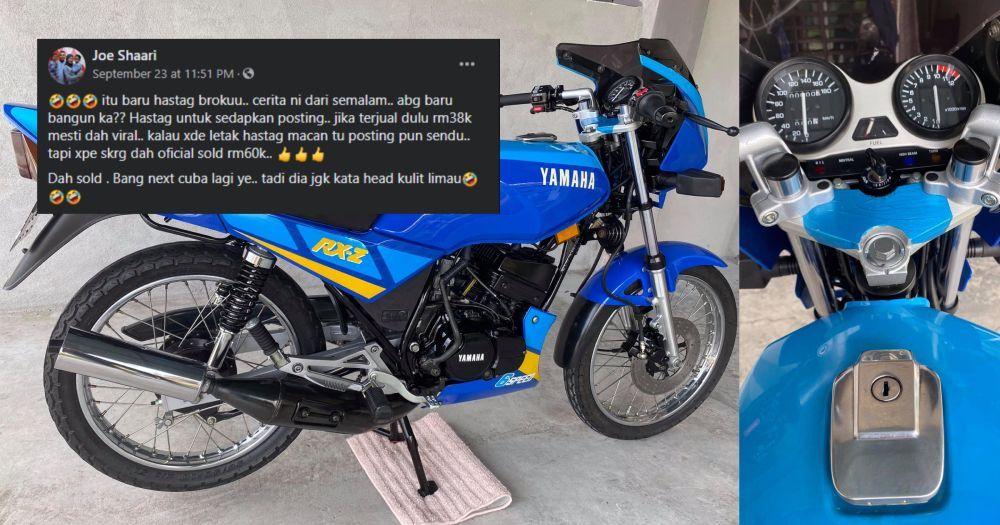 Bagi sesetengah netizen, ini merupakan salah satu taktik pemasaran untuk bermain dengan harga. Kalau nak ikutkan, barang itu tidaklah mahal mana. Tetapi bila ada orang buka harga seperti itu, nanti orang lain yang ada barang sama pun turut serta ingin menjual RXZ mereka pada harga yang sama seperti itu.
Walaupun teruk menerima kecaman, broker motor terbabit tidak peduli dengan segala cemuhan yang diterima kerana dia tidak rugi 1 sen pun. Mana taknya, jika cerita ini benar, beliau telah menerima 2% keuntungan sebagai broker daripada harga jualan tersebut.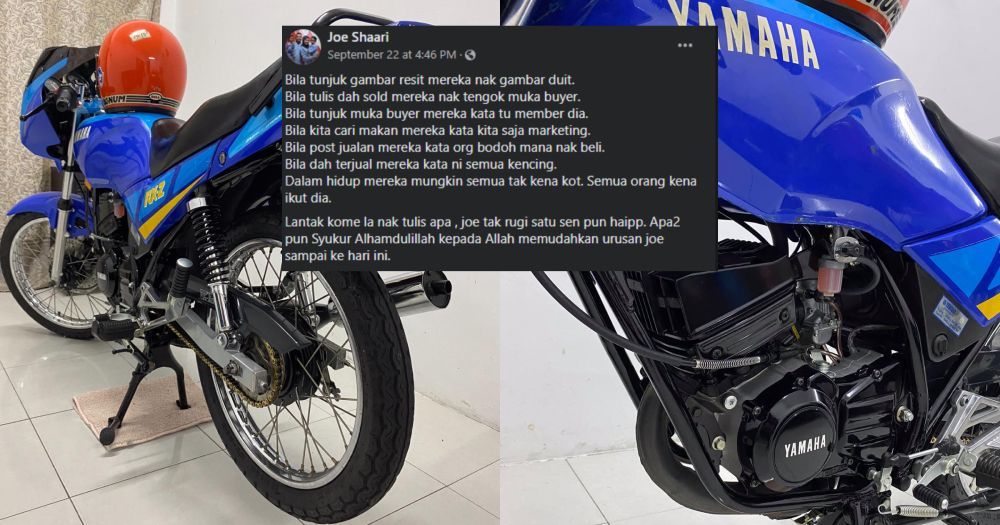 Kesimpulannya, betul atau bohong itu hanya mereka yang terlibat dengan aktiviti jual beli ini sahaja yang tahu. Sejauh mana pun kesahihan cerita ini, tahniah diucapkan kepada para pembeli dan penjual kerana berani membeli RXZ terpakai dengan harga sebegitu rupa. Siapalah kita untuk menghakimi minat seseorang kan?
Sanggupkah anda membelanjakan RM60k untuk sebuah RXZ terpakai?
---
---
---
Related News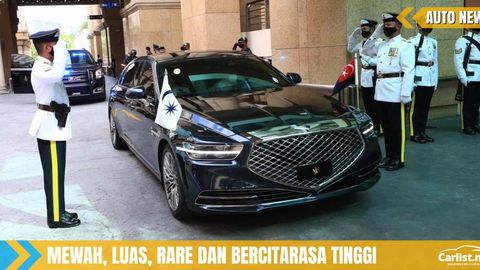 Auto News
Sultan Johor, DYMM Sultan Ibrahim Ibni Almarhum Sultan Iskandar telah mencuri perhatian ramai apabila menggunakan kereta rare, Genesis G90 Limousine ... Auto News
There seems to be an influx of rare cars that are now on sale. Even some previously priceless movie memorabilia now have a price tag attached, and ...
---
Comments