Bantuan Moratorium Automatik Atau Pengurangan Ansuran Bayar Balik 50% Untuk Golongan Terjejas Dan B40
Auto News Perdana Menteri, Tan Sri Muhyiddin Yassin mengumumkan bahawa kerajaan bakal memberi bantuan kepada golongan terjejas dan B40 dalam bentuk moratorium dan pengurangan ansuran bayaran semula sebanyak 50% dalam perutusan khas Bantuan PKP 3.0, malam tadi.
---
Setelah satu perbincangan dibuat bersama Bank Negara Malaysia (BNM), kerajaan bersetuju untuk terus memberikan bantuan pembayaran balik dan moratorium kepada golongan terjejas seperti mereka yang kehilangan pekerjaan serta perusahaan mikro dan PKS yang tidak dibenarkan untuk beroperasi dalam tempoh PKP.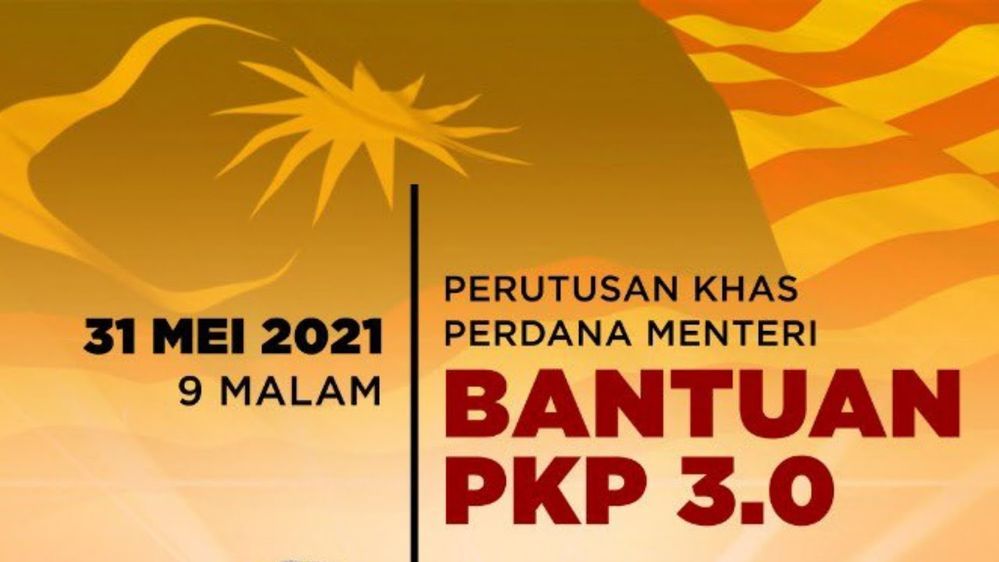 Golongan ini diberikan pilihan samada mendapatkan kelulusan moratorium secara automatik selama 3 bulan ataupun memilih untuk mendapatkan pengurangan bayaran balik secara ansuran sebanyak 50% selama tempoh 6 bulan.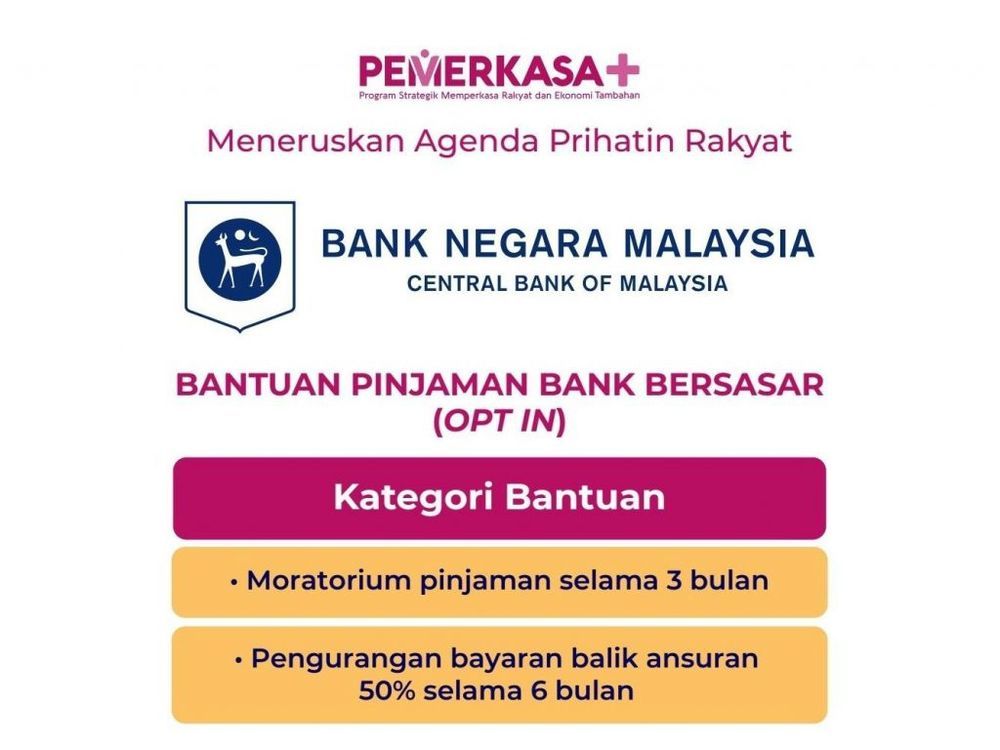 Beliau turut memberitahu bahawa inisiatif ini akan segera dilaksanakan pada bulan Jun ini bagi memberi manfaat kepada lebih daripada 5 juta peminjam dengan nilai sehingga RM30 bilion ringgit. Maklumat lebih terperinci akan diberikan oleh industri perbankan berhubung perkara ini mulai hari ini.
Jesteru itu, golongan B40 dan rakyat yang terjejas hanya perlu menghubungi bank masing-masing dan memaklumkan kepada mereka bagi mendapatkan bantuan ini,
Selain itu, kerajaan juga bersetuju untuk melanjutkan lagi tempoh pengecualian cukai SST bagi kenderaan penumpang pemasangan tempatan (CKD) sebanyak 100% dan import sepenuhnya (CBU) sebanyak 50% sehingga 31 Disember 2021.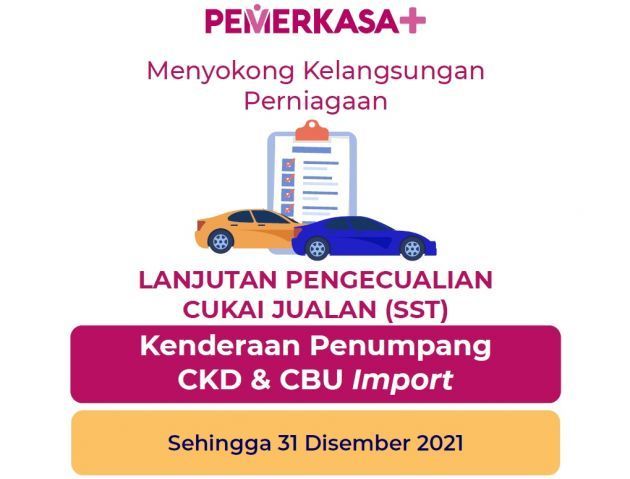 Sebelum ini, pengecualian cukai SST ini telah diumumkan di bawah inisiatif PENJANA pada Jun 2020 yang sepatutnya berakhir pada 31 Disember 2020 sebelum dilanjutkan sehingga 30 Jun 2021 bagi membantu industri automotif yang terkesan teruk akibat pandemik. Kini ia dilanjutkan lagi sehingga hujung tahun ini.
Perkembangan positif ini akan memberi sedikit manfaat dalam bentuk penjimatan kepada mereka yang ingin membeli kenderaan sehingga tempoh hujung tahun ini. Menurut PM, ini merupakan langkah kerajaan dalam menyokong kelangsungan perniagaan dalam tempoh PKP 3.0 kali ini.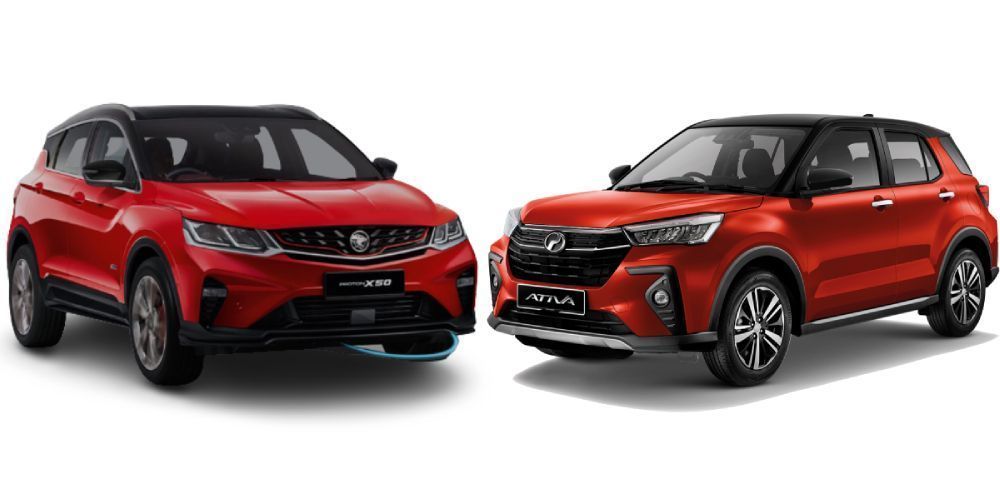 Penurunan harga kereta ini terbukti meningkatkan permintaan dalam industri automotif dalam sepanjang tempoh 12 bulan lalu. Buktinya? Lihat sahaja bagaimana Proton dan Perodua yang tidak menang tangan menerima tempahan atas model baharu mereka seperti Proton X50 dan Perodua Ativa.
Jadi kepada mereka yang ingin membeli kereta, anda bakal menikmati faedah pengecualian cukai SST sehingga hujung tahun ini. Murah sedikitlah harga kereta kalau ada pengecualian cukai ini. Namun sekiranya anda sedang bergelut untuk membayar balik pinjaman bank ketika pandemik ini, anda boleh memilih sama ada mendapatkan moratorium selama 3 bulan ataupun memilih pengurangan ansuran pembayaran semula sebanyak 50%.



For more latest car news, reviews, car buying guides and videos visit us at Carlist.my Auto News.
Check out all the best new & used car deals in Malaysia at Carlist.my.
Sell your car fast with the best offer? Visit us at CarlistBid.my.
Get your latest new car promotion here also.
---
---
---
---
Comments