FIRST DRIVE: 2021 Toyota Corolla Cross 1.8G - Is Pretty Good Really Good Enough?
Reviews It's always a big deal when a new Toyota model arrives in Malaysia, and when it was confirmed that the Corolla Cross was (finally) making its local debut, we instantly wondered if this would finally be the contender they needed to capture a fat slice of that growing SUV market share.
---
Interestingly, we're one of the later markets to receive it in the line-up. First launched in Thailand back in July 2020, it quickly made the rounds to occupy spots in showrooms across Indonesia, the Philippines, Vietnam, even Brunei!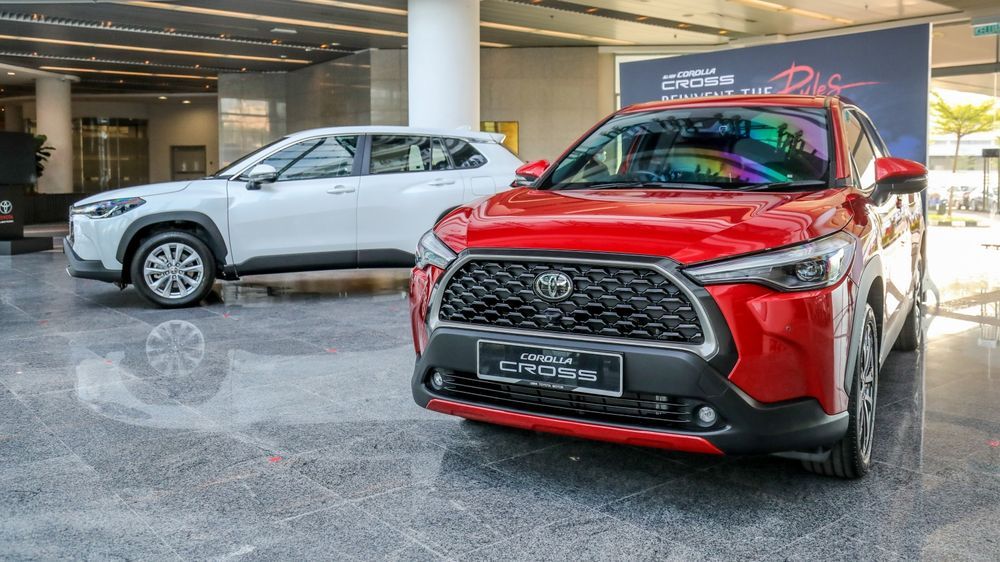 Nevertheless, the Corolla Cross has some lofty promises, wanting to "Reinvest The Rules" as its marketing tagline goes.
As it was a more condensed preview drive than what we're used to, our morning started with a flag-off from the UMW Toyota HQ in Shah Alam and took us on a winding route that bisected the Klang Valley area to end up in Cyberjaya.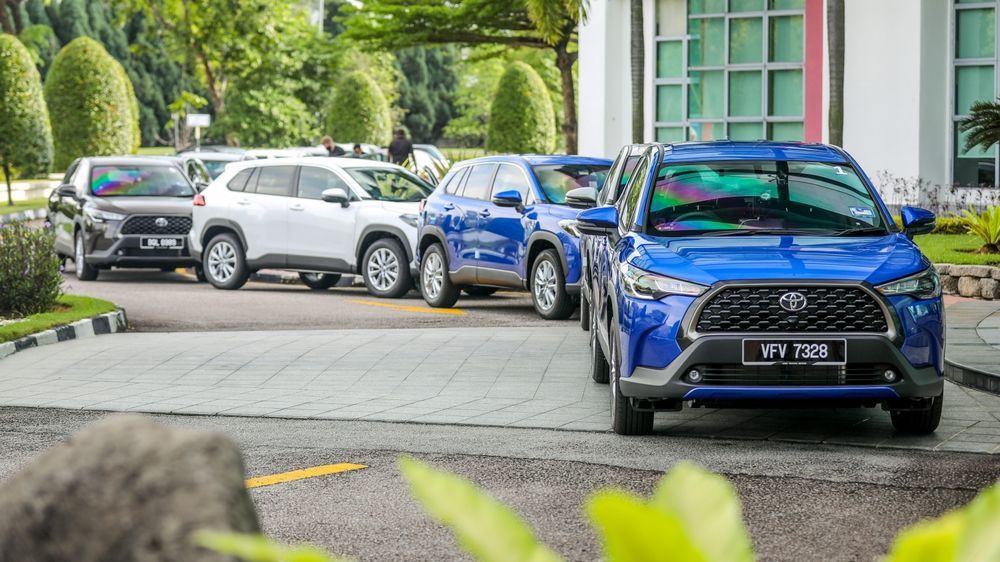 Even upon first impressions, the Corolla Cross comes 'across' as the kind of car built to fill a gap in the market. Or, in the case of UMW Toyota, do a better job at capitalising on the midsize SUV/crossover craze than the C-HR managed.
While it certainly knows what it wants, that targeted approach to being the most car to most people does alienate itself on a personal level, then again that's a trait of most of its rivals as well - the more it tries to tick all the boxes, the more it seems like just another object.
Far from endowing any sense of fashionability, in the automotive market, arriving late to the party just means all the good food is gone and all the action has fizzled out. Despite this, that SUV craze continues to rage onward, especially in Malaysia, with the last 12 months witness to both national automakers bringing to market two highly competent and competitive entrants.
Over to one side, this does leave Toyota free to survey the field and formulate a smarter game plan, ideally. But have they? Does this bring something fresh to the table? Or is the Corolla Cross a good answer to a question that should have been answered years ago?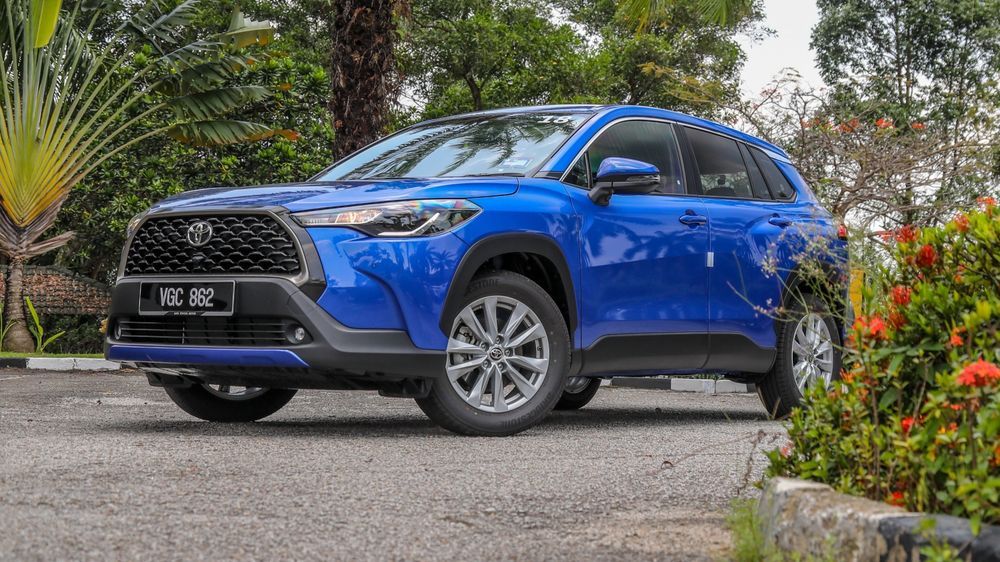 Outside And Inside
If you're a big fan of how the Corolla looks and perhaps expecting a high-riding version of the Corolla Tourer (wagon) or ruggedised Corolla Trek, this ain't it, chief.
The Corolla reference here seems to be an exercise in nameplate recognition more than anything else. At least stylistically, this exterior is unique enough to justify it being a totally different model and there's very little here (besides the badges) to indicate a strong tie-in with the Corolla sedan or its other body styles.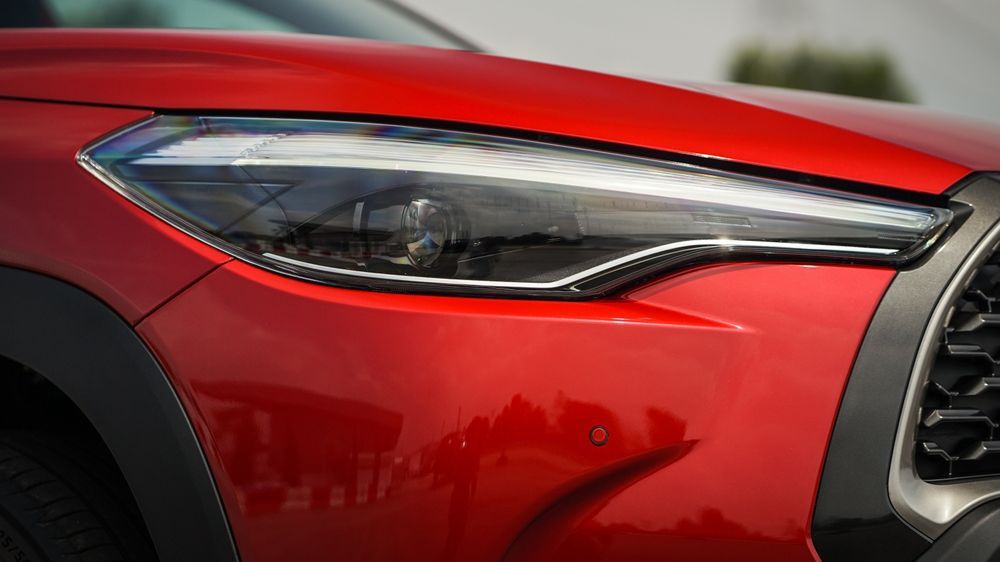 Instead of that sleek front end, the Corolla Cross greets you nose first with that rather large grille, flanked by squinty headlamps - halogen's on the lower-end 1.8G, including daytime running lights, full LEDs on the 1.8V. Coupled with the pronounced bumper cladding, it gives off a certain scowl that resembles a Japanese Oni mask.
That aggressive tone is helped along by fenders that are flared out to meet the squared-out wheel arches on both the front and rear, housing 17-inch wheels wrapped around a set of Bridgestone Alenza tyres.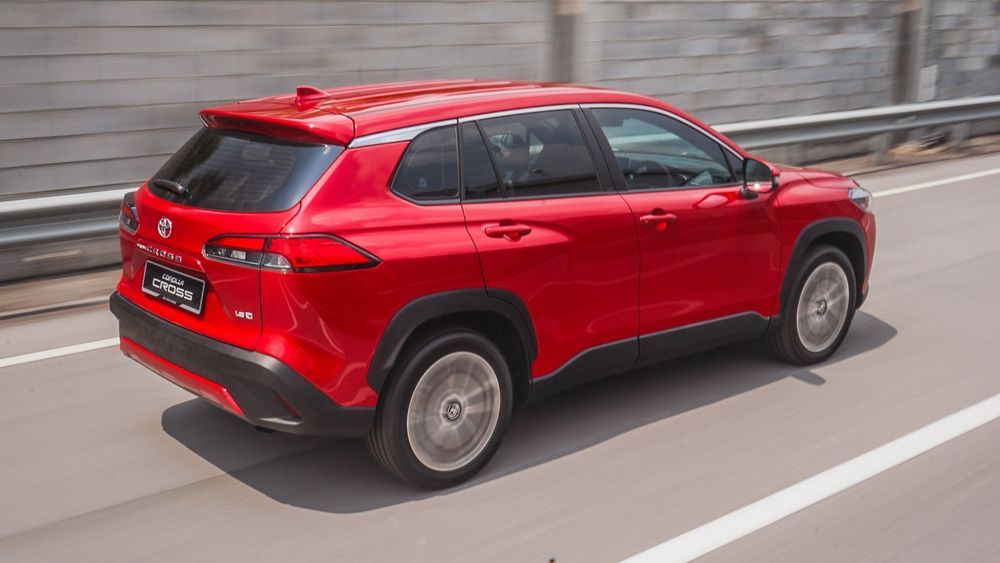 The rear is a little more nondescript with the headlight cluster and other elements placed exactly where you'd expect them to, but then again it's not like the Corolla Cross absolutely needed to make itself distinctive from all angles.
That is, except for that nameplate badge just above the boot release where the word 'Cross' is nicely centred but 'Corolla' is awkwardly hooked on its left side, and in smaller lettering. After taking delivery, I'd immediately find someone with a heat gun to pry that off if it were my own.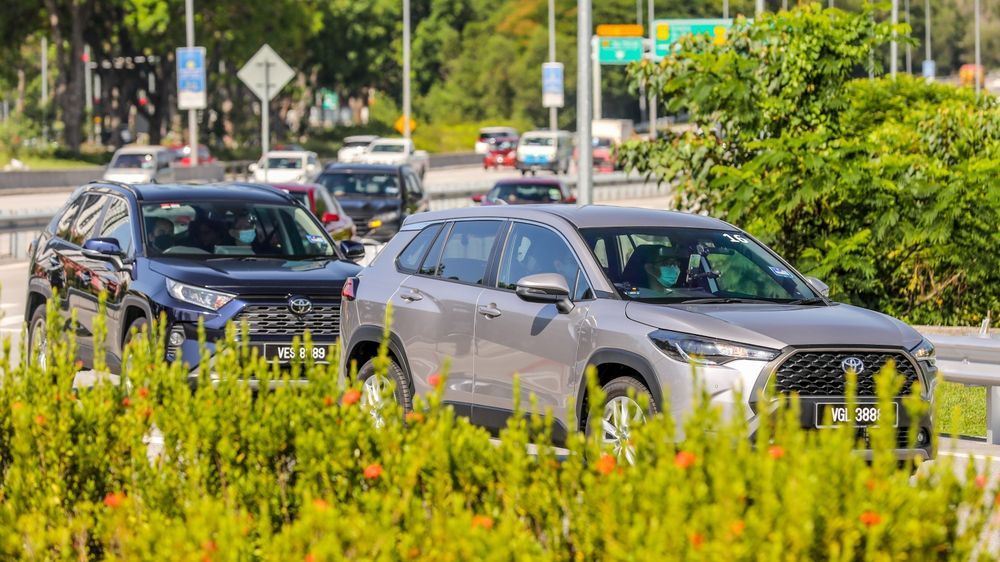 That aside, visually, this Toyota does deliver a nice blend of stylish SUV appeal with a certain Japanese flair. Its lines aren't as gracefully pretty as a Mazda, but it is bolder. In fact, visually, it has much more in common with the RAV4, which isn't a bad thing at all, yet that's not called the Camry Cross.
Stepping into the Corolla Cross and there's a much clearer bridge between the Corolla sedan. The materials, ergonomics, button placement, and even seating position feels familiar, if not nearly identical - as it probably should. It feels modern, well thought out, and decently spacious.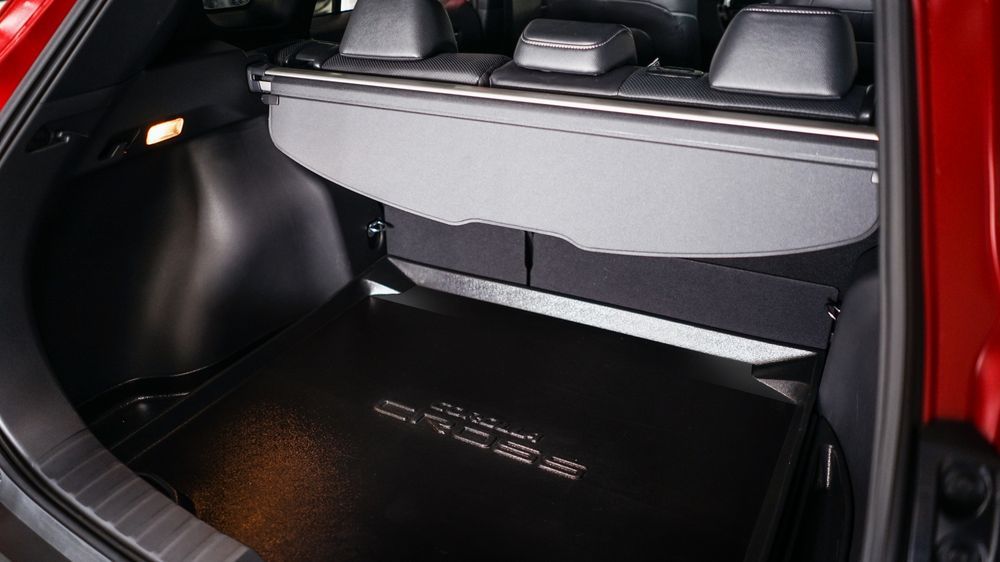 Speaking of which, that 440-litre boot looks even bigger than that measurement suggests given how deep and square the load floor is.
Toyota should also be praised for offering comforts such as leather seats and a 9-inch fully featured infotainment screen (with Apple CarPlay and Android Auto support) even at the entry-level, though I wish there was more contrasting lighter shades against black seats and trim to make the cabin feel a little airier.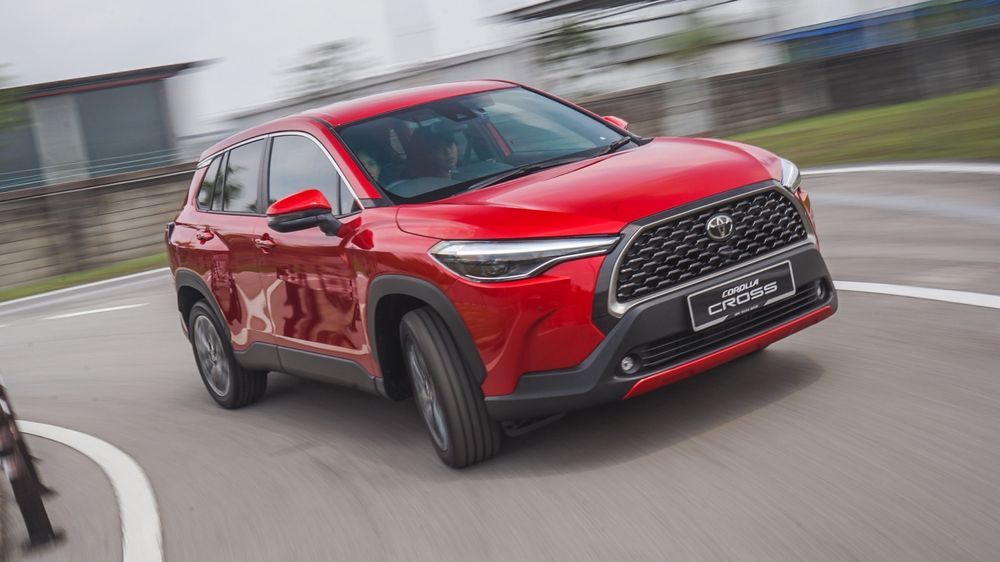 Behind The Wheel
Keep your expectations in check and you'll find the Corolla Cross is a pretty fun little thing to chuck around. Even at slower speeds, the pliancy of the springs and dampers coupled with the inherent rigidity of the TNGA platform delivers a drive that's hard to get too upset with.
Though steering is predictably vague, the front end is sharp and responsive enough and does manage to find grip even if you overcook the turn-in a little. Its rear is much more vague, perhaps owing to that torsion beam over an independent setup.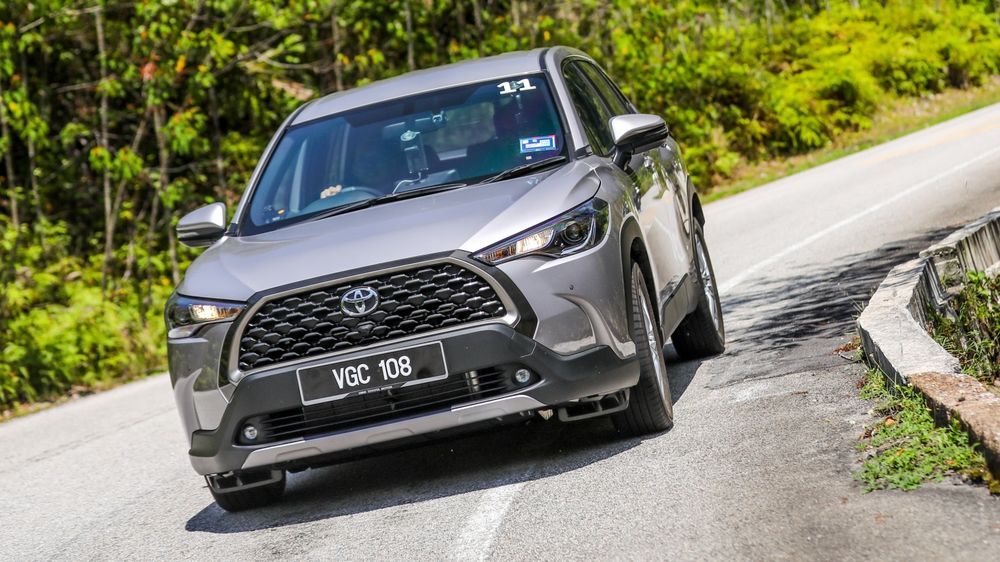 Still, it will take a lot of agitation to overstep its bounds, and on these thicker tyres on 17-inch wheels, there's also plenty of sidewall to help absorb the Klang Valley's most rutted roads with above average poise.
Rather than feeling like a high-riding SUV outright, you can almost imagine yourself in a lower-to-the-ground Corolla hatch that just happens to have a few notches more body roll than normal. But for the huge majority of buyers, the Cross should excel as the all-rounder they expect it to be, though with just a tinge of sportiness.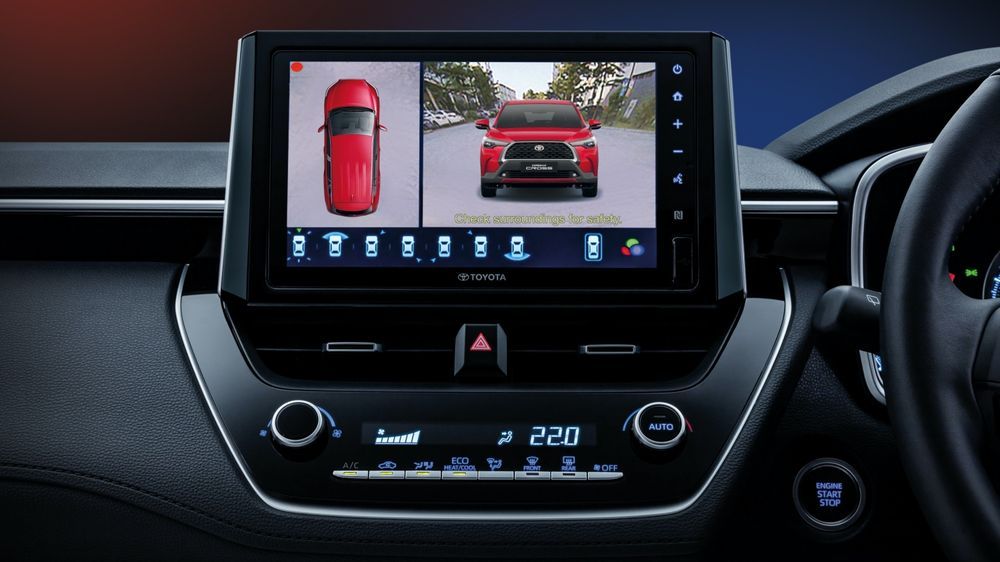 Safety And Conveniences
As unthinkable as it may be today, wind the clock back just a decade or two, many cars sold in Malaysia did not have airbags as standard. Unfortunately, active safety is much in the same boat as being exclusively based on price or a manufacturer's upselling tactic.
Here, again, Toyota deserves praise for including some measure of active safety features as standard. Typically, at least in our market for mass-market brands, the full driver aid suite is only made available to the highest spec variant while the rest of the range gets the basic b***h treatment.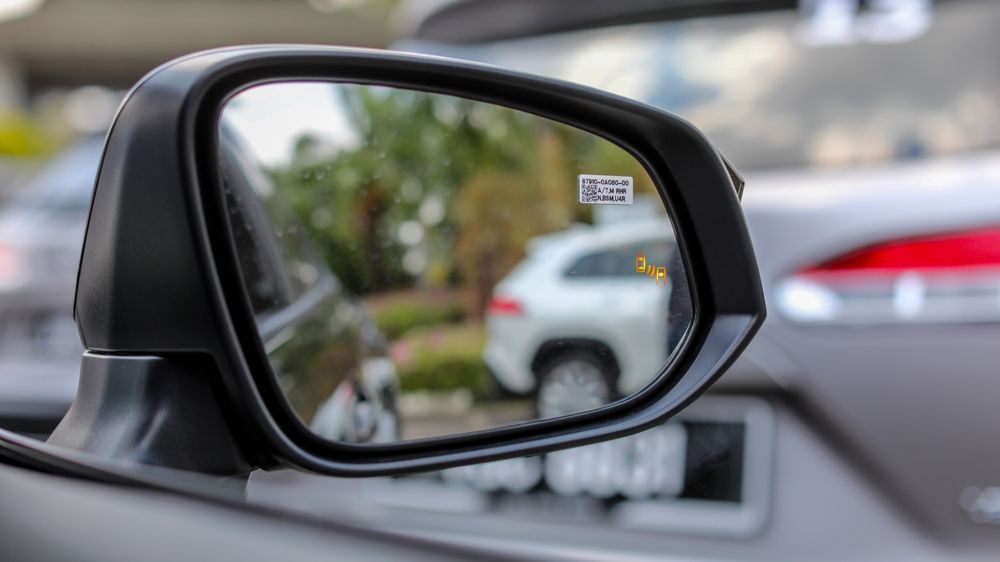 Not here. In addition to the 7-airbags, anti-lock brakes, vehicle stability control, and hill-start assist, even the 1.8G comes fitted with Blind Spot Monitoring and Rear-Cross Traffic Alert that will quite potentially save some lives.
Also standard is cruise control and the very useful Panoramic View Monitor for 360-degree assistance while parking, but only the 1.8V gets the more complete Toyota Safety Sense package.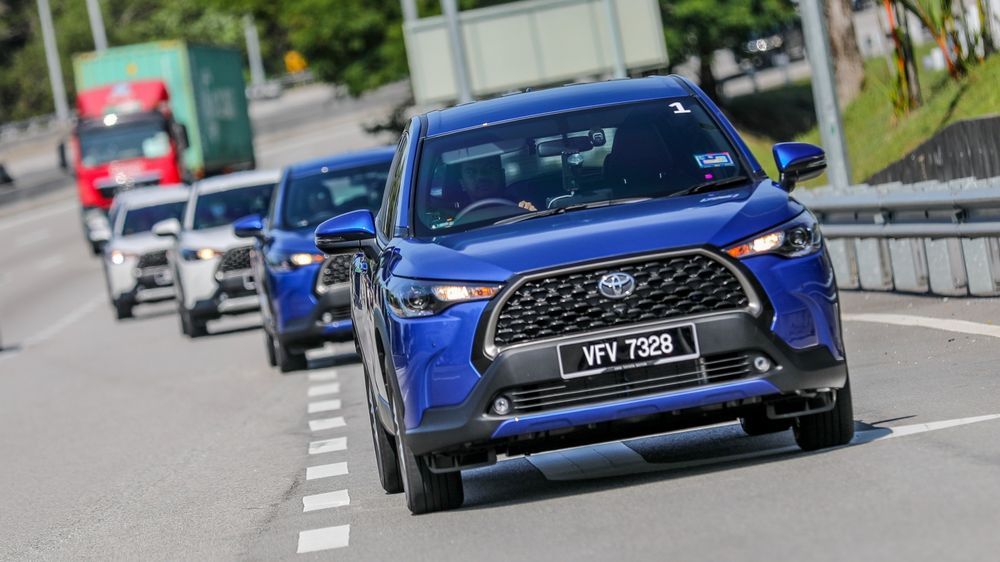 A Bright Future, If Played Right
The Corolla Cross is sort of the perfect example of why vehicle 'segments' no longer matter, and are a pretty loose (bordering on useless) guideline to car classification, especially if you refer to a vehicle's size as a secondary determining factor. Automakers seem compelled to increase the dimensions of a new model over its predecessor, so it's inevitable that the lines between segments will get even blurrier.
For this newest Toyota introduced here, its basis is shared with the Corolla, a C-segment sedan and one of the most prolific nameplates in the world, but it doesn't compete with Honda's C-segment SUV, the CR-V. The same applies to the Mazda CX-30, which is based on the C-segment Mazda 3 hatch.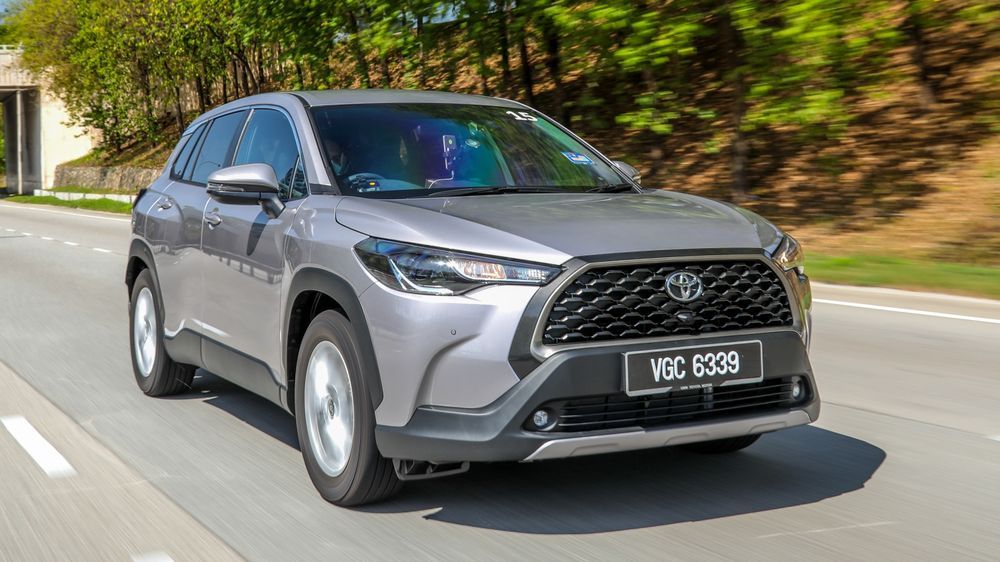 Rather than pitting blame on the Toyota or Mazda, this issue mostly stems from the Honda HR-V being a freakishly overgrown B-segment contender. Clearly, in terms of the space it occupies, the Corolla Cross is its clear rival, though from a technical and equipment perspective, perhaps the CR-V is a better match.
Being almost 8 years old at this point, the current-generation HR-V has aged well but can be perceived as a little beyond its years. While its replacement breaches the C-segment barrier alongside an upmarket push, it will take some time before we can expect a launch in our part of the world. In that stagnant period, Toyota could/should go hard to capitalise on their newer, more modern entrant to make up lost ground and lost sales.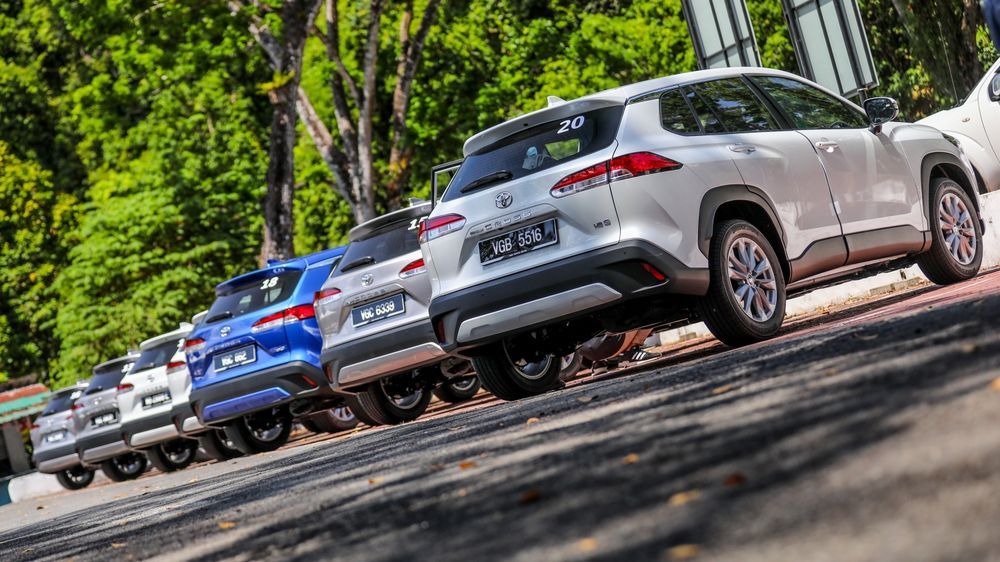 So far, we're among the only markets to not be offered the hybrid version of the Corolla Cross, so there definitely is room to grow. Beyond that, as a platform/stepping-stone, it affords Toyota the opportunity to really flex their prowess as a dominant player in the highly competitive (but lucrative) compact SUV space. Finally!
For more latest car news, reviews, car buying guides and videos visit us at Carlist.my Auto News.
Check out all the best new & used car deals in Malaysia at Carlist.my.
Sell your car fast with the best offer? Visit us at CarlistBid.my.
Get the latest new car promotions at New Car website now.
---
---
---
---
Comments