Merokok Semasa Memandu – Boleh Kena Saman Ke?
Insights Perbuatan merokok semasa memandu bukanlah perkara asing di Malaysia, tapi adakah perbuatan ini salah di sisi undang-undang dan boleh menyebabkan anda kena saman?
---
Kalau anda masih ingat, masa tahun 2015 dulu pernah tular tentang Jabatan Pengangkutan Jalan (JPJ) ada mengeluarkan saman di atas kesalahan menghisap rokok ketika memandu. Masa tu rata-rata orang mengamuk sampai ada yang kongsi gambar pegawai JPJ merokok dalam kereta di media sosial sebagai tanda protes. Selepas JPJ melakukan semakan, rupanya saman tersebut tak pernah pun dikeluarkan oleh pegawai mereka seperti yang didakwa.
Bermula 1 Januari 2019, larangan merokok di semua premis makanan telah dikuatkuasakan oleh kerajaan pada waktu itu. Pada tahun itu juga lah, isu saman kerana merokok semasa memandu kembali tular selepas ada individu yang memuat naik saman atas kesalahan yang sama di media sosial. Berbalik pada persoalan kita tadi, salah ke merokok semasa memandu ini di sisi undang-undang?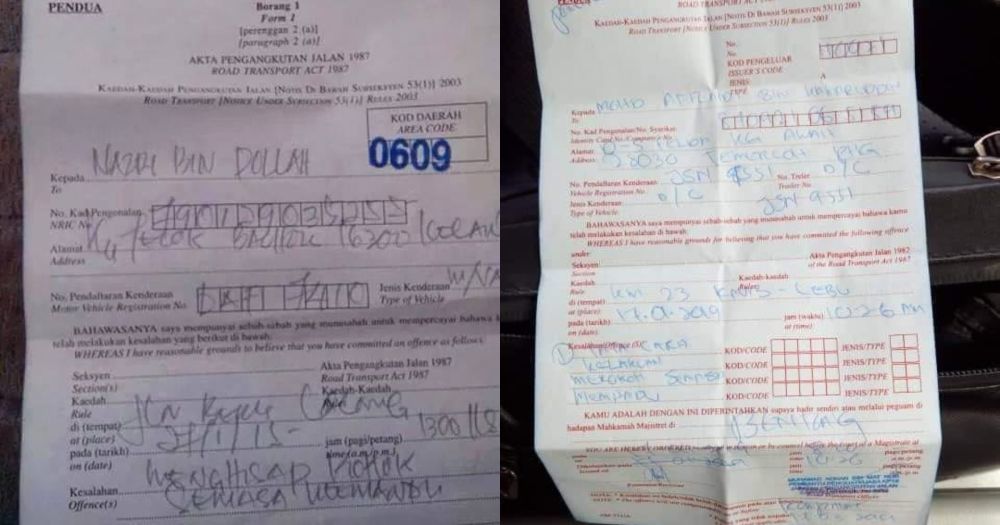 Jawapannya, YA, anda boleh disaman oleh JPJ jika merokok atau vaping semasa memandu.
Akan tetapi ianya hanya tertakluk kepada kenderaan-kenderaan tertentu seperti berikut:
Bas bermotor – kenderaan perkhidmatan awam yang mempunyai 7 tempat duduk atau lebih
Bas sewa persendirian – bas yang disewa dibawah suatu kontrak bagi penggunaan kenderaan tersebut secara sepenuhnya
Bas persendirian – bas yang dimiliki oleh mana-mana orang dan digunakan hanya untuk membawa pekerja-pekerja pemilik bas tersebut atau bagi membawa orang-orang berhubung dengan perniagaannya.
Bas Sekolah
Teksi
Berdasarkan Akta Pengangkutan Awam Darat 2010, tiada seorang pun boleh menghisap apa-apa rokok atau keluaran tembakau di dalam atau di atas mana-mana kereta api atau premis kereta api, kenderaan perkhidmatan awam atau kenderaan pelancongan. Sesiapa yang melanggar larangan ini boleh didenda tidak melebihi RM10,000 atau dipenjarakan tidak melebihi 2 tahun atau kedua-duanya.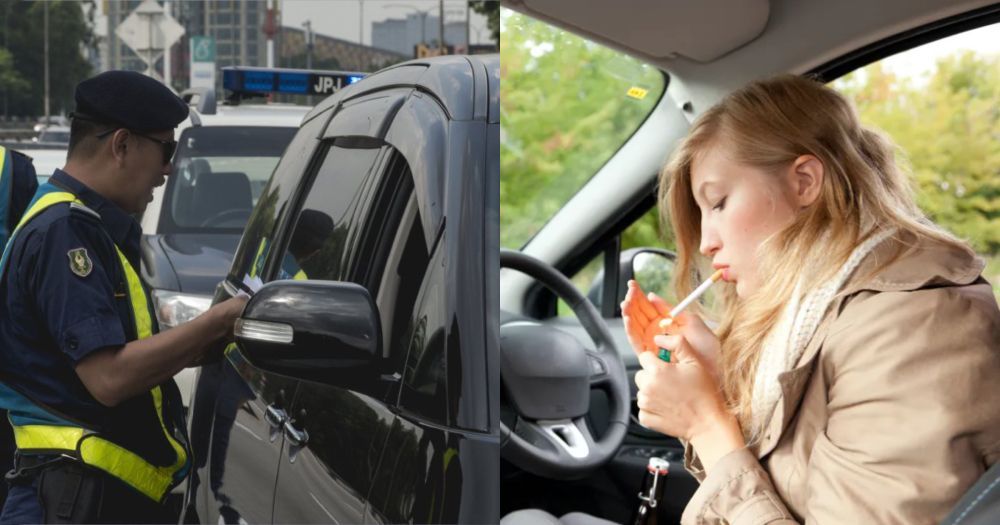 Untuk pengetahuan anda, JPJ tidak mengeluarkan saman ke atas pemandu kenderaan persendirian yang merokok semasa memandu. Menurut bekas Timbalan Menteri Kesihatan, Dr Lee Boon Chye, kerajaan tidak mempunyai kuasa untuk melarang perbuatan merokok di dalam kenderaan persendirian, kerana ia merupakan ruang peribadi. Walau bagaimanapun, ibu bapa yang merokok di dalam kereta perlu sedar tindakan tersebut mendedahkan anak-anak mereka kepada bahaya asap rokok.
Aktiviti memandu memerlukan anda untuk memberi sepenuh perhatian kerana anda sentiasa berisiko untuk dicederakan, mencederakan diri sendiri atau orang lain di atas jalan. Seseorang yang merokok sudah pasti tidak dapat menggunakan kedua-dua belah tangannya sewaktu memandu. Kemalangan berisiko untuk berlaku dalam beberapa saat semasa anda mengalihkan pandangan untuk memetik debu rokok ataupun menyalakan rokok.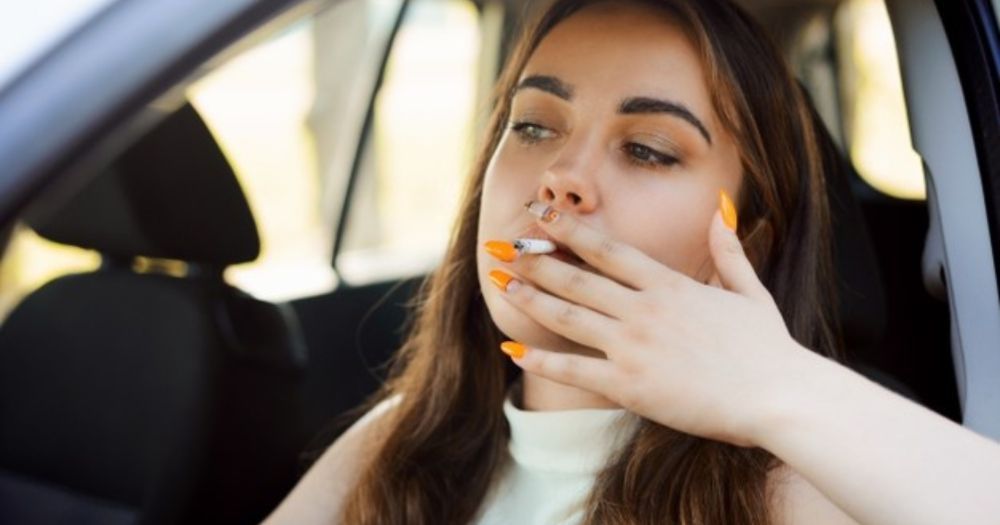 Kalau nak kata merokok ini berbahaya pada diri sendiri, saya rasa ramai perokok yang sudah sedia maklum tentang perkara tersebut. Tapi untuk mereka yang sedang mencari jalan untuk berubah dan berhenti merokok, anda perlu tahu segala keburukan yang boleh berlaku sekiranya anda terus merokok di dalam kereta.
Keburukan Merokok Semasa Memandu

1. Diri Sendiri
Walaupun pemandu bertindak menurunkan cermin tingkap sewaktu merokok, namun ianya tetap juga merbahaya kerana asap rokok masih melekat pada baju atau tempat duduk dalam kenderaan. Bila bau asap dah bercampur dengan pendingin hawa kereta, ia akan menjejaskan sistem penafasan yang boleh memudaratkan kesihatan.
Selain itu, anda berisiko terdedah dengan lebih banyak bahaya lain seperti meninggalkan pemetik api di dalam kereta. Sebahagian perokok gemar menyimpan pemetik api tambahan di dalam kereta. Pemetik api ini amat mudah meletup ketika kereta berada dalam keadaan panas.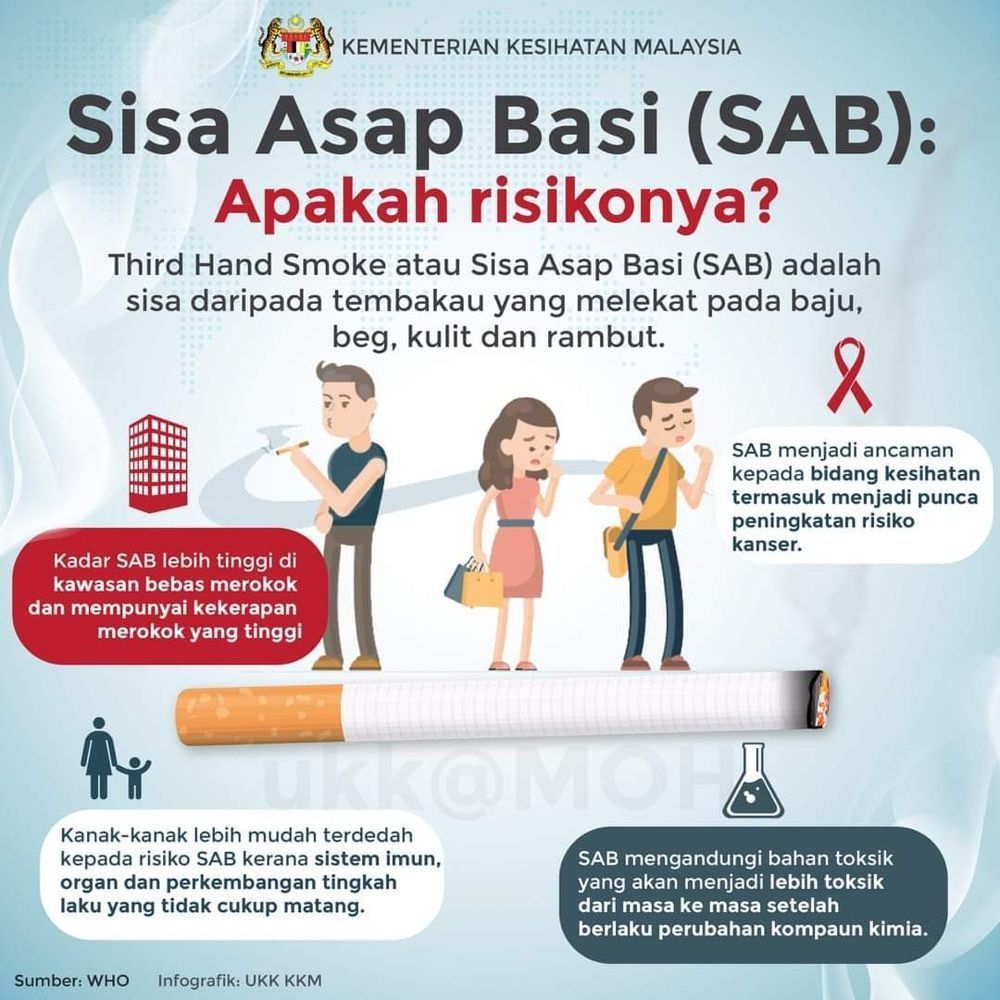 2. Orang Lain
Seperti anda tahu, meskipun asap rokok telah hilang di dalam kereta, namun kesan asap rokok terbabit masih ada di dalam kereta dan individu yang menghidu bau kesan rokok ini dipanggil third hand smoke atau asap rokok ketiga yang turut mendatangkan bahaya pada mereka.
Partikel asap rokok ini boleh melekat pada dinding, lantai, langsir, baju, badan, rambut serta apa apa sahaja permukaan objek lain di dalam kereta. Sebab itu bau rokok masih ada walaupun asapnya sudah tiada. Tak kesian ke pada penumpang seperti anak kecil dan isteri yang terdedah dengan risiko sama? Sistem imuniti kanak-kanak kecil dan wanita mengandung amat rendah. Korang tahu tak kemungkinan orang yang menghidu asap rokok untuk menghidap penyakit yang berbahaya adalah lebih tinggi berbanding perokok?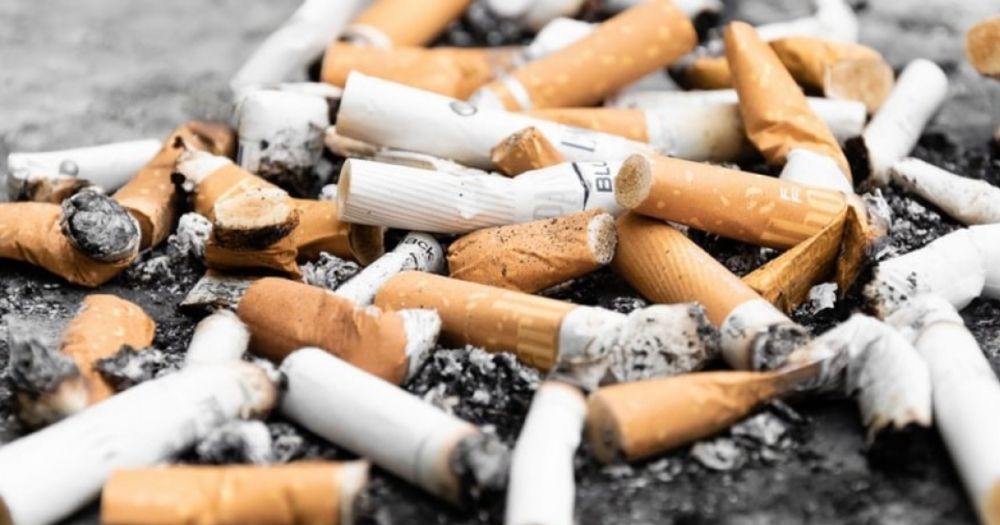 3. Alam Sekitar
Kebanyakan perokok yang merokok semasa memandu akan membuang puntung rokok di luar kenderaan mereka. Jarang sekali kita lihat perokok yang menyediakan ashtray di dalam kereta mereka. Kenyataan ini dibuat berdasarkan pengalaman saya sendiri yang pernah merokok semasa memandu dan pengalaman saya berada di sekeliling orang yang merokok semasa memandu. Perbuatan membuang sampah merata-rata ini bukanlah budaya yang perlu dicontohi.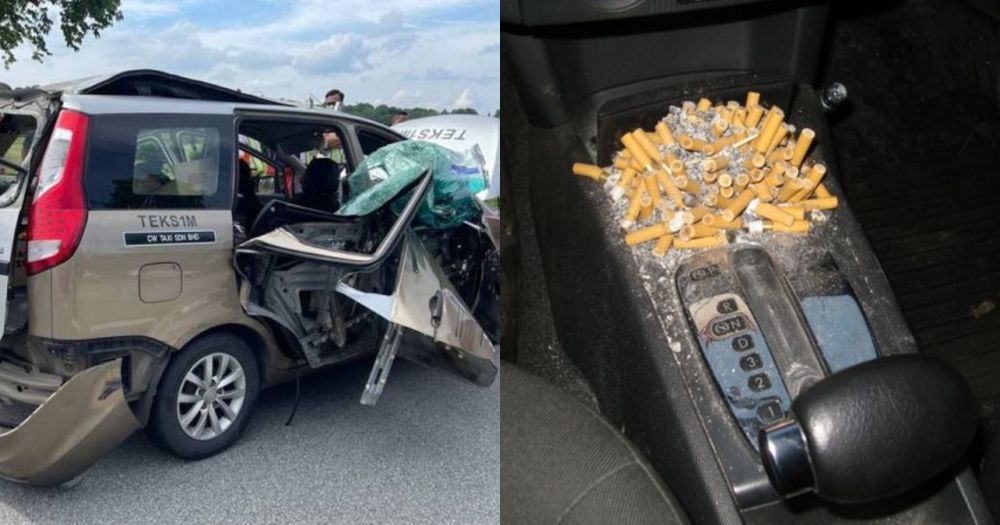 4. Kereta
Selain asap basi, kereta juga ada akan berbau busuk kerana asap rokok. Kalau pendingin hawa kereta dibuka semasa merokok, lagi la lama bau rokok tu kekal. Anda yang dah biasa merokok mungkin tak perasan bau ini, tapi bagi yang tak merokok, bau tu amat kuat dan mengganggu. Selain itu, sisa debu rokok juga akan berterbangan di dalam kereta. Maklumlah, bila hisap rokok sambil buka tingkap, angin yang kuat akan menyebabkan debu rokok bersepah dalam kereta.
Selain itu, kereta juga boleh meletup kerana perbuatan merokok ini. Tak percaya? Baru-baru ada sebuah teksi Proton Exora meletup kerana gas cecair pembasmi kuman yang disimpan di dalam kereta bocor. Letupan tersebut berlaku semasa pemandu cuba menghidupkan api untuk membakar rokok ketika memandu. Habis melecur di bahagian muka dan lengan.
Merokok juga berupaya untuk menyebabkan kebakaran pada kereta yang tidak disengajakan. Sebagai contoh, puntung rokok yang sedang menyala terjatuh di atas tempat duduk dan memulakan kebakaran pada kereta anda. Ini boleh membuatkan pemandu panik dan tidak dapat fokus pada pemanduan dan boleh menyebabkan kemalangan.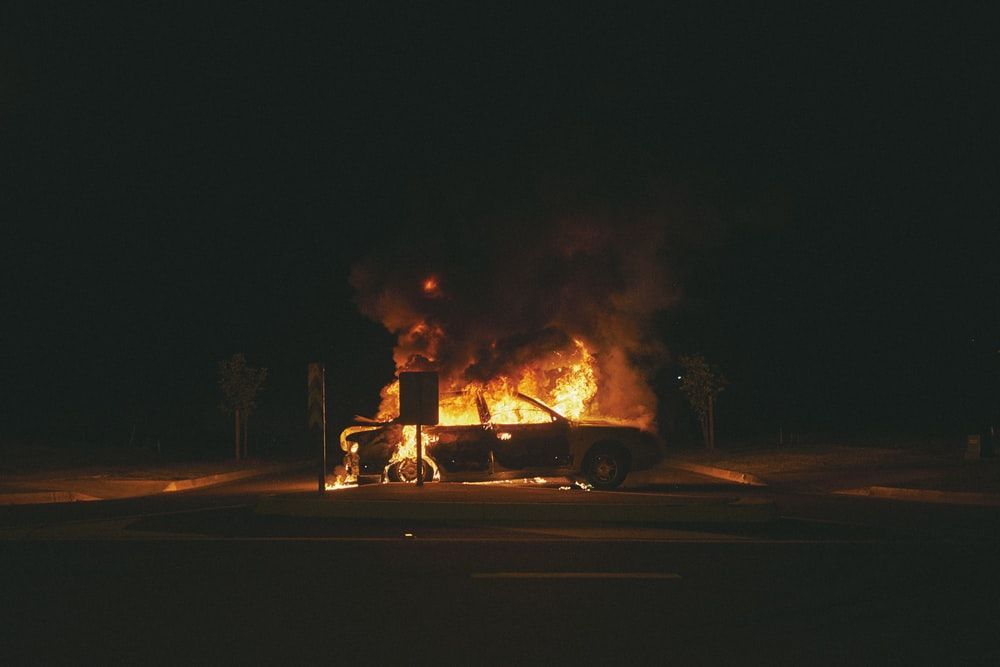 Kesimpulannya, anda dibenarkan merokok di dalam kenderaan persendirian. Tiada siapa yang boleh halang anda. Hanya kenderaan perkhidmatan awam sahaja yang boleh disaman. Walau bagaimanapun, perbuatan merokok semasa memandu ini banyak membawa kesan buruk bukan sahaja pada pemandu, malah pada penumpang juga. Atas dasar keselamatan dan kesihatan, anda dinasihatkan untuk tidak merokok semasa memandu


For more latest car news, reviews, car buying guides and videos visit us at Carlist.my Auto News.
Check out all the best new & used car deals in Malaysia at Carlist.my.
Sell your car fast with the best offer? Visit us at CarlistBid.my.
Get the latest new car promotions at New Car website now.
---
---
---
Comments