Pemandu Nyaris Rempuh Polis Trafik Di Selekoh Flyover - Tips Keselamatan Di Selekoh
Auto News Malang tidak berbau, seorang pemandu nyaris sahaja merempuh dua anggota polis di selekoh sebuah flyover.
---
Salah satu sebab mengapa anda perlu berhati-hati semasa melalui selekoh adalah kerana anda tidak akan menyangka apa yang ada di hujung selekoh tersebut. Dalam kes ini, terdapat dua anggota polis trafik sedang bertugas mengawal lalu lintas di situ.
Berdasarkan sebuah video dashcam yang tular di media sosial, seorang pemandu sedang memandu keretanya untuk menaiki sebuah flyover sebelum melalui sebuah selekoh. Namun pemandu itu dikejutkan dengan kehadiran 2 anggota polis trafik bermotor bersama sebuah kon betul-betul di kawasan selekoh berkenaan.
Terkejut dengan kehadiran anggota polis, pemandu tersebut telah bergegas menekan brek kereta untuk memperlahankan kenderaannya. Pemandu tersebut nyaris sahaja menghentam anggota yang sedang bertugas mengawal lalu lintas di kawasan selekoh namun situasi berjaya dikawal.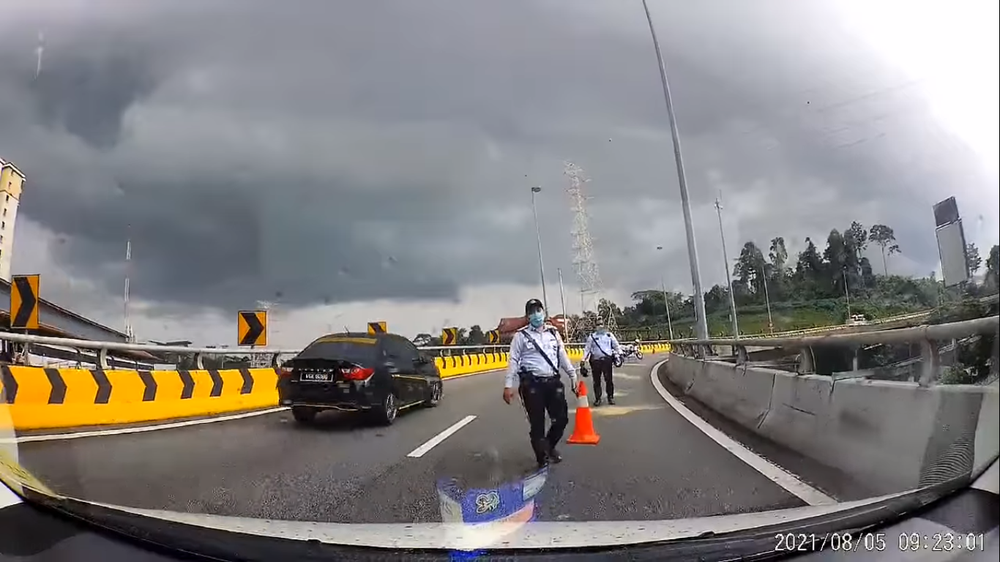 Polis telah menasihati pemandu terbabit untuk sentiasa memerhatikan keadaan di hadapan dan berhati-hati semasa memandu. Menurut polis berkenaan, faktor jalan licin menjadi sebab mengapa mereka berada di situ untuk mengawal lalu lintas. Berdasarkan daripada video terbabit, terdapat seperti tumpahan minyak di kawasan berkenaan.
Walau bagaimanapun, video yang tular ini telah menarik perhatian banyak pihak. Meskipun tindakan anggota tersebut amat mulia kerana menjalankan tugas, namun beberapa aspek keselamatan perlu diambil serius bagi mengelakkan kejadian yang tidak diingini daripada berlaku. Terdapat beberapa tips perkongsian daripada netizen yang boleh diambil oleh semua pengguna jalan raya ketika berada di selekoh.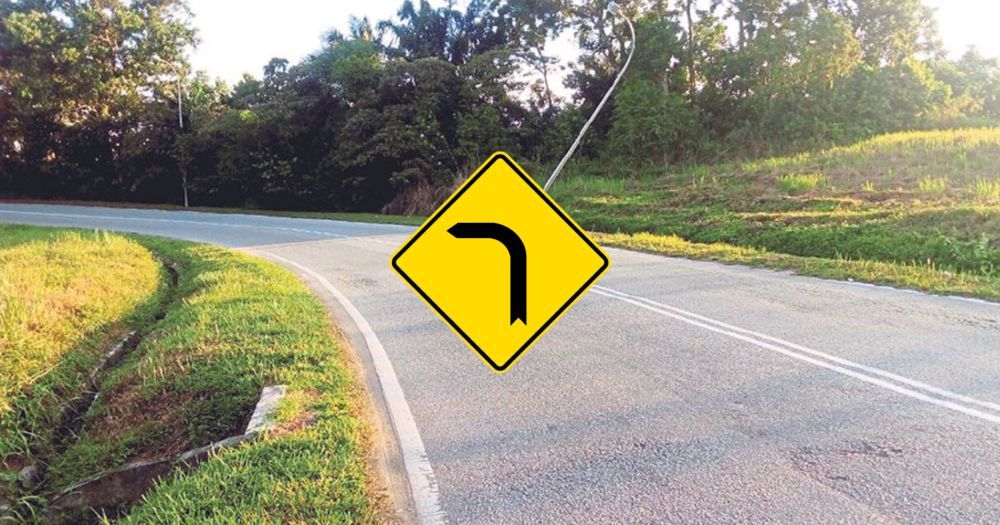 Ketika melalui sesebuah selekoh, elakkan daripada memecut laju kerana anda tidak nampak apa yang ada di hadapan anda. Sekiranya terdapat sebuah kemalangan atau halangan di hadapan, anda mungkin tidak sempat untuk memberhentikan kenderaan.
Seperti kes ini, pemandu dalam video tersebut berjaya memberhentikan kenderaannya meskipun polis tersebut berada betul-betul di kawasan yang terlindung daripada penglihatannya di selekoh kerana kelajuan yang digunakan pemandu tersebut adalah memadai.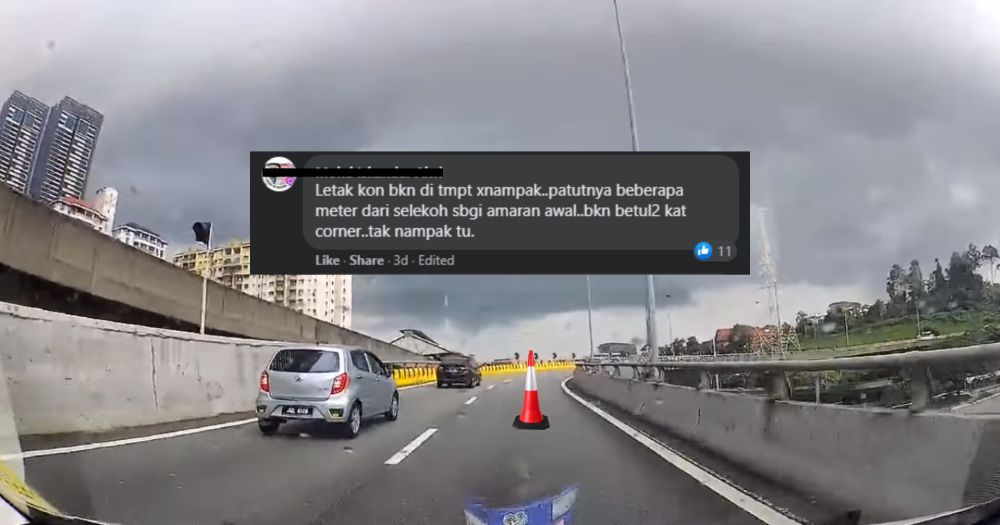 Walau bagaimanapun, anggota polis berkenaan sepatutnya meletakkan kon tersebut di laluan lurus sebelum memasuki kawasan selekoh itu supaya lebih jelas untuk dilihat oleh pemandu lain. Mujur sahaja pemandu berkenaan tidak memandu dengan laju di selekoh tersebut. Kalau tidak lain pula ceritanya.
Ada juga yang memaklumkan mungkin anggota terbabit merupakan anggota bantuan kecemasan yang baru sahaja tiba untuk mengawal lalu lintas ekoran tumpahan minyak disitu. Silap-silap mereka pun baru sahaja sampai di kawasan berkenaan dan hanya mengambil kon terbabit di bahu jalan sahaja memandangkan kedua-dua anggota ini menaiki motosikal.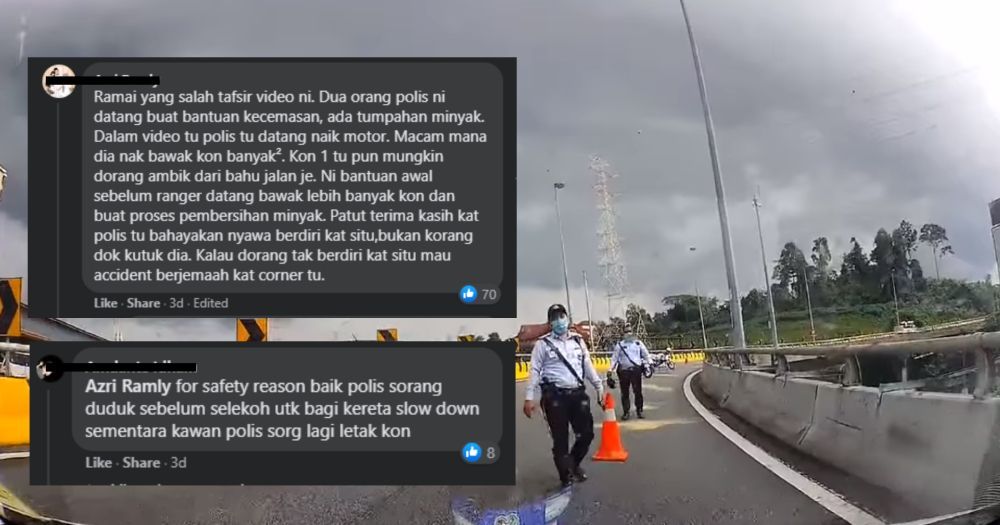 Jika benar seperti itu, salah seorang daripada anggota terbabit boleh saja meletakkan motosikalnya sebelum memasuki selekoh berkenaan untuk mengawal lalu lintas dan memberi amaran kepada pemandu tentang bahaya di hadapan sekaligus menambahbaik aspek keselamatan. Bukan apa, nyawa anggota polis ini pun penting. Jika kita boleh elakkan punca kemalangan, kita elakkan.
Artikel ini bukanlah bertujuan untuk mengecam anggota polis berkenaan sebaliknya artikel ini merupakan peringatan kepada semua pengguna jalan raya yang terkandas di selekoh supaya tidak mengulangi perkara yang sama. Letaklah kon atau apa-apa tanda amaran sebelum memasuki selekoh supaya mudah dilihat oleh pemandu lain.
*Kredit Video: Shah1234


For more latest car news, reviews, car buying guides and videos visit us at Carlist.my Auto News.
Check out all the best new & used car deals in Malaysia at Carlist.my.
Sell your car fast with the best offer? Visit us at CarlistBid.my.
Get the latest new car promotions at New Car website now.
---
---
---
Comments