REVIEW: 2021 Honda Civic 1.5 TC-P - Where Do We Go From Here?
Reviews No matter how dramatically they transform over each generation, certain cars will always struggle to escape their ingrained ties to established perception, which is specific to every person but collectively forms a fuzzy composite. In Malaysia, the Honda Civic has always been viewed a certain way, from family runabout to modified machine of mayhem.
---
With the 10th-generation car (FC), first introduced on our shores in 2016, the Japanese brand probably did the most they could to have everyone take it more seriously, to break out of those 'boy band chains'. To grow up.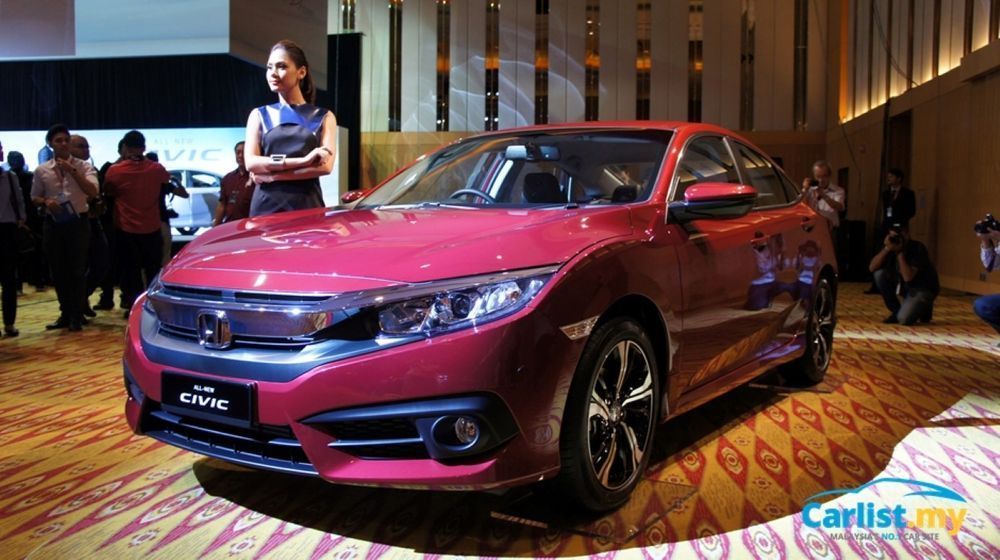 The car brought with it a very different set of styling cues, a new turbocharged engine, and decidedly more upmarket interior appointments. As its local launch was preceded by other markets such as North America and Europe, the hype could only get more intense as each new - usually glowing - review was published abroad.
It was no wonder that so many were seen on our roads so shortly after that June launch, nearly 5 full years ago. With the majority of production due to end in 2021 to lay a clear path for its incoming successor, let's look back and give a moment of silence to some of the cars that this Civic helped make extinct from Malaysian showrooms: Ford Focus, Peugeot 308, Hyundai Elantra (recently re-introduced), Kia Cerato, Nissan Sylphy, and Volkswagen Jetta.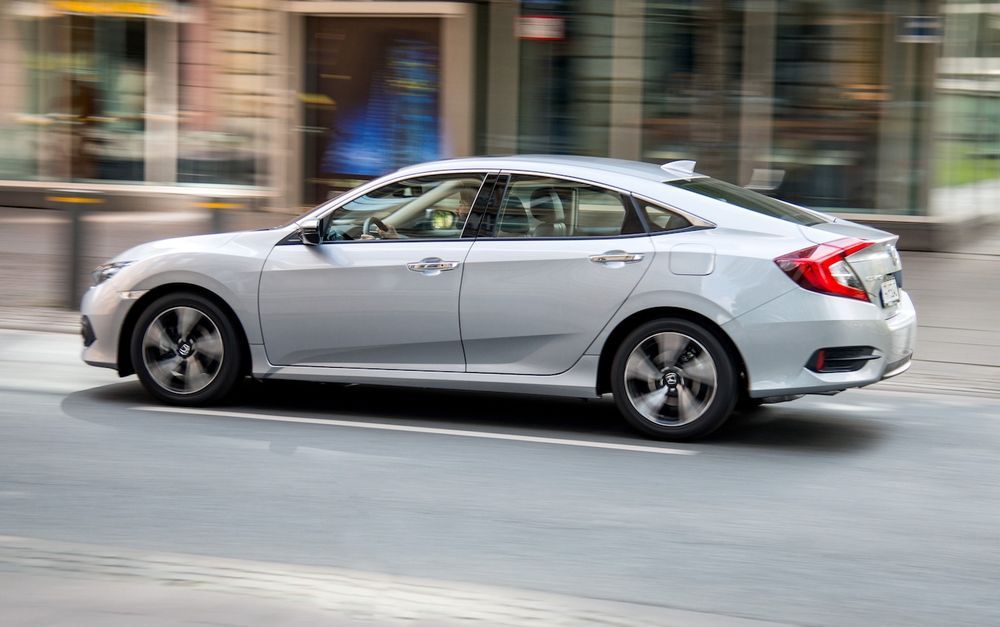 Back in late 2015, upon the car's international debut, it was pretty clear how this new Honda would give the competition a run for their money. Though rivals were already established here, only a handful remain while all the others have been systematically cast out, if indirectly, by the Civic.
In 2021, the C-segment sedan arena is basically a three-horse race between it, the Toyota Corolla, and the Mazda 3. If nothing else, this could be seen as a testament to their staying power, but of this trio, the Honda is unquestionably the crowd favourite if evidenced by volume.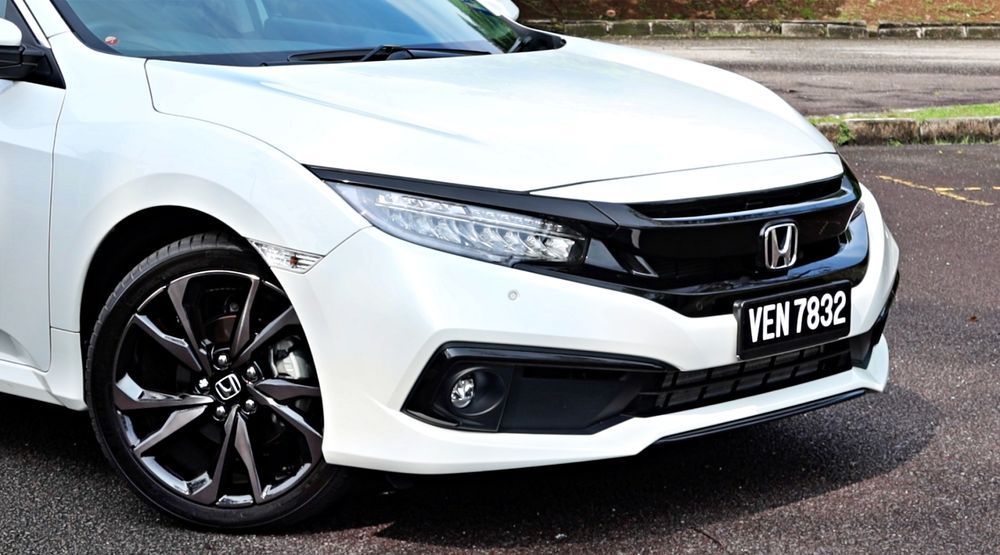 But can they top themselves with the all-new 11th-generation version? Or have they set the bar a little too high with the car we have here, in 2020 1.5 TC-P guise for RM134,661 as tested, thereby forcing themselves into a more evolutionary cadence?
Have we reached 'peak Civic'?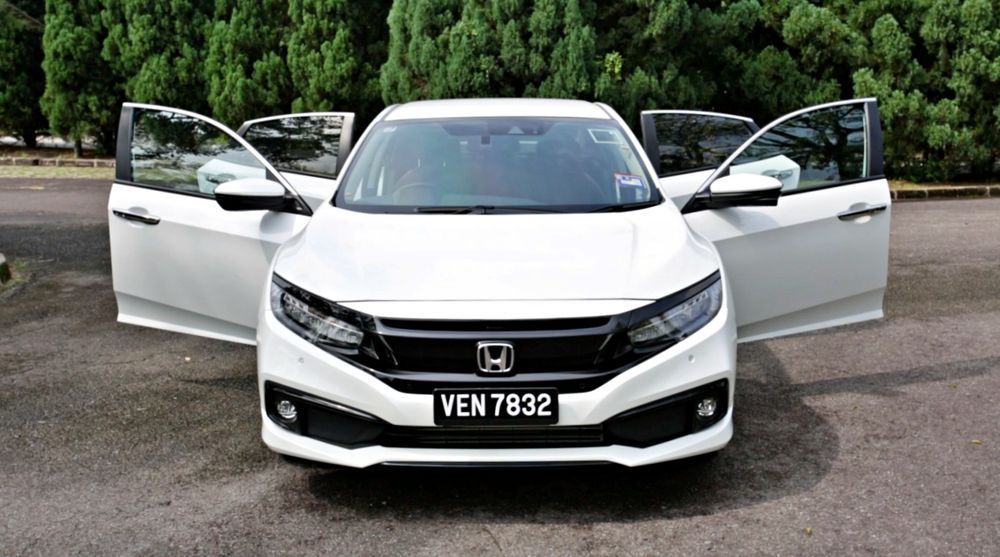 Exterior
By now, we're all familiar with this car's silhouette but, upon its introduction, it certainly did break the 3-box mould with its sporty fastback-style roofline. However, unlike other 'liftbacks' such as the Ford Mondeo (RIP) and Opel Insignia, I still have to wonder why Honda chose not to hinge the boot at the roof to further boost practicality.
From 2020, the Civic 1.5 TC-P has been given a slight design refresh that leans into the car's more athletic characteristics. Most obvious are those larger 18-inch alloys in this dual-tone gunmetal and black finish, but they're also wrapped in rather high-end Michelin Pilot Sport 4 high performance tyres - more on that later.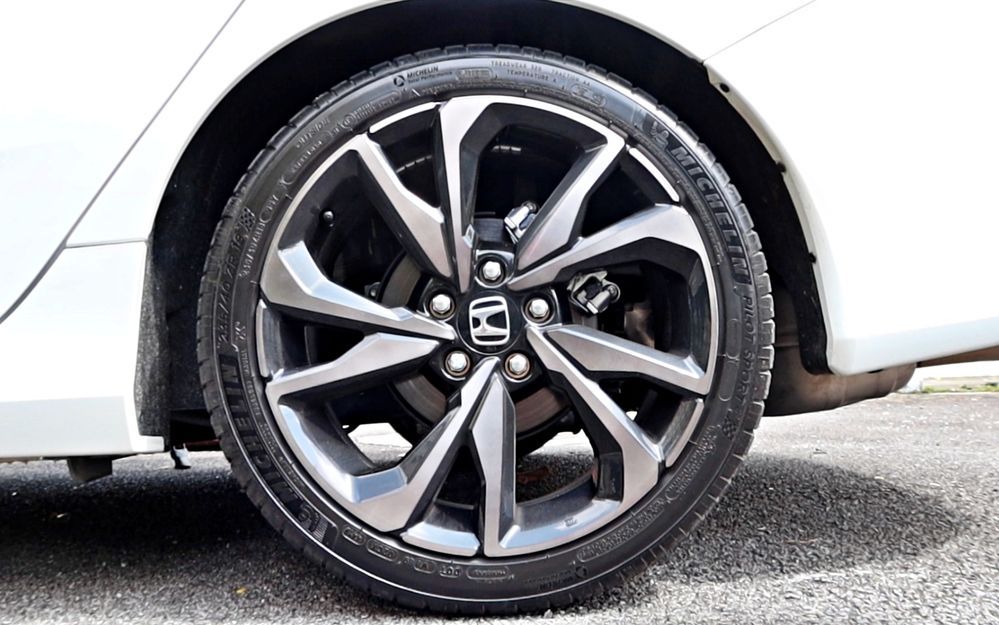 Other than this, the 'flying wing' front grille has now been done in a piano-like gloss black, paired with matching moulding accents lower on the bumper. It offsets the intricate and very reflective LED 'bling-tastic' headlamp cluster much more neatly than the usual chrome finish, at least to my eyes.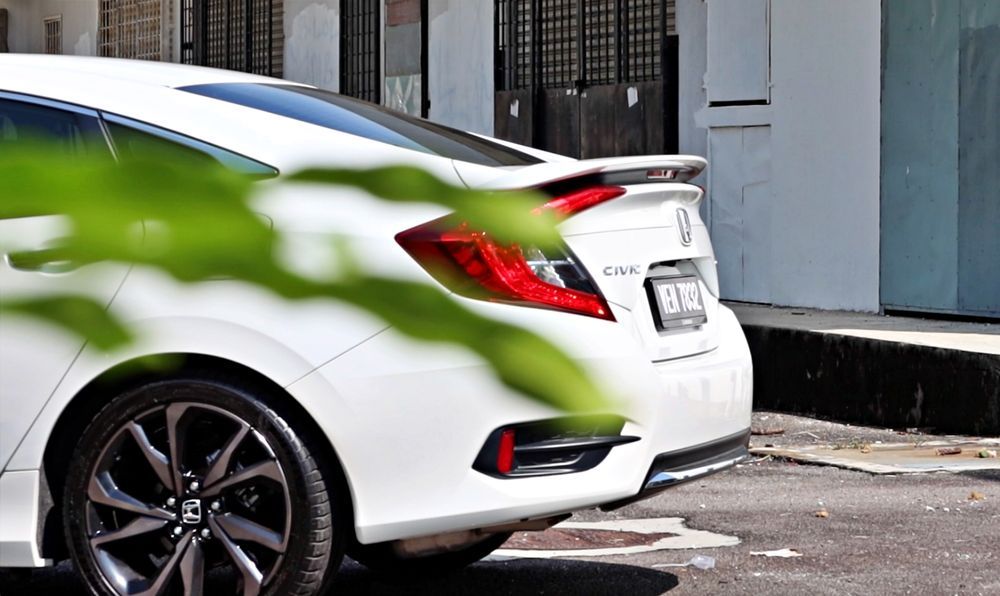 Speaking of which, Honda have also given this Civic (1.5 TC and TC-P) a chrome garnish on the rear bumper as well as a new boot spoiler. Though it does offer the car some aesthetic favours by adding a bit more drama to the back end, it's unfortunately not very functional with the airflow below it blocked to fit a third horizontal brake light.
Shame, but it's still a good looking car. In fact, despite its 'ketam' tail lights and angular lines, the current Civic's exterior can only be viewed as successful given how closely its replacement resembles it. You could even call the newer car a little bland by comparison with its softer lines and play-it-safe design.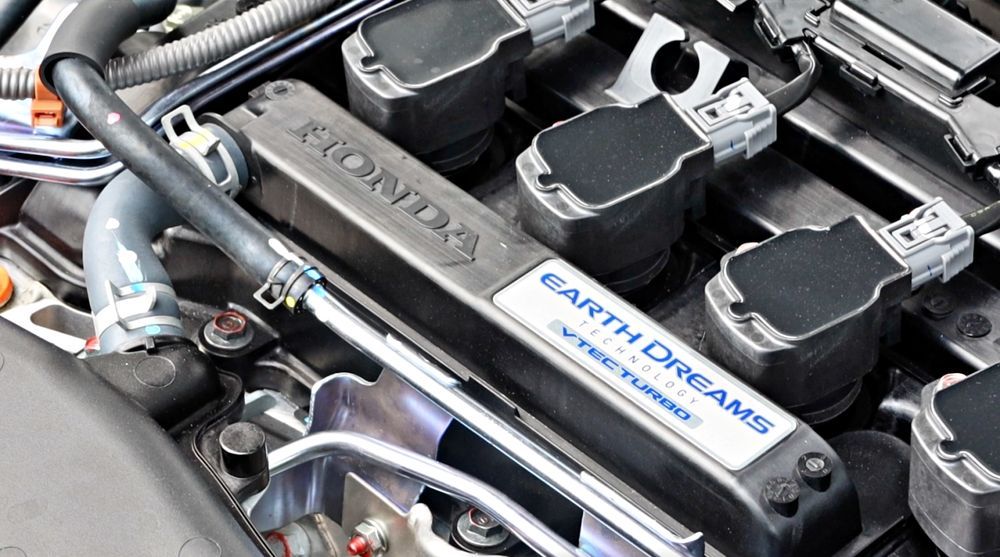 Powertrain
Where Honda did take a risk was with the engine. We all accept this L15B7 1.5-litre turbocharged four-cylinder as commonplace now, but prior to its introduction, Honda's Malaysian line-up was entirely naturally aspirated, with only the short-lived FK2 Type R being the exception on the international stage.
The shift to the VTEC Turbo hasn't been the easiest transition for Honda either as a downsized turbocharged engine is not only more mechanically complex, but is routinely subjected to higher stresses, is more susceptible to temperature variances, and is less forgiving to maintenance neglect.
Despite their efforts, early batches had been prone to issues not usually faced by the company's earlier engines, staining their relatively unblemished reliability record. Honda has, however, refined their processes and have brought the motor up to par, more or less, with their nearly bulletproof atmospheric motors.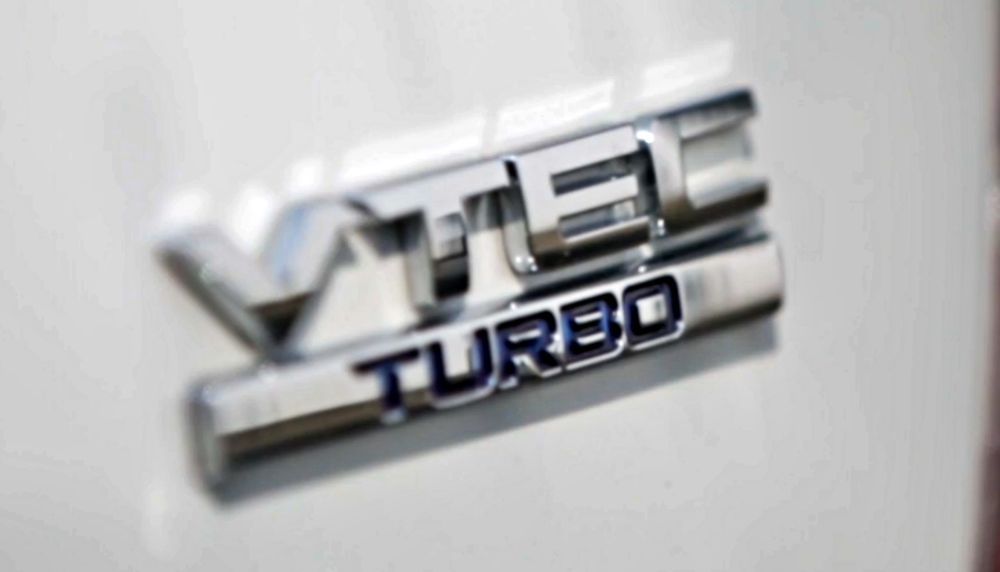 The 173PS output in this 2020 Civic is unchanged since its original tune, giving the car some decent performance nonetheless. Power is sent to the front wheels via Honda's Earth Dreams CVT, as you might expect, resulting in impressive fuel economy provided you keep your right foot in check.
Like any turbocharged car, it's the torque that makes itself most known in day-to-day driving. Here, the car delivers its 220Nm of peak twist as early as 1,700rpm and sustains it over a wide rev band to 5,500rpm, giving the transmission plenty of shove to find an optimal ratio and leaving the driver rarely found wanting from a slow roll.
Honda is clearly confident in this engine, too, and are doubling down on its widespread use with it featuring it in the CR-V and Accord, albeit tuned to 193PS and 201PS respectively. It will also be powering the majority of 11th-gen Civics moving forward in most markets, Malaysia included.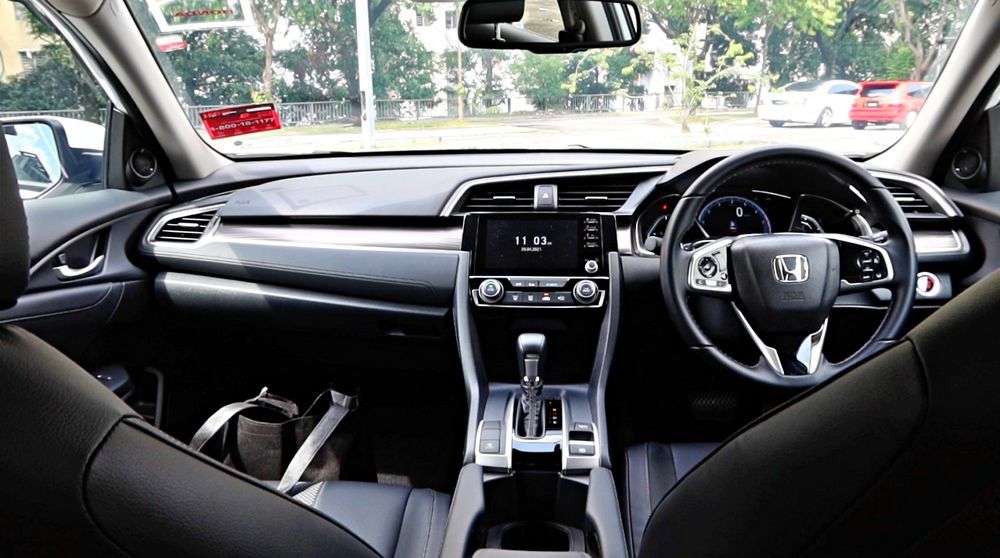 Interior
Honda is pretty well established as masters of vehicle packaging. Just as we've become accustomed to C-segment levels of leg and headroom in the B-segment City, should we expect D-segment roominess in the C-segment Civic?
On those fronts, the Civic has made some concessions to deliver a sexier roofline. As a result, the rear seats have a lower than expected H-point to maximise headroom and the 60:40 bench folds to reveal an oddly narrow boot passage, but knee room is plentiful and the seat cushions themselves are plush and supportive. Rear air conditioning vents are equipped, so there's every reason to easily settle in for a long journey.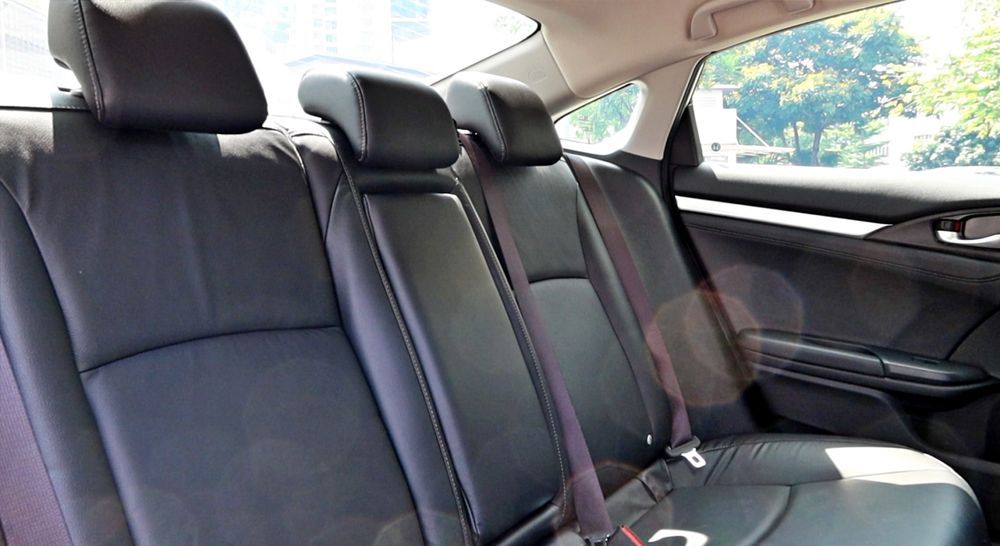 Coincidentally, Honda quotes its boot as being 519-litres, which is pretty large by most standards. However, that's the exact figure given for the smaller City as well which, if you recall, only performed about average in our B-segment group comparison.
Upfront, the perforated leather seats are just as supple, providing good bolstering and electric adjustment. However, the shape of the seat back does make it seem like there is too much lumbar (lower back) support dialled in, but without any adjustment mechanism to wind it back. Of course, others might not have this issue.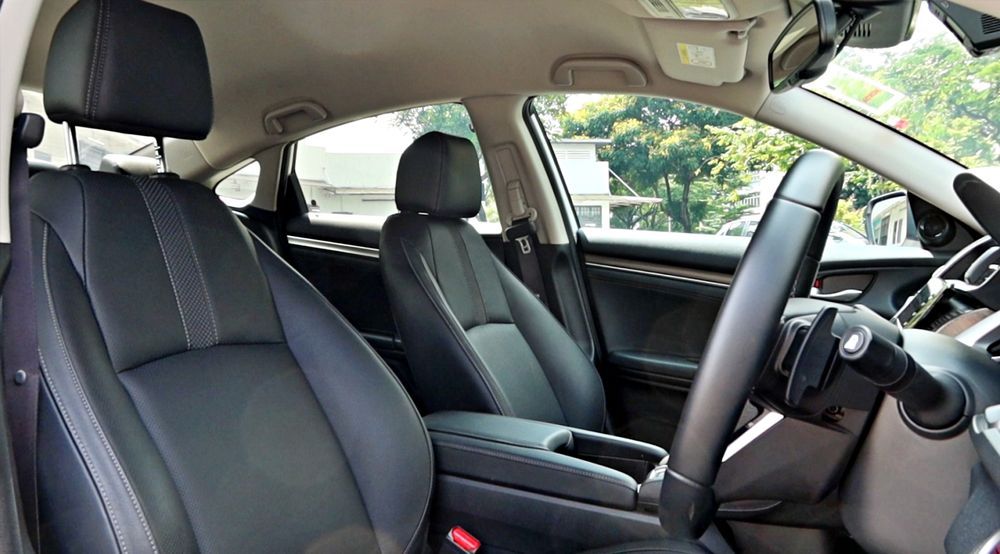 The overall ergonomics, design, and fit/finish here is just as impressive as it was back at its original launch. There are some scattered hard plastics and buttons of merely passable tactility, but that's to be expected in small doses.
After 5 years, that sense of elevated sophistication hasn't diminished, rather it has improved thanks to the additional sound insulation. Sure, the 7-inch touchscreen is outdone by the 8-inch unit in the new City, and the digital instrument cluster isn't the sharpest in an age of 4K screens being the norm, but that's splitting hairs as they all work quite well.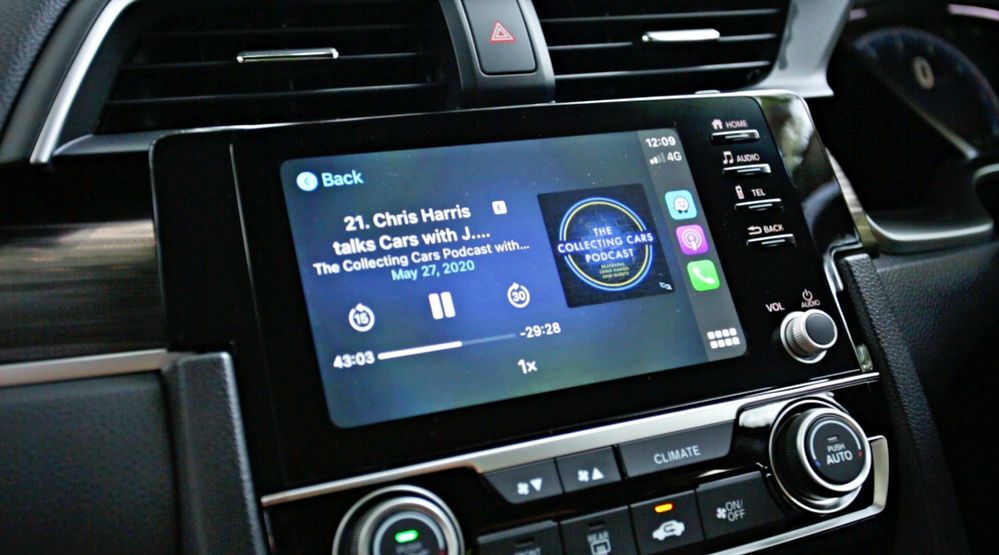 When you've got all your items hidden away in the huge centre cubby space, your music playing via Apple CarPlay or Android Auto, and the engine faintly humming away as you sip fuel at highway speeds, it's easy to realise that the person driving that BMW 318i probably isn't having a markedly better experience, yet paid much more.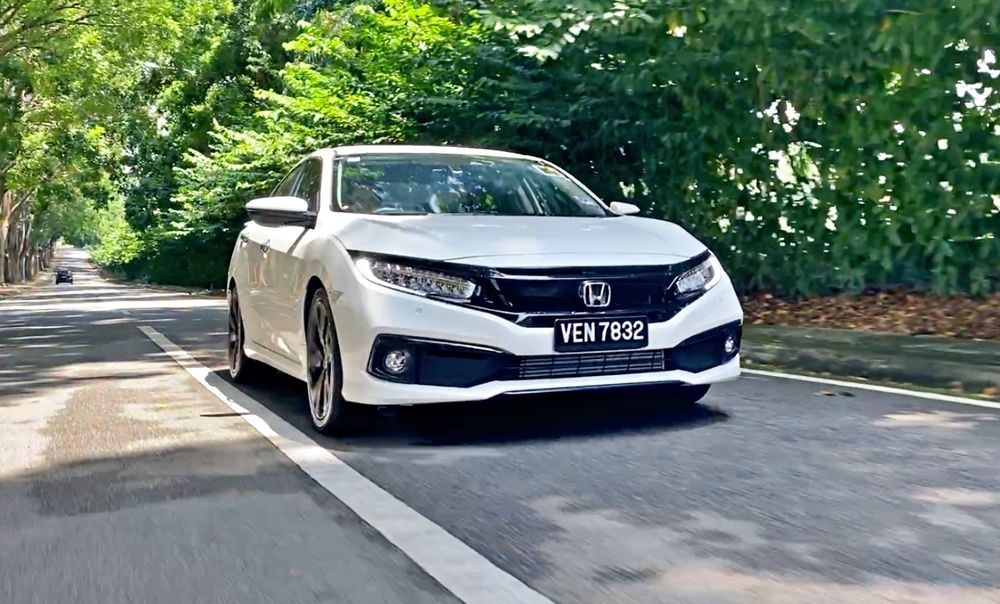 Behind The Wheel
The Civic does have an inherently sportier feel as you're sat relatively low to the ground and are nicely cocooned between the door and near-elbow level centre tunnel/partition. That early and sustained peak torque also gives you a little confidence boost. This is short-lived, though, as the engine and transmission are tuned for efficiency and will slot into a low-rev, low-excitement cruise just as soon as it can.
Things are comfortable, smooth, even calm, surprisingly so given the larger 18-inch wheels. But then the paddle shifters remind you that you might have more control than you initially thought, and you find them to be rather responsive in shaving off speed by (artificially) downshifting to engine brake. Upshifts, though, being a CVT, are a little more muted.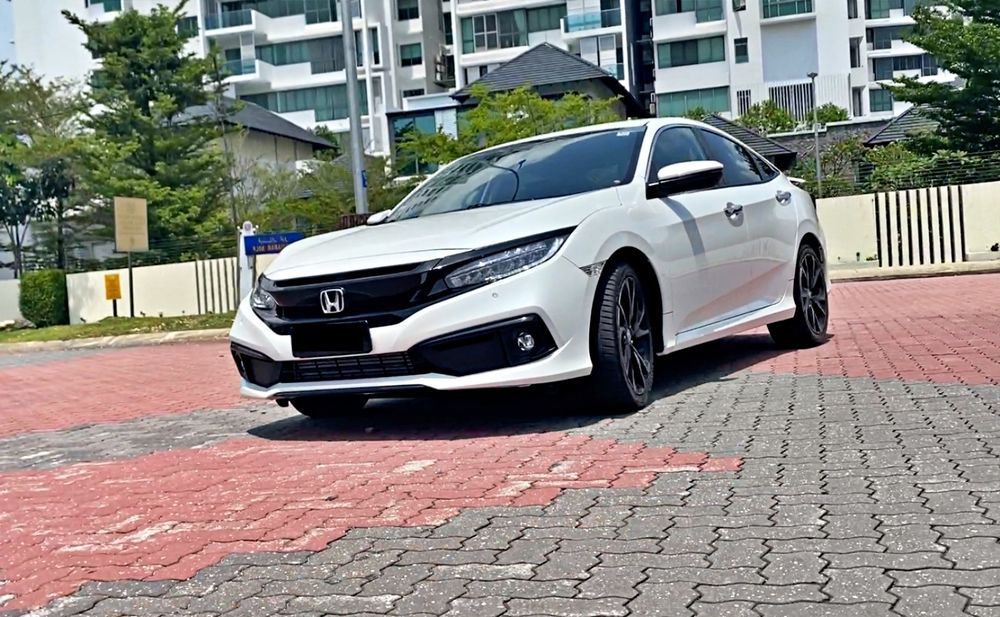 While we're on the subject, having this type of gearbox in a turbocharged car does produce some idiosyncratic results. On the one hand, its infinite ratios do allow the engine to remain in that boosted sweet spot for longer, maximising power delivery. On the other, if you're driving enthusiastically and expect good engine response while taking advantage of that spooled turbo, the lag instead comes from the transmission, which more often than not hunts for an optimal ratio every time you vary your throttle position. Then again, this is something most Civic owners won't ever care about.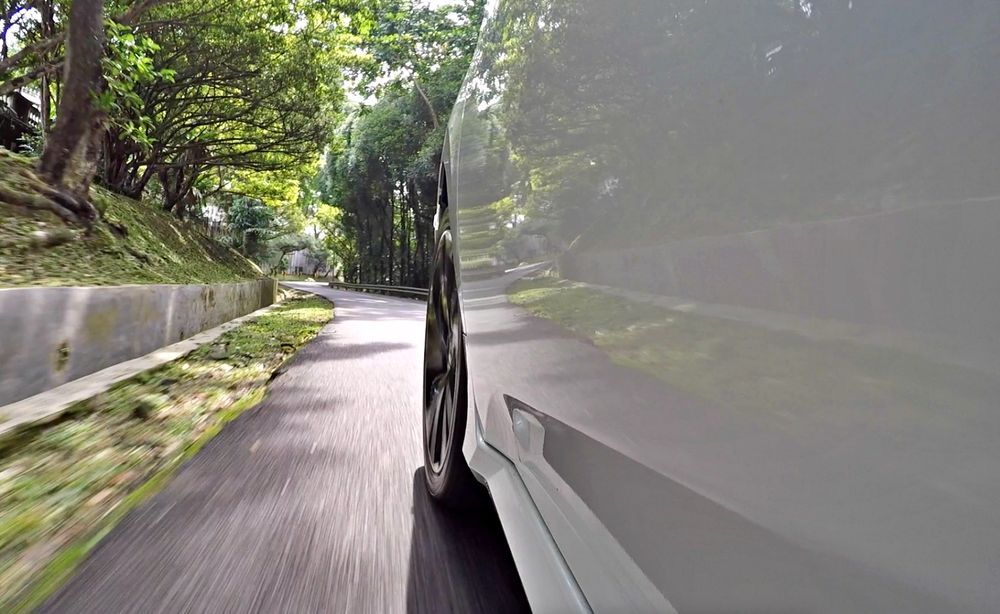 Having said that, it's pretty remarkable how a tyre can impact how a car feels to drive, and having the Michelin Pilot Sport 4 on all four corners gave this Civic a level of sharpness and traction that just wasn't achievable otherwise. More impressive was how it endowed the car with so much more competence in corners while being quiet and comfortable in normal driving.
We all accept that the Civic, while a solid handler with its rigid structure and multi-link rear suspension, isn't all that exciting when factoring in its CVT, lacklustre engine note, and nonexistent VTEC 'kick in yo' sensation as the revs continue to climb, but the face-lifted 1.5 TC-P is now sharp enough at the front end that throwing it into a corner isn't a leap of faith. The fun factor ceiling here has most definitely been raised, and there's really only this upgraded wheel and tyre package to thank for that.
Safety
In any review, this is probably the least interesting topic to cover, but Honda's inclusion of a comprehensive active safety suite, at this price point, is perhaps the main reason why those now-culled C-segment rivals could struggle should they attempt a comeback.
The Civic 1.5 TC-P isn't just equipped with a trimmed feature list of Honda Sensing, but the full package as also found on the top-spec CR-V, Accord, and City RS. Naturally, we also have the standard 6 airbags, anti-lock brakes, stability control, parking sensors, reversing camera, and ISOFIX mounts.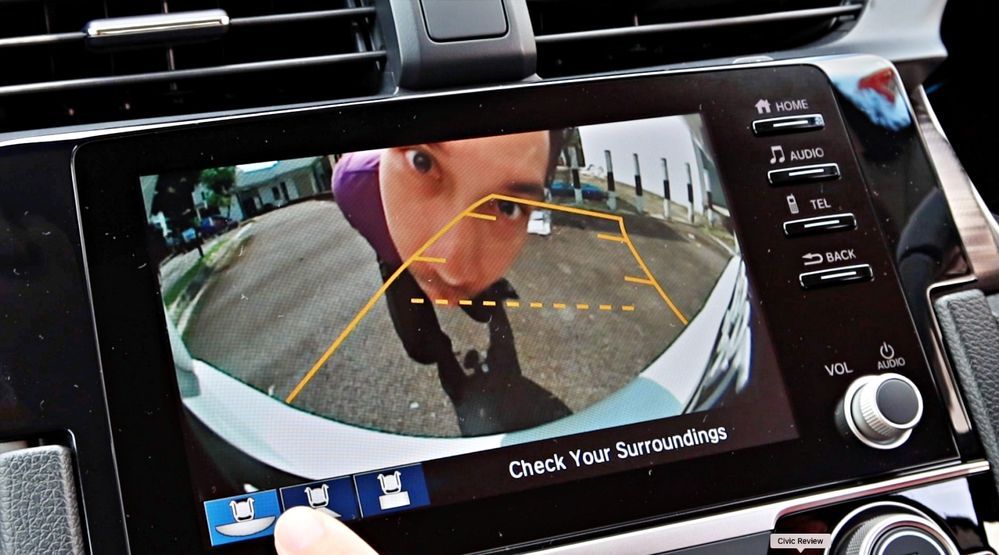 Above that, Honda has added Autonomous Emergency Braking (or Collision Mitigation Braking, as they call it), Forward Collision Warning, Lane Keep Assist (LKAS), Lane Departure Warning, Road Departure Mitigation, and most conveniently, Adaptive Cruise Control (ACC) with Low Speed Follow.
These are expensive features to implement and, on CBU rivals, are usually the first to get crossed off the list to keep the high stakes math of a price battle going. In the case of the fully imported 7th-generation Elantra, for example, Hyundai SmartSense is relegated to the top-spec Premium variant and the same goes for with i-ACTIVESENSE in the Mazda 3 2.0 High+.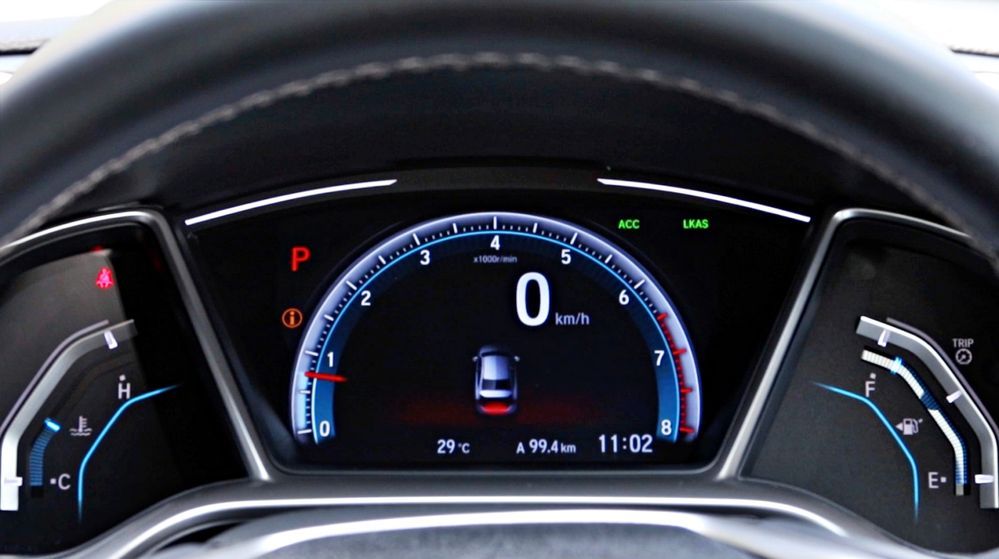 The only other C-segment contender trading blows with the Civic on these terms is Toyota with the 12th-generation Corolla, and this duopoly isn't likely to change unless a certain homegrown automaker steps into the fray.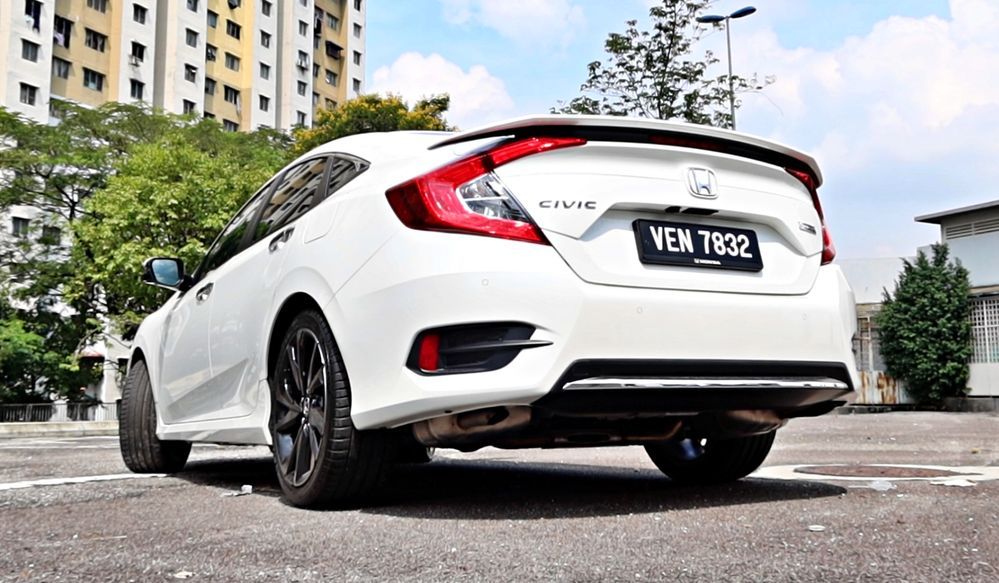 Conclusion
Has it aged well:
Yes, much better than most cars. It still looks new and bold, and in some ways, even more modern than its supposed successor. The interior is impressively appointed and well designed too.
Is it practical:
Yes, unless you make a big IKEA haul every other weekend.
Does it drive well:
This Civic always has, even in standard 1.8S form. Most people will never explore the limits of what any car can deliver anyway, but if they do this can deliver a rewarding drive. Paired with this turbocharged engine and those Michelin UHP tyres, this is currently the best performance option in the C-segment.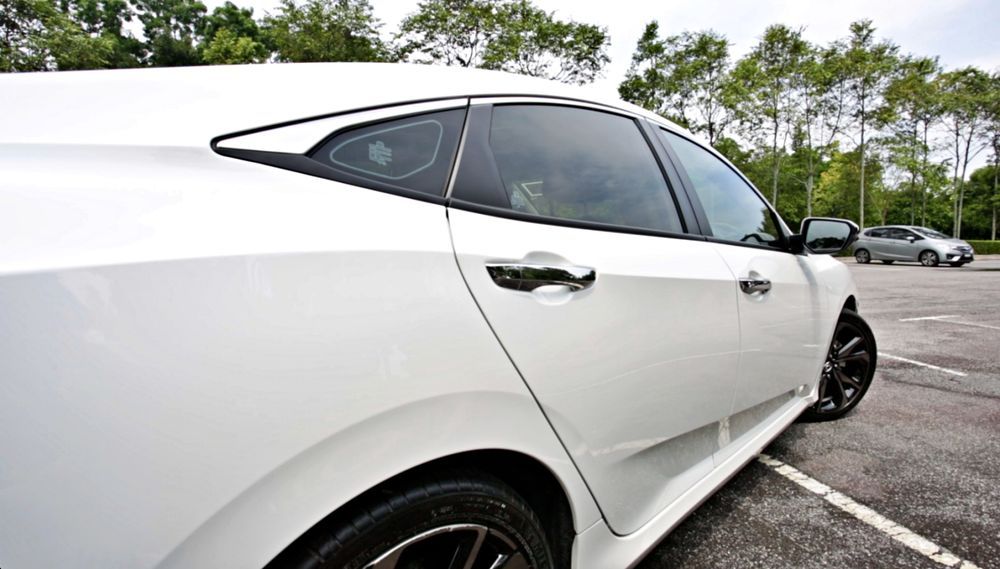 TL;DR - in a sentence or two:
This is a car to suit nearly every need. It's spacious, handsome, comfortable, easy to drive, quick in everyday situations, easy on fuel, and packed to the gills with safety and convenience tech. It isn't the class leader in every discipline, but like the City, clearly wins on averages. C-segment crown well-deserved.
TL;DR - In a shorter sentence:
The 11th-gen Civic will have a hell of a job trying to surpass this thing. Surprise me, Honda.



For more latest car news, reviews, car buying guides and videos visit us at Carlist.my Auto News.
Check out all the best new & used car deals in Malaysia at Carlist.my.
Sell your car fast with the best offer? Visit us at CarlistBid.my.
Get the latest new car promotions at New Car website now.
---
---
---
---
Comments