This Could Be Porsche's Last 911 GT3, But It's Still A High-Revving Superhero
Insights It's easy to dismiss Porsche making a 'new 911' as a trivial occurence since, like clockwork, it happens every few years. Then along comes the follow up news that a new GT3 has also been introduced, which usually happens a couple of years after the first batch of Carreras show up.
---
This pattern has repeated itself in lockstep ever since the 996 from the late 1990s, but with the latest 992 generation, keeping the GT3 formula completely intact might have been one of the toughest hurdles the team at Zuffenhausen has had to face, and will continue to face.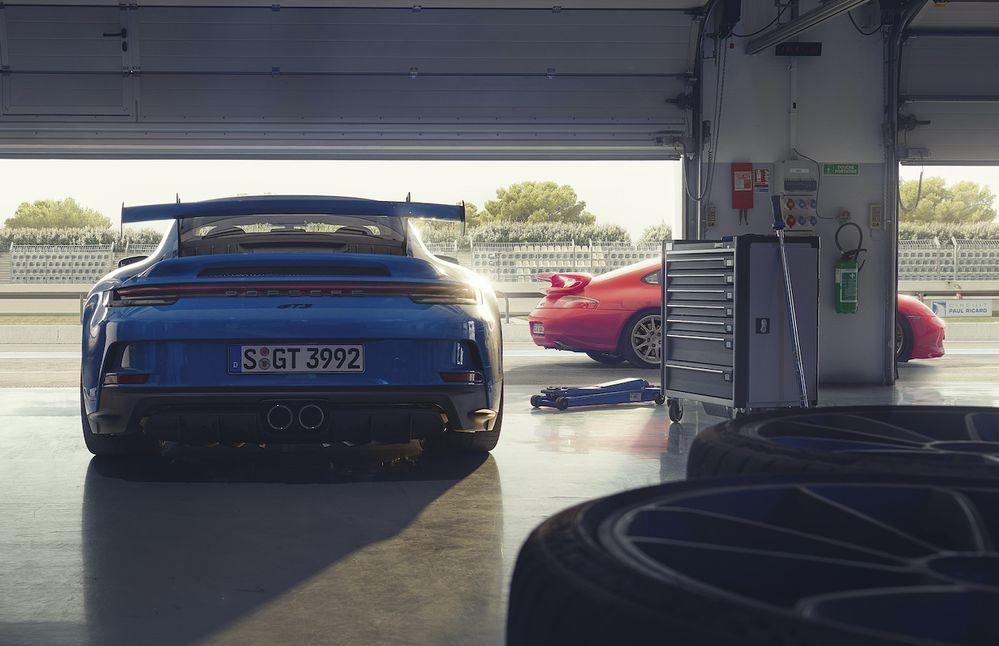 We've covered how high performance 'driver's cars' are coming under threat from an evolving automotive landscape increasingly hostile to anything that doesn't plug into the mains, most recently illustrated with Lotus pulling the plug on the Elise and Exige and Mercedes-AMG apparently ready to axe the V8 out of its C 63 in favour of a four-cylinder hybrid.
Being all about a high-revving, high output adrenalin rush without the nanny-like driver aids or response-robbing forced induction, the hair trigger zing of intake noise and a manic valvetrain vocals are what defined the unique Weissach symphony. Making too many concessions in the name of efficiency was always going to rob any GT model Porsche of that raw connection it sought to establish with the driver.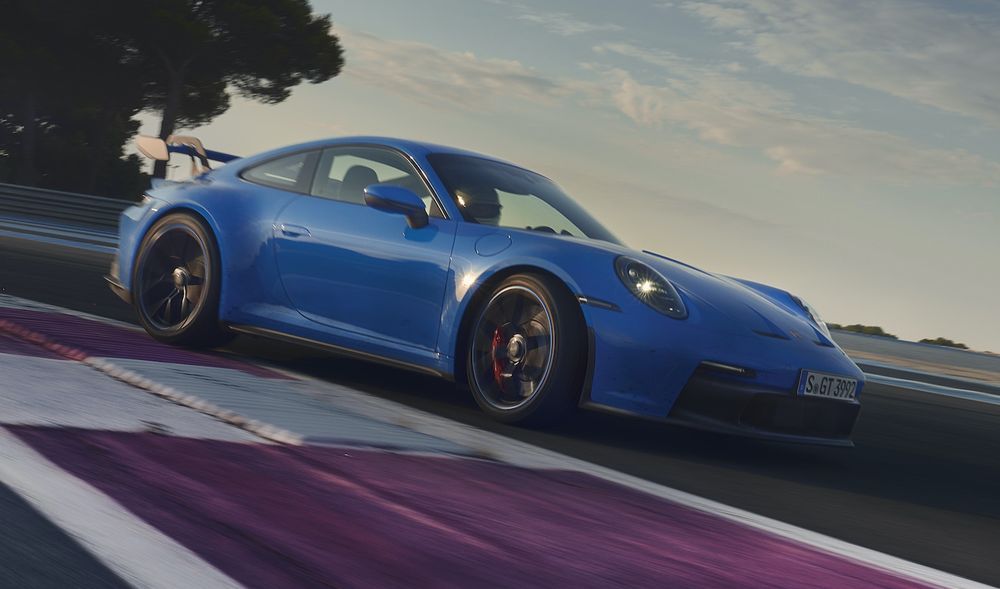 It's that specific purity of experience that has made the GT3 such a desirable machine, but also such an obvious target: it was always going to be one of those cars that would wind up on the 'wrong' end of the eco-mentalism scale of sin.
One sad day, Porsche might be forced to abandon this category of car altogether. There was a tinge of fear that it would start with the 992, and while its good news that hasn't happened, it does make one wonder how long they can keep this up with ever more aggressive regulations and industry pressure gnawing at their heels. The bad news is that, if the current vilification of the combustion engine persists, not only could the 992 be the final non-hybrid 911, but this might indeed be the final GT3. Ever.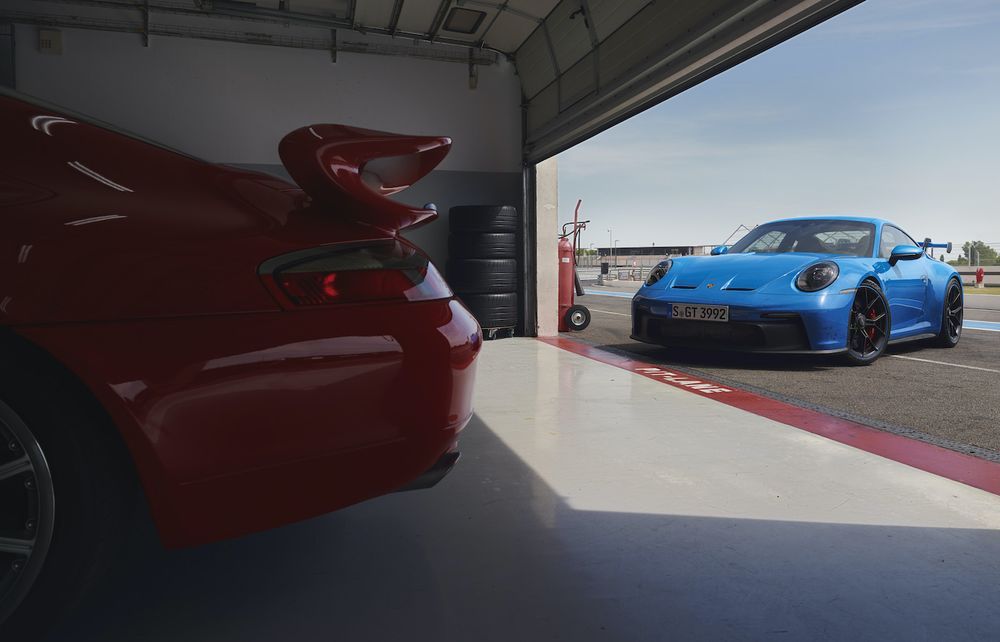 With that in mind, this newest version heroically advances the pillars put forward by its predecessors while taking kind of evolutionary approach that's become synonymous of the 911 in general. Beneath the extra aero and track tyres, the 992's base genetics aren't buried very deeply at all.
That Robocop visor-like tail lamp is a visual element that's spreading throughout the Porsche range and even imitated by many other automakers, but here it's topped off by a new and manually adjustable 'swan neck' rear wing that's adapted from the 911 RSR racing car. Very clever and much more elegant.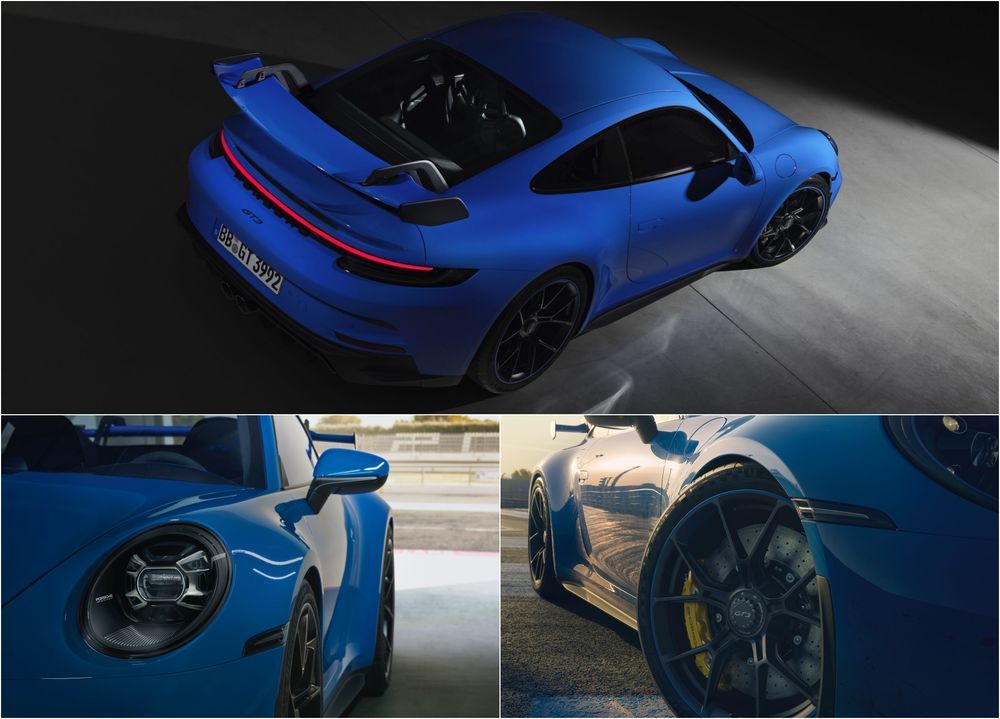 Even more extensive use of carbon fibre reinforced polymer (CFRP) on the bonnet and roof helps trim excess weight, as does the thinner glass used on its windows and fitment of standard forged alloy wheels. Porsche says its new exhaust system saves 10kg and can intelligently vary its acoustic signature through flaps and valves. The car weighs about 5kg more than the previous GT3 but that's quite a feat given this car is both wider and larger overall.
Another step up is its flat-six engine. As before, it displaces 4.0-litres and retains its natural aspiration, but instead of slotting in an enhanced road car motor, the automaker claims the engine here has been directly lifted from their GT3 Cup racing car with very minimal modifications. It also features the same six-barrel throttle body and intake system as the racer.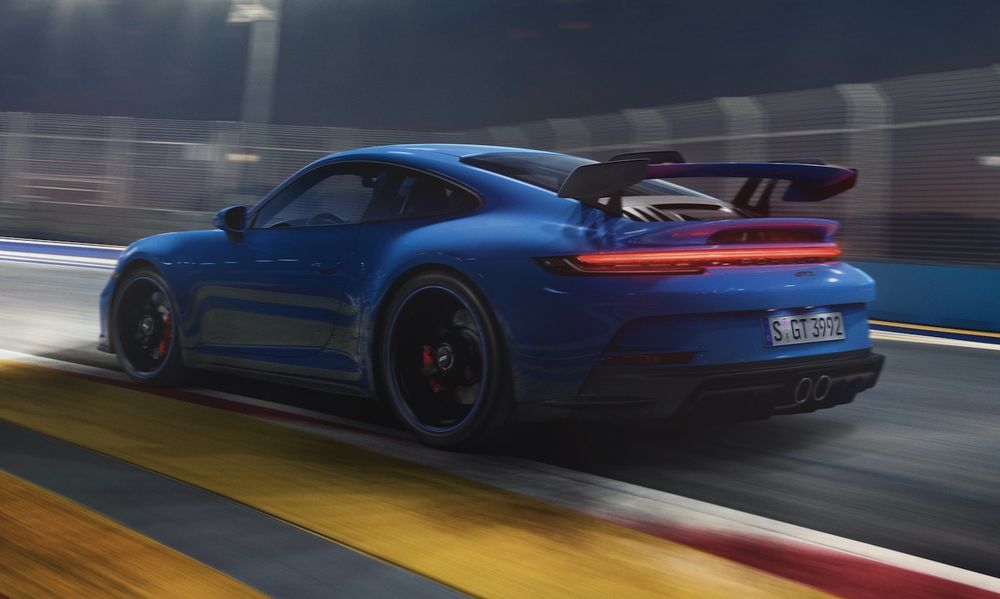 This is a high strung motorsport power plant wedged behind the rear axle, or so Porsche insists as they also emphasise this 911 GT3's daily drivability. Redline is set at a giddy 9,000rpm wherein the full 510PS is released, making it about 10PS more potent than before. Torque, meanwhile, peaks at 470Nm, and is sent to the rear wheels via 6-speed manual or 7-speed dual-clutch (PDK).
The auto option does add 17kg over the three-pedal alternative, but thanks to clever gearing both have nearly identical 0-100km/h sprint times of 3.7 seconds. However, this margin grows wider as the car climbs to 160km/h, where the automatic emerges the clear winner (7.0s vs 7.9s). Top speed is 320km/h.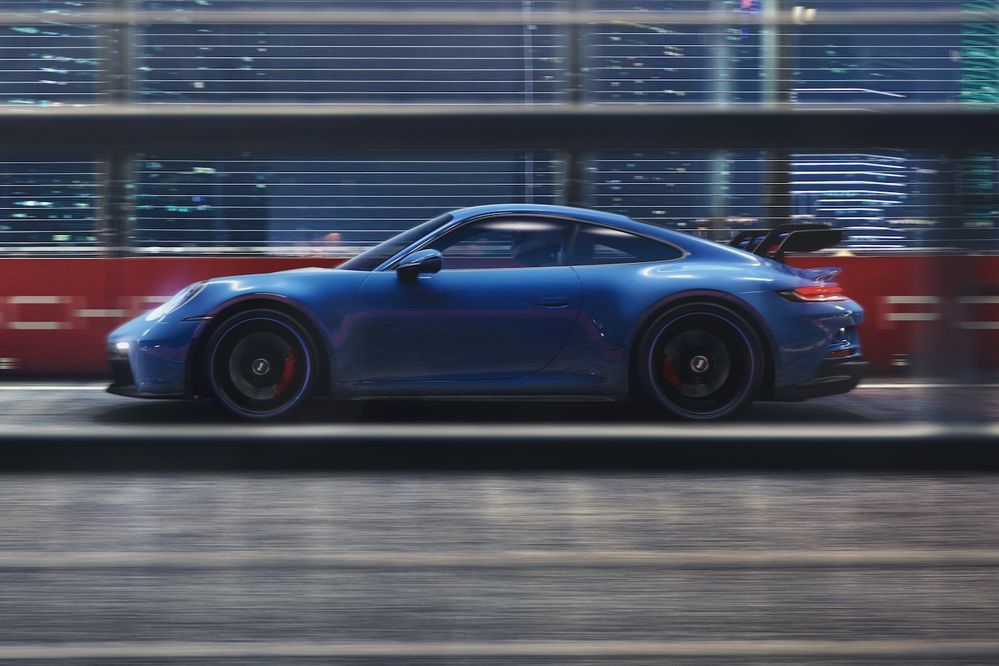 However, it's the gulf between generations that Porsche intends to make the most obvious. Though they look and operate quite similarly, the 992-gen GT3 leverages plenty more tech from the motorsports department to gain the upper hand - that race engine isn't the only thing it stole.
It's also got the double-wishbone front suspension setup from the 911 RSR, allowing the tyres to maintain maximum grip under extreme lateral forces. Paired to that, its multi-link rear suspension has also been given a complete once-over, which also meant some heavy tweaks to its torque vectoring system, spring/damper rates, and rear-wheel steering system.
Ultimately, during final testing, and while wearing the optional Michelin Pilot Sport Cup 2 R tyres, PDK-equipped GT3s lapped the Nurburgring over 17 seconds quicker than its predecessor. That's UN-FREAKING-BELIEVABLE.
Despite what this car is capable of, the interior looks rather tame, even cozy and inviting. While this is a far cry from the plushest Panamera, there isn't much here that strikes as being that of an uncompromising track-oriented super sports car.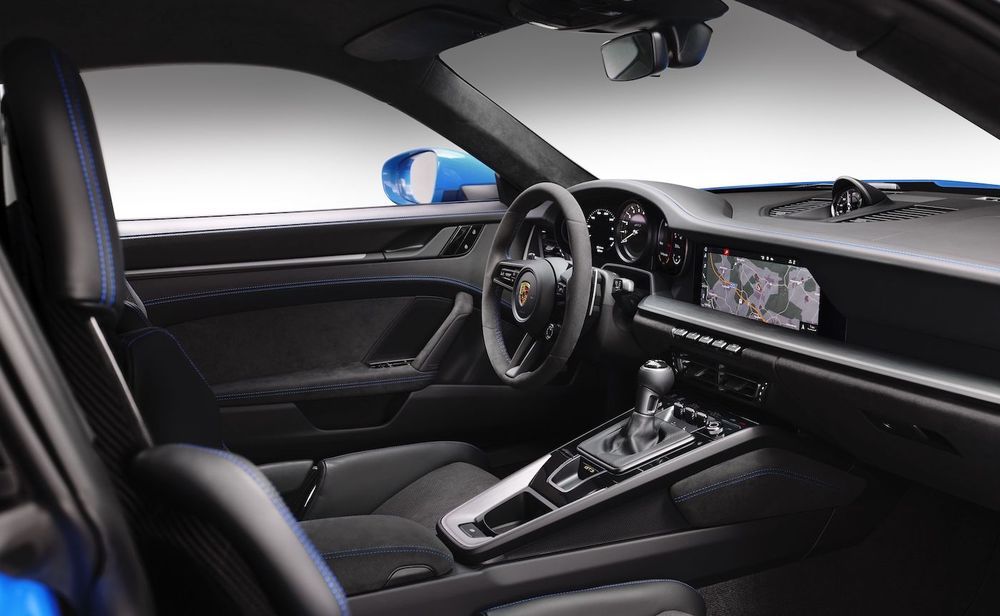 There's a big infotainment screen in the middle, two digital readouts flanking the analogue tachometer. There's plenty of Alcantara, sure, but dashes of leather too. It even manages to look comfortable from certain angles.
A unique touch here that's a break from the usual aesthetic is how similarly the gear levers look between those fitted with the manual gearbox and the PDK. Where typically there's a distinctly different shifter design, the PDK knob here is styled like one that has a traditional H pattern, even coming with an Alcantara-wrapped shift boot. Wheel-mounted paddles are also fitted, naturally.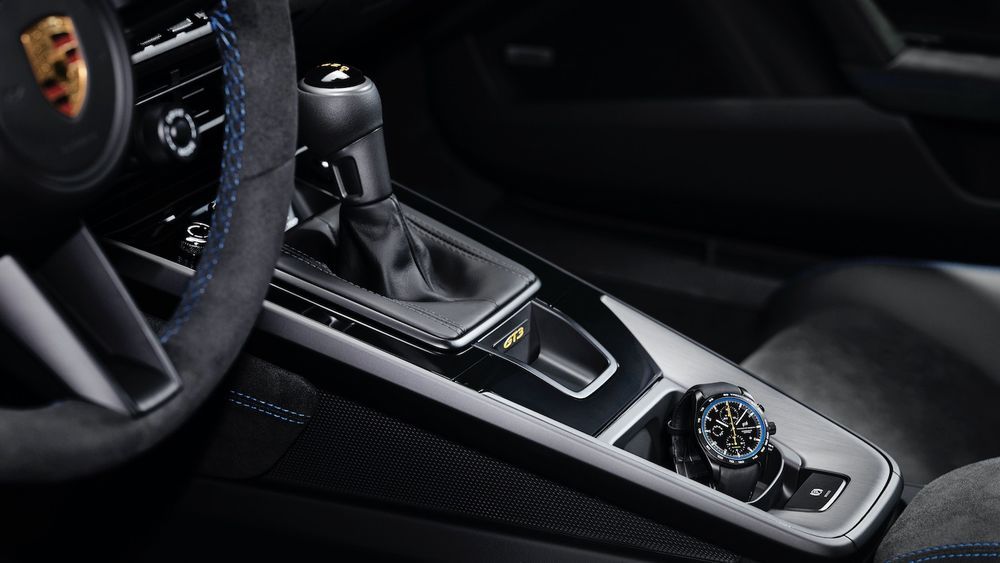 With all the noise surrounding electrification and the winding down of the internal combustion engine's monopoly in the automotive world, it's really assuring to know that Porsche is keeping the fight alive to bring us such a well-honed machine that's very aware of its strengths as both a precision device on the track and a source of pure thrill, one that will hopefully find renewed staying power thanks to Porsche's efforts in synthetic eFuel. There has to be space for cars like the Taycan and 911 GT3 to coexist over the long term.
Deliveries of the all-new 911 GT3 are set to begin in May 2021 and is available for pre-order now through Porsche showrooms nationwide.
---
---
---
---
Comments