Salah Ke Pakai Selipar/Kaki Ayam Semasa Memandu? – Undang-Undang Jalan Raya Di Malaysia
Insights Tahukah anda di negara ini, perbuatan memandu kenderaan dengan memakai selipar merupakan satu kesalahan dan boleh disaman?
---
Betul! Tetapi ianya tidak tertakluk kepada semua pemandu. Pemakaian kasut ini hanya diwajibkan untuk pemandu kenderaan komersial sahaja. Pemegang lesen memandu vokasional (GDL dan PSV) seperti lori, bas, teksi dan kenderaan e-hailing boleh didenda sehingga RM150 jika didapati tidak memakai kasut ataupun tidak berpakaian kemas ketika memandu.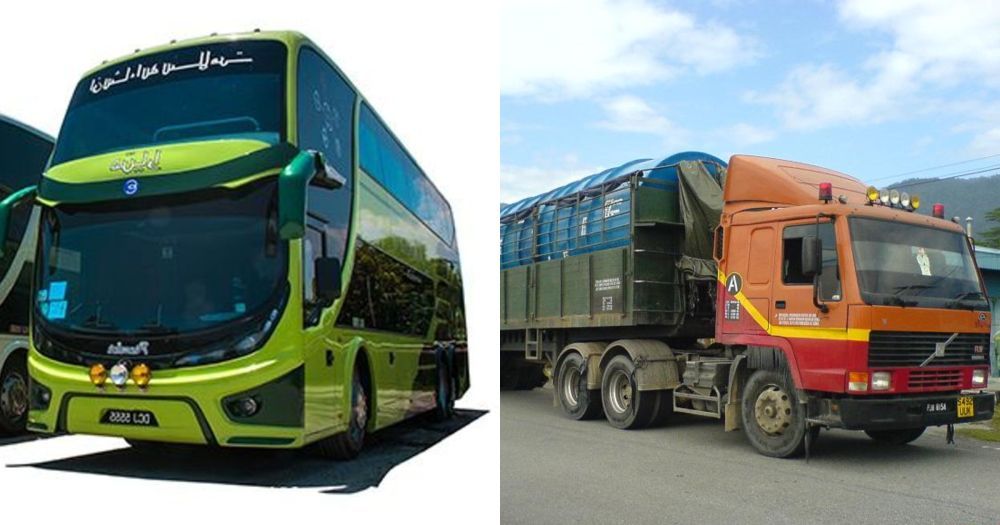 Semua pemandu kenderaan berat termasuk kenderaan perdagangan seperti lori, treler dan bas diwajibkan memakai kasut semasa memandu bagi meningkatkan keselamatan mereka dan pengguna jalan raya lain. Pemandu Kenderaan Perkhidmatan Awam (PSV) juga boleh diperiksa dari semasa ke semasa di bawah peruntukan Kaedah-kaedah Kenderaan Perkhidmatan Awam (Pelesenan dan Kelakuan Pemandu, Konduktor dan Penumpang) 1959.
Ingat tak kes pihak JPJ menyamar jadi penumpang bas ekspres untuk mengesan kesalahan dilakukan pemandu bas ekspres pada musim cuti perayaan Tahun Baru Cina tahun lalu? Seramai 2 orang pemandu bas ekspress telah disaman kerana memakai selipar ketika memandu. Terperanjat pemandu bas ekspres tersebut sebab tiba-tiba disaman penumpang.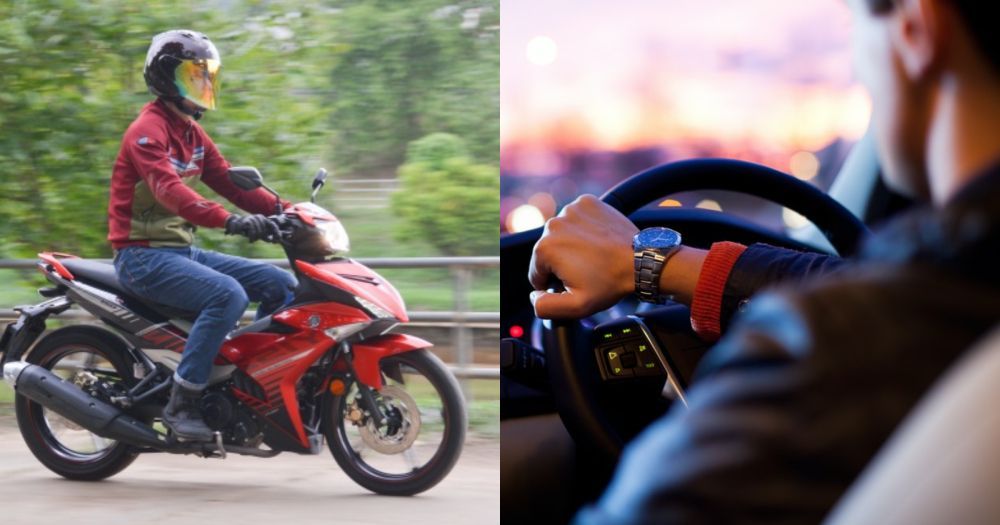 Untuk kenderaan peribadi pula, tiada undang-undang yang mewajibkan pemakaian kasut ketika memandu. Jadi ianya bukanlah satu kesalahan dan pemandu kenderaan peribadi tidak akan disaman jika memakai selipar ketika memandu. Jadi pemegang lesen kereta kelas D dan penunggang motosikal tidak perlu risau tentang perkara ini.
Meskipun pemakaian kasut tidak diwajibkan pada pemandu kenderaan peribadi, perbuatan menggunakan selipar ketika memandu berisiko mendatangkan masalah dan bahaya kepada pemandu. Selipar yang longgar dan mudah tertanggal berisiko untuk tersangkut di celahan pedal klac, brek dan minyak sekaligus membuatkan pedal tersebut tidak dapat ditekan dengan sempurna.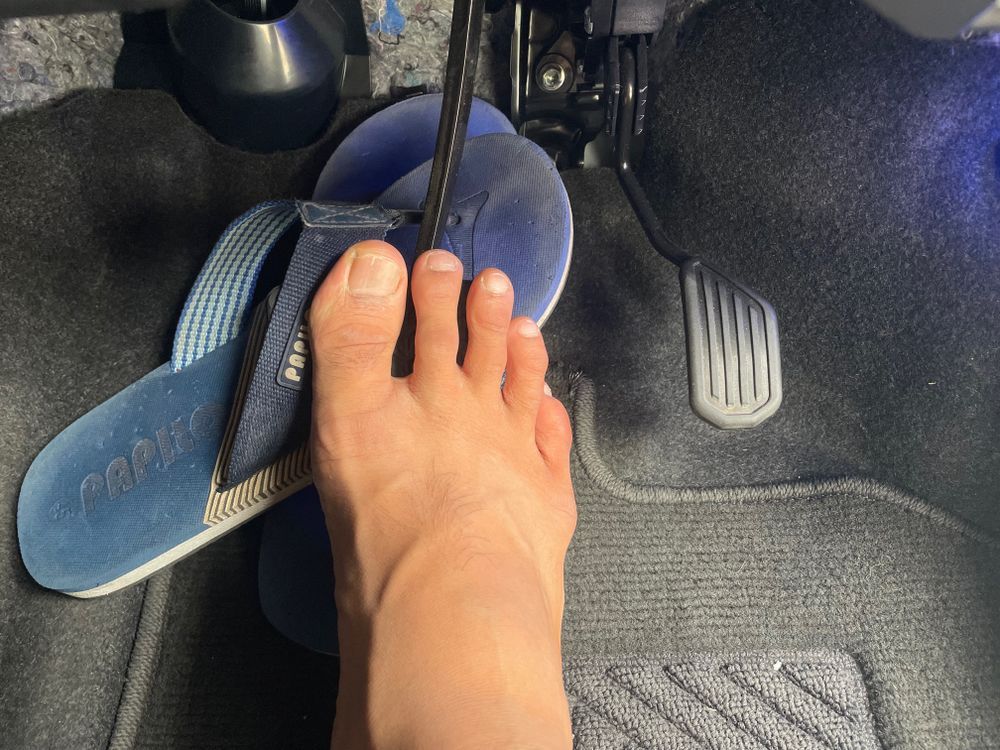 Penggunaan selipar ketika memandu juga mendatangkan bahaya jika tapak selipar tersebut sudah haus dan tiada cengkaman. Sekiranya basah, anda mungkin kehilangan kawalan pedal dan menyebabkan kemalangan. Lebih menyakitkan, ia boleh menyebabkan kecederaan parah pada kaki anda.
Tidak dinafikan, ada sesetengah pemandu yang gemar memandu dengan berkaki ayam kerana ingin merasa sendiri pedal tersebut menggunakan kakinya. Tetapi, memandu dengan berkaki ayam langsung tidak akan membantu ketika dalam situasi kecemasan. Sebab itu anda dinasihatkan untuk menggunakan kasut yang sesuai ketika memandu.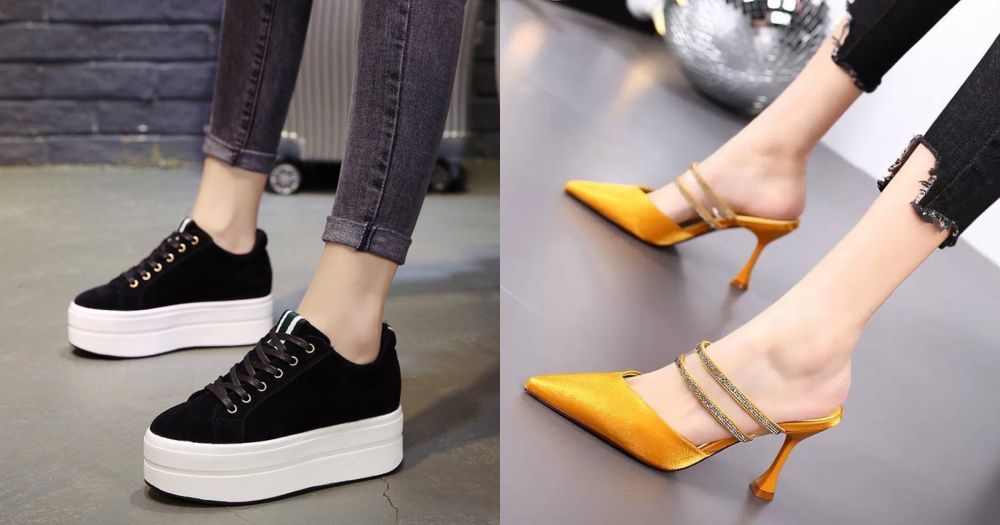 Penggunaan kasut yang bersesuaian juga memainkan peranan. Kasut yang tidak terlalu tebal, tidak terlalu nipis serta mempunyai cengkaman yang kukuh membolehkan pemandu merasai sejauh mana pedal ditekan atau dilepaskan selain menekan brek dengan kuat sewaktu kecemasan. Dengan pemakaian kasut yang betul, anda boleh menekan brek dengan cepat serta memberi sokongan yang lebih selesa untuk perjalanan jauh.
Kesimpulannya, perbuatan memakai selipar ketika memandu merupakan satu kesalahan bagi pemegang lesen memandu vokasional (GDL dan PSV). Untuk pemandu kenderaan peribadi, anda bebas untuk memakai apa sahaja ketika memandu.
Walaupun penguatkuasa tak berapa tekankan tentang perkara ini, tetapi atas faktor keselamatan, anda sangatlah digalakkan untuk sentiasa memakai kasut ketika memandu.


For more latest car news, reviews, car buying guides and videos visit us at Carlist.my Auto News.
Check out all the best new & used car deals in Malaysia at Carlist.my.
Sell your car fast with the best offer? Visit us at CarlistBid.my.
Get the latest new car promotions at New Car website now.
---
---
---
---
Comments